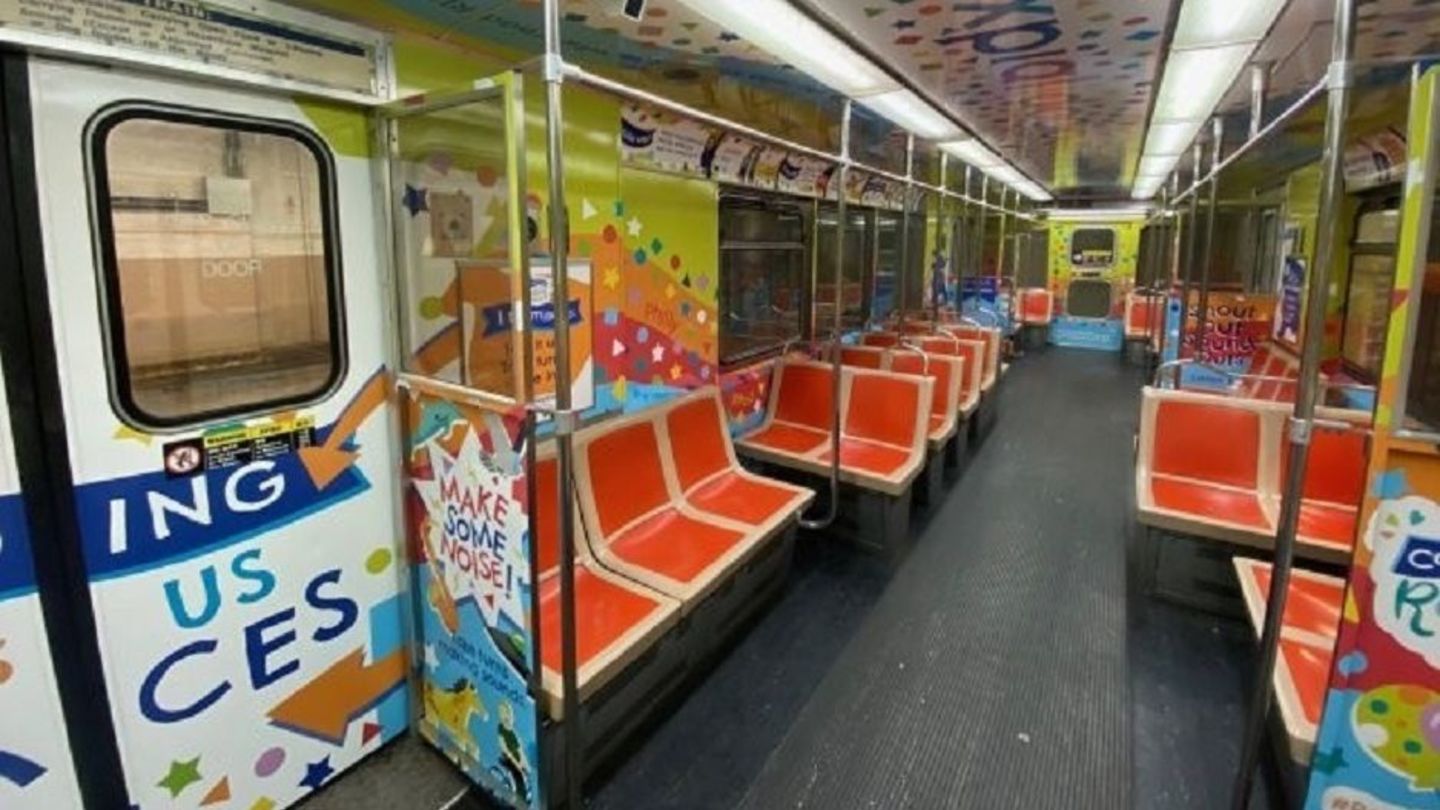 Jack Tomczuk
Temple Infant and Child Laboratory 
Imagine an ordinary bus stop that has morphed into a community playful learning space where families engage in puzzle making and word games while they wait. Or imagine a SEPTA bus pulling up to the stop, wrapped from the outside as a "Reading Express Bus" and decorated with reading games on the inside.  
These Playful Learning Landscapes are now a reality thanks to the work of Drs. Kathy Hirsh-Pasek and Roberta Golinkoff (University of Delaware) who thought the science of learning could be baked into public spaces where families and children spend time. Now in over fifty cities globally and supported by the National Science Foundation and several private foundations, they are literally taking learning science to the streets.  
As a co-director of the Temple University Infant and Child Laboratory, Dr. Hirsh-Pasek is the Lefkowitz Faculty Fellow in the Department of Psychology and Neuroscience. For the last 10 years, undergraduate students, graduate students and postdoctoral students have been working on ways to translate the science of learning into tangible practice for educators and families. Together, the teams in the laboratory follow a process that engages community values in human-centered design with evidence about how children learn and what they learn. In Philadelphia, which has become a model playful learning city, we work with neighbors to flesh out their values in design while ensuring that the installations we create with the community include active, engaged, meaningful and socially interactive opportunities that will build outcomes in collaboration, communication, content, critical thinking, creative innovation, and confidence (what we call "the 6 Cs").  
The result is a public space that the community both inspires and "owns." With tremendous support from the William Penn Foundation, the team has worked on and studied libraries, subway stops, gardens, school playgrounds and other spaces that dot the Philadelphia cityscape. The City of Philadelphia has made an investment in this kind of playful learning work, as shown by the hiring of the lab's postdoctoral fellow, Dr. Rachel Todaro, as Philadelphia's first Playful Learning Fellow - a position that is situated in the mayor's office. And in Santa Ana, California, former postdoctoral researcher and now University of California at Irvine professor, Andres Bustamante is leading the charge (with NSF funding) to transform big swaths of the city into a West Coast hub for playful learning. Postdoctoral fellow Annalise Pesch is working on this project with the California team.  
The students from the Temple Infant and Child Laboratory are now studying ways to use this culturally inclusive and equitable model to also transform public education and informal learning through media. For example, graduate student Allyson Masters with postdoc Katelyn Fletcher have taken the model beyond the US to work in collaboration with colleagues in China as we envision new ways to educate!  Living at the juncture between science and practice, these projects help Temple students realize that science does not just exist in a laboratory, but spills into the streets and homes of the people around us. Our science can be impactful as well as scientifically sound.  
As a professor at Temple and a senior fellow at the Brookings Institution, Dr. Hirsh-Pasek and her students are using the research from the lab to create policy and action in communities worldwide. Her forthcoming book Making Schools Work (Teacher's College Press) sports the latest positive findings from this approach in school districts in Pennsylvania, New Hampshire, and Michigan. It is a book that is co-written with Golinkoff and collaborators who are teachers, administrators, and informal educators as well as Psychology graduate student, Elias Blinkoff. Kathy's work demonstrates that it is possible to have engaged, culturally relevant learning that brings back the joy of teaching and helps children master the breadth of skills they will need to thrive in the workforce of tomorrow.  
Together, by creating partnerships with communities, school systems, funding agencies and media companies, the Hirsh-Pasek part of the Temple Infant and Child Lab is doing the science and translating it for public use.