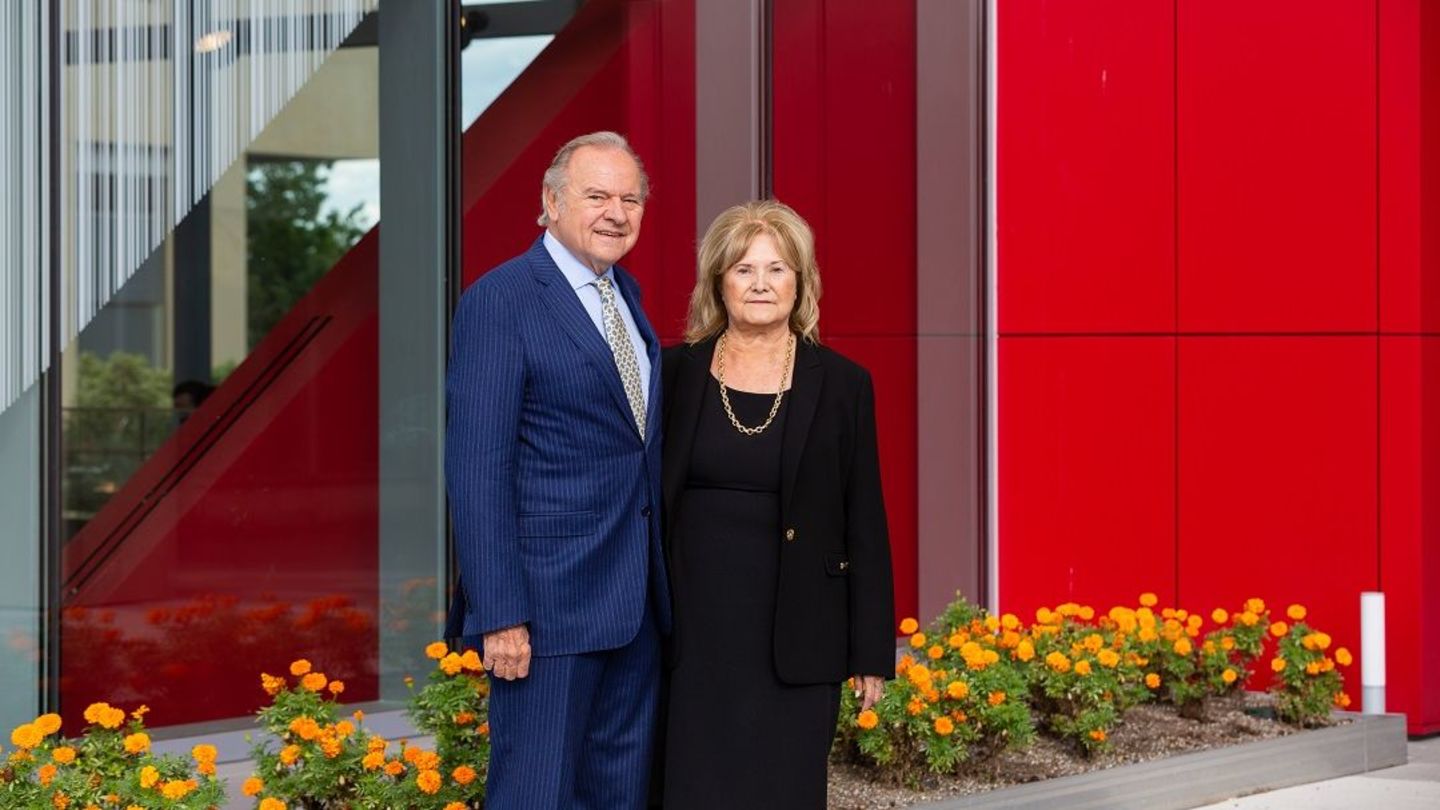 Robert Carter
College of Liberal Arts Psychology alumnus Leonard Mazur, CLA '68, FOX '75, and his wife, Helena, are strong believers in the power of education and opportunity. A generous $5 million gift from the current Board of Visitors member and his wife will provide scholarships, stipends for completing internships and other valuable opportunities for College of Liberal Arts students, now and in the future.
In honor of Leonard and Helena Mazur's dedication to the College of Liberal Arts and its student body, Anderson Hall will soon become Leonard and Helena Mazur Hall.
"Broad"-ened Horizons in North Philadelphia
With students hailing from Philadelphia to the Philippines and countless places in-between, the heterogeneity of the student body at Temple University's College of Liberal Arts is no small deal—it's what makes us tick.
It was precisely this student body diversity that Leonard Mazur sought following his twelve-year parochial school education. Throughout those years, he was surrounded by a tight knit West Philadelphia community. 
"I was looking to broaden my experiences in college", he explains. "I wanted to add to the supportive environment I had grown up in, by expanding my relationships to include students from different backgrounds and different parts of the country. I wanted to understand the world through different perspectives."
Mazur's desire to continue his education alongside students from varying walks of life led him along North Broad Street to Temple University, where he earned his BA in Psychology from the College of Liberal Arts in 1968. The skills from this degree would—unbeknownst to him at the time—translate well within non-liberal arts fields.
Liberal Arts in the Business World
Plenty of students and young professionals can relate to the excitement that comes with the start of a new internship or job. At his first gig out of college, Mazur may have also felt some extra nerves tangled in the mix.
"The pharmaceutical company I worked for early on didn't offer mentoring, nor did it have a formal training process for hirees," he says. "They were prone to simply casting you into the water and watching you sink or swim."
Consequently, Mazur was offered little professional guidance on his first company project. However, he found that the core skills from his liberal arts education would help him succeed in the task at hand.
"The project involved surveying nursing homes to gauge any opportunities for the company's drugs in the nursing home market sector," Mazur explains. They essentially said, 'you'll put together a report for us and give a presentation to the company's management.' And that was it. No guidance as to how to lay it out, how to think about it, or anything...my liberal arts background really came into play here."
"At Temple, I had a year of Experimental Psychology. So, I had a lot of experience in terms of organizing observational information into papers. That experience really helped me with that whole project. And that project became an important liftoff point for me in terms of my career. The information I collected went to practical use and the company made a judgment call on me and my future internal advancement based on that project."
A short time later, Mazur returned to Temple University in pursuit of an MBA at the Fox School of Business. He went on to become an entrepreneur in pharmaceuticals, launching and selling several companies before founding his most recent corporation, Citius Pharmaceuticals, in 2010.
Mazur credits his undergraduate psychology degree for giving him the necessary foundation to launch his career.
"My liberal arts education was phenomenal in terms of teaching the skills needed to really succeed, no matter the job or field: analytical thinking, research, paper writing and so forth. It was a great experience."
The Gift of Opportunity
For Leonard Mazur, the value of educational opportunity is personal. During a time of financial difficulty in his family, someone who saw young Mazur's potential intervened and made him an offer that would forever change his outlook on giving. "A man named Mr. Joseph Aberman owned a furniture store in the neighborhood where I grew up," Mazur recalls. "One day he called me at home and asked me to come down to the store."
"He told me 'I heard your parents are having some financial difficulty and I want to make sure you get the education you need. I think it's critical that you finish school. I'm going to give you a blank check. You fill in whatever amount of money you need and pay me back when you can.'"
"That," Mazur says, "was transformative."
A portion of the Mazurs' gift will provide scholarships to graduating students from Mazur's first alma mater, West Catholic Preparatory High School—formerly West Catholic High School for Boys. Since his own high school graduation, Philadelphia neighborhoods have shifted and the school now enrolls many students from low-income families. For this reason, Mazur is especially delighted to be giving back.
"There's a lot of good that goes on at that school," Mazur says. "It creates so much potential for its students." Gifts aim to create an impact beyond just the giver and recipients, explains Mazur.
"When you give a gift, what you really want to do is inspire others to give as well," he says.
"All of us are on a journey. And we aren't alone. We meet people who have roles in our lives by giving us breaks, being inspirational, giving good advice and so on. To me, giving back is critical if you've been fortunate enough to have a realization in your life based on what you've been through."
Endowed in 2014, the Leonard and Helena Mazur Alumni Network series helps to build students' professional networks by bringing them together with College of Liberal Arts alumni. Students can register to attend the next event coming up on October 15, 2021.