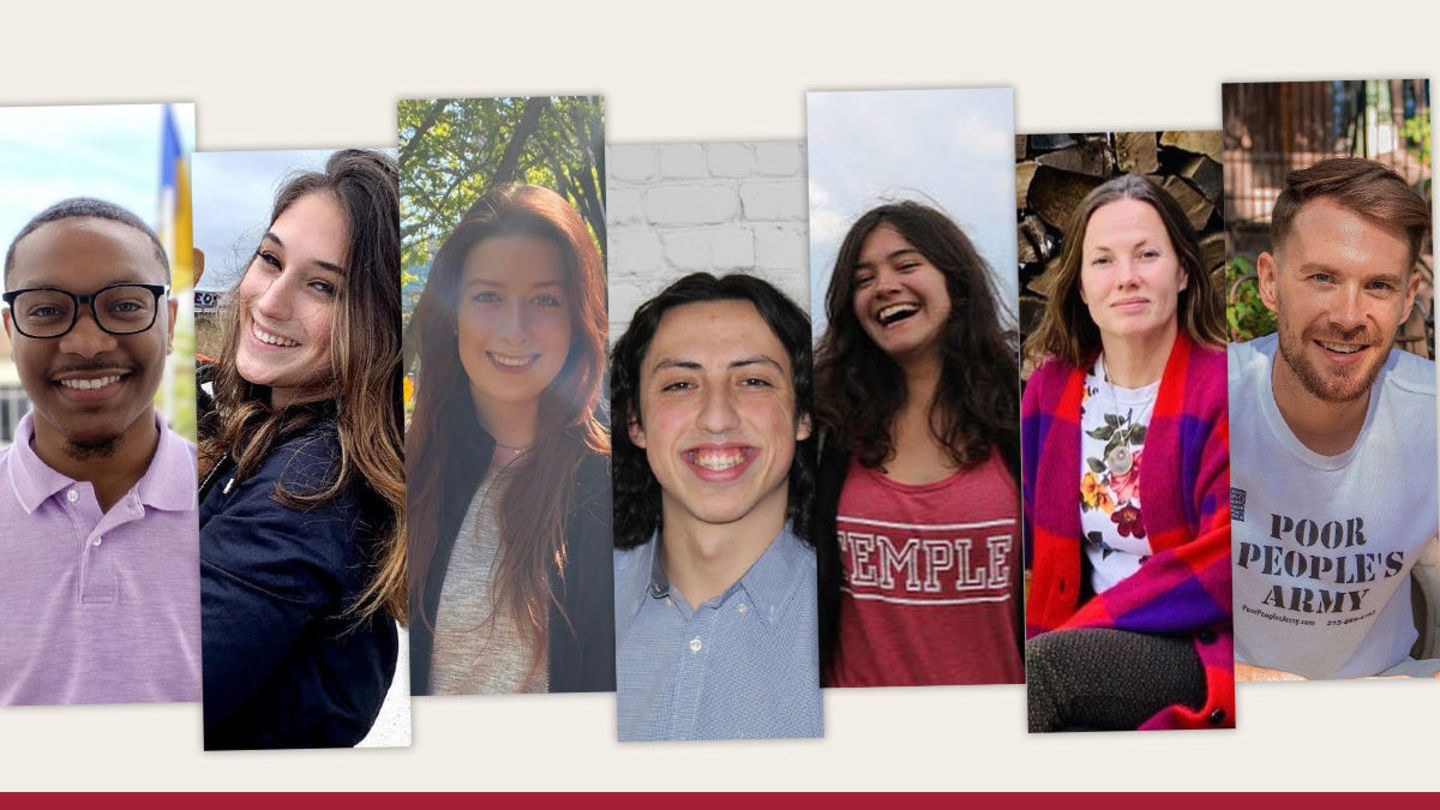 Global pandemic? Zoom classes? A mostly empty campus? None of this was any problem for the College of Liberal Arts Class of 2021!
OK, we get it. These were monumental challenges that altered your final few semesters as CLA undergrads in ways none of us saw coming when you first set foot on our North Philly campus. Life, however, is often difficult and unpredictable, and each one of you proved adept at overcoming such challenges. 
That calls for celebration! Because we just can't wait to honor every one of your accomplishments during this week's Commencement ceremonies, we're highlighting just a few of your classmates' many (MANY) achievements right here and now.
Once a high school dropout, Carmack exemplifies how there is no single path to success. A Truman Scholarship finalist, Carmack transferred to CLA from Oregon and is passionate about organizing with poor and working people to fight for self-determination. 
My favorite thing about the College of Liberal Arts is being required to take courses outside of my discipline, which gave me a new worldview. Debating ideas with my peers in these classes promoted the development of my class consciousness.
Coming to CLA as a transfer student from Portland, Oregon was somewhat of a culture shock, but as I got to know local Philadelphians and engaged off campus and in the community, I was inspired by the activism and organizing happening throughout the city. I really think Philly is home for me.
Finishing school during the pandemic has been difficult, to say the least. Although I struggled, I had more time to focus on my passion-working with the Poor People's Army.
After graduation, I will continue my work as a human rights organizer and internship coordinator with the Poor People's Army. My post-graduation plans will be focusing on feeding, housing and clothing the economically dispossessed in Philly and across the country.
My advice to my fellow graduates is to get off campus and engage the North Philly community. There are countless individuals, families and organizations that can benefit from the skills you learn in college-share your skills! The Poor People's Army is a good place to start.
Cruz also minored in Environmental Studies, completed a GIS certificate, was a LAURA Fellow and received the Delaware Valley Geographical Association Award. 
Being a first-generation college student has made me feel grateful for all the sacrifices my family has made to allow me to succeed. 
Being a LAURA Fellow was the spark I needed to pursue a career in research and helping communities through scholar activism.
Finishing school during the pandemic has been the most stressful time of my life, but has prepared me for the unpredictability that life brings.
My post-graduation plans are to attend graduate school at Rutgers University to become an urban planner.
My advice to my fellow graduates is to follow your passion, take risks and put yourself out there for the world to see.
Fernandez is one of 19 students worldwide to be selected for Erasmus LAGlobe and won a Leadership Alliance Summer Fellowship to conduct research at Brown University. 
My favorite thing about CLA is: the way advisors and professors are willing to think outside the box and offer all different types of enrichment opportunities to students. Anything is possible in CLA, coming from someone who has done an internship for credit and studied abroad twice!
Being selected for the LAGLOBE program made me feel: for one, that all those years of language study paid off. This is truly my dream master's program, and I am so excited to start this next step.
The Leadership Alliance fellowship taught me: how to develop my research interests and network with peers and scholars as well as how to combat imposter syndrome in academia.
After college I want to: pursue graduate studies (which I will be doing with the LAGLOBE Erasmus Mundus master's program) and prepare myself for an international research career while also learning more languages and improving on those I've already studied.
My advice to my fellow graduates is: make sure you really celebrate this achievement! This past year has been pretty awful for everyone, so we should all be proud of simply making it to the finish line.
A Theater minor, Fitzgerald came to CLA as a nontraditional transfer student with years of restaurant industry experience. She now performs advocacy work on behalf of restaurant workers.
Coming to CLA as a non-traditional transfer student was very exciting coming from my community college in Pittsburgh. Gaining access to the range of incredible classes and amazing professors in CLA's Sociology Department was a thrilling step forward.
My advocacy work is important to me because my career in the restaurant industry has shaped who I am. I've learned so much from the people I've had the privilege to work with, and I wouldn't be here without them. Advocating for the rights of workers within the service industry is my way of giving back to the working community that has given so much to me.
Finishing school during COVID has been a bit of a rollercoaster. Temple University and my instructors have done a great job making the transition and experience as seamless as possible, but missing out on the energetic exchange that takes place in the classroom was emotional at times.
My future plans are to attend law school and study labor law so I can take my advocacy work to the next level. I want to spend my future helping create fair and safe workplaces for all workers.
My advice to my fellow graduates is to go to office hours, get to know your professors, ask questions and get advice because your instructors have a wealth of knowledge and experience that they're ready to share. Take advantage of that resource; I'm very happy I did.
A 4+1 program student, Jones' graduate research interests include the intersection of criminal justice and contemporary politics through a material analysis with a focus on the law and legislative impact. Jones spent her four years at Temple working for the CST Dean's Office and was a founding staff member for CST's Online and Digital Learning Center.
CLA amazed me with: the faculty's commitment to their students and their fields. I'm incredibly lucky to have had countless "ah-ha" moments throughout my education.
Finishing school during COVID-19 has been: a challenge to transition entirely to online with such a pressing deadline. With keeping everyone safe as the top priority, we as students proved our resiliency and adaptability in one of the most trying times.
The 4+1 program was right for me because: it allowed me to pursue a graduate degree during my time in undergraduate, so I could finish graduate school in a competitive timeline. More importantly, learning and connecting with the amazing Criminal Justice Department faculty has allowed me to explore what I'm passionate about with some of the best scholars in the field!
After undergrad I plan to: begin my +1 year of full-time graduate school and earn my Master of Arts in Criminal Justice in 2022. After that I hope to work for a relevant nonprofit or organization pursuing criminal justice reform and maybe continue on to law school after a few years of work.
My advice to my fellow graduates is: in the words of the incredible Toni Morrison, "When you get these jobs that you have been so brilliantly trained for, just remember that your real job is that if you are free, you need to free somebody else. If you have some power, then your job is to empower somebody else."
At CLA, Kollmeier landed a prestigious internship with the United Nations and applied and was accepted into an exciting master's degree program.
My favorite thing about the College of Liberal Arts is how the diverse atmosphere we learn in allows us to develop unique perspectives about the world.
My UN internship has taught me how to network and interact with world leaders and ambassadors to work towards a better world.
Finishing school during the pandemic has been stressful, but it has made me more grateful for the time I spent at Temple.
My post-graduation plans are to attend the University of Hawai'i at Manoa for my masters in Natural Resource and Environmental Management.
My advice to my fellow graduates is to take every opportunity that comes your way, even if it's not on your planned path. You never know where it will take you.
Lawery interned with Philadelphia International Airport's government affairs team while attending CLA. He currently works as an aid to the mayor of Trenton, NJ.
Interning at PHL taught me to value and practice patience because everything doesn't neccesarily come on your time. Not even airplanes. 
I'm passionate about working with Temple NAACP because of our mission to advance the political, educational, social and economic equality of rights and eliminate race-based discrimination of all persons. The work we do isn't easy, but it will impact the lives of generations to come. 
Working for the mayor of Trenton has been a huge privilege and learning experience. I have been so fortunate to do this work and ensure that we are effectively disseminating COVID-related information and getting our vaccination efforts right. My favorite moment thus far was coordinating with CBS Studios when they shot scenes for a new pilot TV show in Trenton and I got to meet Patrick Dempsey. 
After college I want to continue working in urban local governments centers like Trenton, Philly or Baltimore. My passion lies in doing the work that positively impacts and enhances the lives of people in underprivileged communities so they can be better off than they were before. 
My advice to my fellow graduates is to remember to breathe after graduation. We've worked years for this moment; don't stress about next steps but really take time to soak in the rewards of your labor.
Congratulations, CLA Class of 2021! You did it!