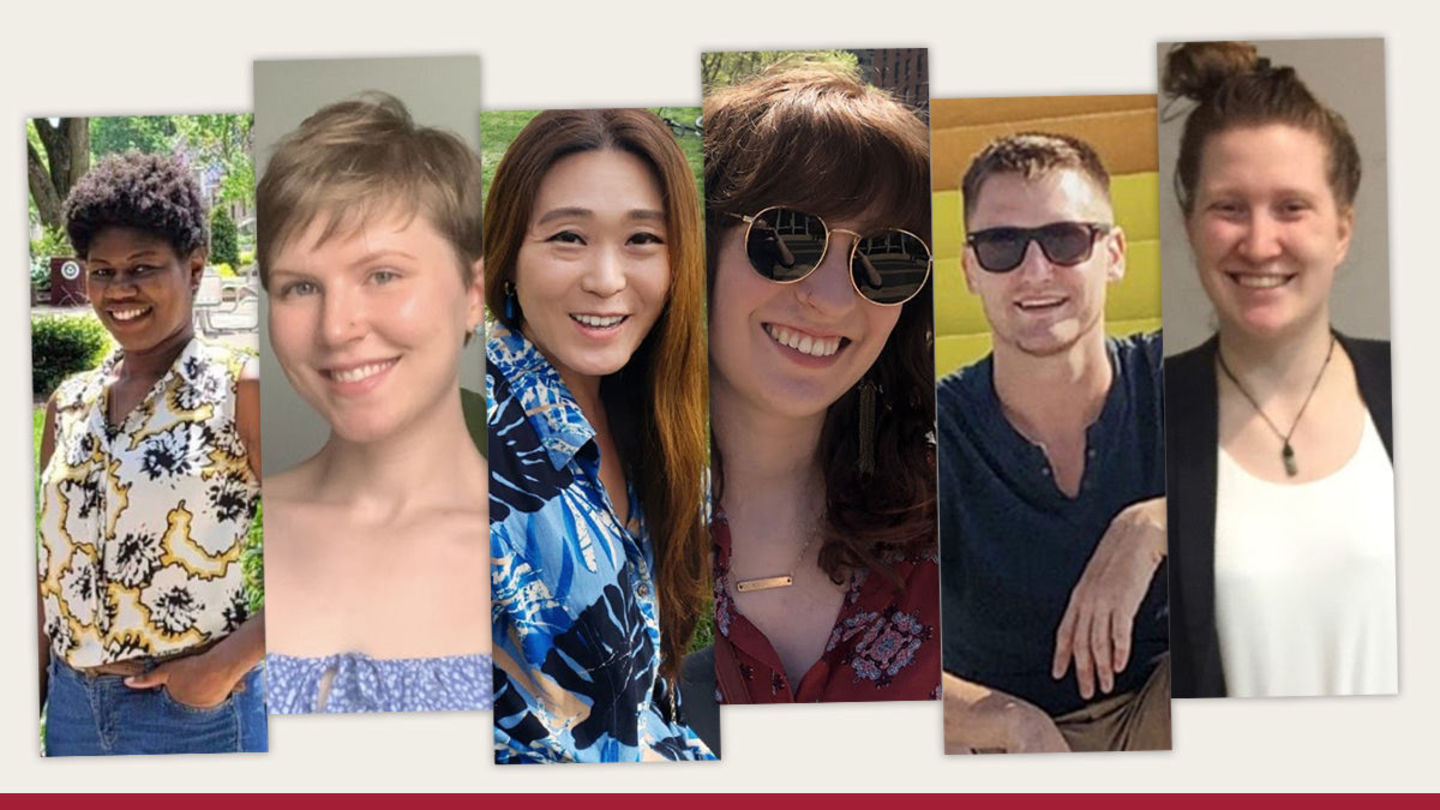 "When are you graduating?" It's a question every doctoral student (and even many part-time master's degree students) hears over and over again. The answer is always that you'll graduate when your studies are finished. This week, we're celebrating those grad students who are finishing their studies and joining the Class of 2021.
While this may just be another step in a lifetime of academic research for you, it's a big one. And it's worth taking a moment to celebrate the milestone. You persevered through COVID-19 and reached the finish line. Now, let's remember how some of you got here and look ahead at what's next!
A behavioral neuroscience researcher, Samantha Eck's dissertation focused on sex differences and stress using rat models. She was published eight times and gave 13 poster presentations as a grad student.
My behavioral neuroscience research is important because it tells us about how early-life adversity can change behavior and the brain into adulthood. Understanding how the brain is altered by stressful experiences can help us develop better treatment and prevention plans for stress-related psychiatric illnesses.
Finishing my PhD during COVID-19 has been weird. It complicated things, but I'm grateful to have had the resources and support to still be able to finish the program on time!
Being published eight times as a grad student was exciting! I worked on a lot of different projects in the lab studying the effects of stress on attention, development and reproductive behaviors. I'm happy a lot of that research is out in the world now!
After graduating, I'm starting a postdoctoral research position at UC Davis this summer to study how stress impacts social anxiety-related behaviors using a California mouse model. 
My advice to incoming PhD students is don't be afraid to ask for help! The more senior grad students in your program can be a great resource. Pick their brains about how they adjusted to grad school and how they prepared for different milestones.
Martha Fahlgren won funding for three years of grad school thanks to the National Science Foundation. She received a Presidential Fellowship, was published eight times, gained clinical training at two VA hospitals, co-organized the Scholars of Color Conference and is a founding member of Psychology Graduate Students for Inclusivity.
My favorite thing about CLA is the breadth of opportunities I was able to pursue in my clinical psychology program! In addition to conducting and publishing research, I took interesting courses, presented lectures, worked with some fantastic undergraduates, collaborated with my peers on meaningful DEI work and worked as a clinician with individuals in therapy following criminal convictions, at a community mental health clinic with suicidal individuals and on an inpatient unit in the Philadelphia VA Medical Center. I didn't realize coming into graduate school that any day of the week would bring new experiences, but I cherish those experiences.
Getting published eight times as a grad student was a complicated and rewarding process. The journey from conceptualization of a study through publication was sometimes frustrating, never straightforward and always wonderful to get that final acceptance. I sincerely hope my research contribution can promote better clinical care for individuals struggling with emotion dysregulation and aggressive behavior, which, for me, is the most important aspect of clinical psychological research.
Forwarding diversity, inclusivity and social justice in academia is important to me because for far too long my field has been (almost literally) an ivory tower, and the built-in structural barriers and systems of oppression have only served to make academic and clinical psychology worse. Working towards building both a culture of antiracism and inclusivity as well as taking steps to increase accessibility and fight bias is not only the right thing to do, it is the only way this field can remain relevant and useful. It feels crucial for me to use my privilege and power to work for these goals.
Interning at VA Puget Sound was an invaluable experience, at times some of the most challenging but also some of the most meaningful work I've done so far. I've really appreciated the opportunity to grow as a clinician, while also building skills in clinical administration, consultation, leadership and entwining social justice into each of these roles.
My post-graduation plans are to complete a yearlong postdoctoral clinical fellowship at the VA Boston Healthcare System as a member of the PTSD and Women's Trauma programs. I'm so thrilled to be headed back to the East Coast and to serve veterans who are experiencing PTSD or other trauma-related challenges. I look forward to putting this shiny new PhD to work!
Relying on novel methods to measure sexual orientation and examine labor market discrimination against the LGB community, Colin Hammar wrote an accomplished dissertation. He received multiple "Best Paper" awards at conferences and was awarded the College of Liberal Arts Graduate Instructor of Record Award for his teaching.
My favorite thing about CLA is the people. My fellow grad students, the undergrads in the courses I taught, the faculty in my program, the staff and the administration were all kind, supportive and committed to the college.
Finishing my PhD during COVID-19 has been wild. Since we were quarantined for several months anyway, I did not feel like I was missing out on the world while I was writing. But defending over Zoom was anticlimactic, and I'm sad I did not get to celebrate with family and friends.
My dissertation focused on LGB labor market discrimination because the workplace is still a place where many LGB people experience discrimination. While the laws around discrimination are evolving, it can still be difficult and even dangerous to be out at work.
My post-graduation plans are to continue my work as the Associate Director of the Public Policy Lab and start a new role supporting research administration at CLA. I also hope to take a vacation when it is safe to travel.
My advice to incoming PhD students is to find your people. Whether at Temple University or not, having a support network is important. Find a friend, family member or loved one with whom you can share your ups and downs. You're going to need to vent at some point.
In addition to completing fieldwork in Haiti, Minjung Noh received Temple University's Global Studies Graduate Student Research Grant, Louisville Institute's Doctoral Dissertation Fellowship and was an Advanced Graduate Scholar Fellow at the Center for Humanities at Temple University.
My favorite things about CLA are the excellent faculty members and support systems. Particularly, I noticed that the hard work by Dr. Amy Defibaugh (also a Department of Religion graduate), our director of graduate affairs, made a real difference in the last few years!
Finishing my PhD during COVID-19 has been challenging. I had to cancel my fieldwork plans and archival trips due to the pandemic. That said, I was able to navigate the change of plans with the guidance of my dedicated committee members and colleagues.
I'm passionate about my fieldwork in Haiti because as a researcher on transnational Christianity, I see Haiti as a vital crossroad of multiple religions in the Americas. In addition, the history of the relationship between the United States and Haiti is an excellent example of colonial/postcolonial transnational dynamics.
Without grant and fellowship support my research wouldn't have been possible. I have been extremely lucky.
My post-graduation plans are to teach at a New Jersey university in a two-year postdoctoral position! I plan to transform my dissertation into a book during the post-doc. I'm also training for a half-marathon for the summer and going for a bike trip to Cape May in June!
Persisting in data collection despite the pandemic, Motunrayo "Tutu" Olaniyan examined relations among racial authenticity and mental health outcomes among Black college students. Tutu spent 10 semesters as a teaching assistant, mentored various undergraduate students and was a faculty-grad student liaison.
I'm passionate about my dissertation research because college can be an exciting, yet stressful time for many Black students. Entrance typically occurs during a period of identity exploration, in which Black students may be faced with racial stressors such as stigma and racialized expectations of their behavior. In researching psychological health outcomes within this racial group, I hope to demonstrate the importance of providing institutional support for Black students who may be experiencing race-related stress.
Collecting data for my dissertation during COVID was a fulfilling challenge! Like many other graduate student researchers, I experienced a substantial delay to the start of recruitment for my dissertation. However, I am grateful for the support of my graduate advisor, developmental cohort, and many other students and faculty who helped me navigate this past year of remote research.
I hope my work as a faculty-student liaison helped students feel supported and valued within the department. During these past two years as the grad rep, I was fortunate enough to speak with students from each area in Psychology who trusted me to represent their interests and programmatic needs. I hope they continue advocating for each other, thereby fostering an environment of inclusivity within the department. 
Being a TA for 10 semesters taught me that kindness goes a long way! I want to thank each professor who has taught me how to foster an environment of trust and respect in the classroom. 
My post-graduation plans are to return to community-based research. Prior to entering the doctoral program, I worked for a participant-centered research network, in which I partnered with community stakeholders to leverage the voices of underrepresented groups. My goal is to use my degree to continue this work post-graduation.

Abigail Roper has several manuscripts heading towards publication and has been accepted into a doctoral program she'll begin in the fall. While a Temple grad student, she also joined a climbing club that allowed her to balance her work and studies by having fun with new friends.
My favorite thing about CLA has been how the Neuroscience: Behavior, Systems and Plasticity program has prepared me to become a neuroscientist and enroll in a doctoral program. The courses and research opportunities enhanced my knowledge, helped me build a neuroscience foundation and taught me how to apply it in a laboratory setting. The professors have all been instrumental to who I am today, exemplars for how to be a fantastic professor and very supportive of our growth to be the best we can be, and I couldn't have grown to where I am without my cohort, the people in my lab and my professors.  
Finishing my master's during COVID-19 has been pretty much fine! While the lab closed for a couple of months, I was able to catch up on my research over the summer! I was grateful for video calls helping me keep in touch with my family at home and my work with classmates. Throughout this time, I am proud to have contributed to multiple manuscripts that are currently in the works for publication.   
My post-graduation plans are to pursue my Developmental and Brain Sciences PhD with Dr. Tiffany Donaldson at UMass Boston. I will continue important work with substance abuse research and also look at sex differences in different drug treatments. I look forward to continuing working with Dr. Scott Rawls and collaborating with his lab!
Pursuing my doctorate will help me become a professor at a university where I can teach and run my own lab. I've always wanted to make a difference and can do so by completing meaningful research and mentoring the next generation of scientists. I'm going to continue my substance abuse research to help those who need it and are addicted or at risk of addiction to substances.  
I want incoming master's degree students to know that you get out what you put in, so dive fully into everything you do. Especially with entering a lab, try to help and learn as much as you can to both get the most out of the experience and confirm what path/research area interests you. 
Congratulations, CLA Class of 2021 Graduate Students! You did it!