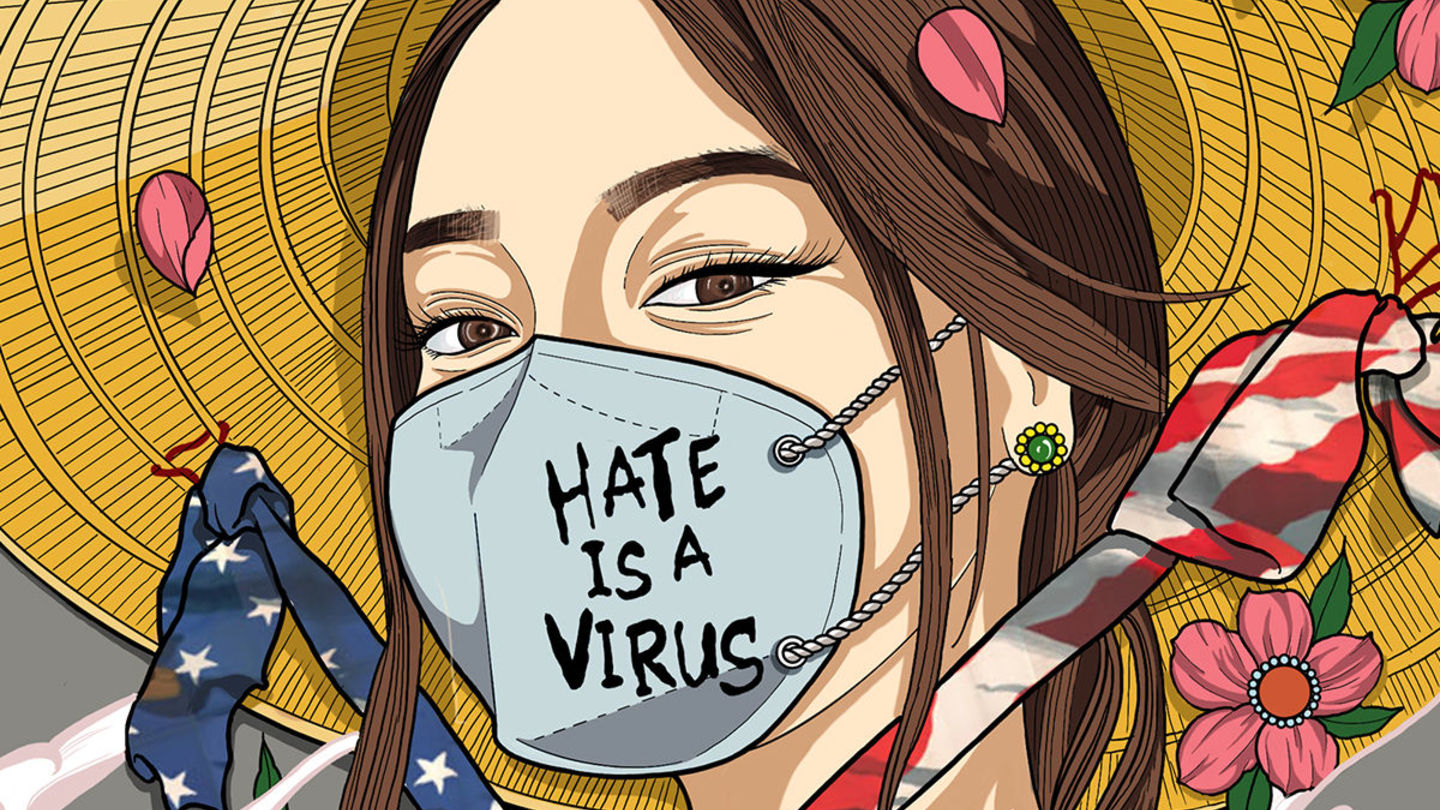 Today (Oct. 26) at 4 p.m., the College of Liberal Arts (CLA) will host its signature event of the semester, and you're invited to join. Titled, the Rise in Anti-Asian Sentiments: Racism, Xenophobia & COVID-19, the virtual discussion will kick off a series of events focused on race and racism:
"Our annual signature events bring distinguished scholars and public figures to campus to encourage interaction, understanding and productive dialogues about current events," explains Senior Associate Dean of Academic Affairs Hiram Aldarondo. "These events are thought-provoking talks that promote diverse voices, spark important conversations, deconstruct biases and foster inclusive attitudes."
Given how the COVID-19 pandemic has flipped everyone's worlds upside-down (especially those of our students, professors and 2020 alumni), CLA saw the need to engage students directly about it through a very particular lens. As Dr. Aldarondo points out, Asians and Asian-American are being targeted with discrimination, harassment and prejudice because of COVID-19. The presence of terms like "Chinese virus" and "Wuhan flu" has led to an increase in hate speech.
During today's event, moderator and Political Science Associate Professor Sean Yom will speak with Philadelphia Councilwoman Helen Gym, University of Minnesota's Erika Lee and San Francisco State University's Russell Jeung. Dr. Jeung is one of the founders of STOP AAPI Hate, which has reported an alarming rise in verbal and physical attacks on Asians and Asian-Americans during COVID-19.
Disturbingly, some of these incidents have targeted CLA students.
"Several of my Asian-American students have been harassed in public or yelled at in supermarkets—accused of 'bringing coronavirus to the U.S.," says Dr. Aldarondo. "Today, we'll bring these issues to the forefront for the CLA community in interactive discussions about how these attacks have affected Asians and Asian-Americans."
Those discussions will continue after tonight's event with Tuesday and Wednesday's talks hosted by CLA's Intellectual Heritage Program. Intellectual Heritage Senior Associate Director Douglas Greenfield says these discussions aren't an opening dialogue about this topic for students. Intellectual Heritage students have brought up racist rhetoric and intolerance all on their own this semester.
"we'll bring these issues to the forefront for the CLA community"
And while the professor says CLA should always be having discussions around these topics, the need to welcome students to events revolving around them is critical in 2020.
"One reason I wanted Intellectual Heritage involved is because our program has a chance to help students recognize that racism and xenophobia are ideas," says Dr. Greenfield. "It's not just a set of character traits or attitudes that some people might hold but others don't. That's part of the complex conversation we're having around prejudice in our classrooms, in our homes ever since the start of the pandemic and all of these subsequent developments.
"In Intellectual Heritage, we get to step back and think about larger societal structures and talk about how racism and xenophobia aren't just attitudes. They're phenomena expressed through institutions and transmitted culturally. That includes the very texts, whether fictional or non-fictional, that have both been historically included and historically excluded for undergraduate core curricula like Intellectual Heritage."
With the seriousness of the effects COVID-19 is having on students' and alumni's health, economic, academic and career outlooks, it's easy to lose sight of the racist and xenophobic damage it's also causing. Dr. Greenfield says this week is a chance to make sure those suffering from this damage in the CLA community and beyond aren't forgotten.
"How do we use our teaching and other student interactions to encourage students to challenge their own thinking, examine their assumptions and open their minds?" continues Dr. Greenfield. "Our speakers this week will offer a variety of answers to that question."
And because this is 2020, they'll have to do so a bit differently than they would any other year. While COVID-19 has disrupted everyone's lives, Dr. Aldarondo notes that "technology is perhaps the biggest stakeholder within the reconstruction efforts."
With safety being top of mind followed by access, CLA will host the event both on Zoom and our YouTube channel.
"These unprecedented times call for innovation and discovery," says Dr. Aldarondo, "and we remain committed to ensuring a quality education—online or offline—that fosters creativity and cultivates collaboration."