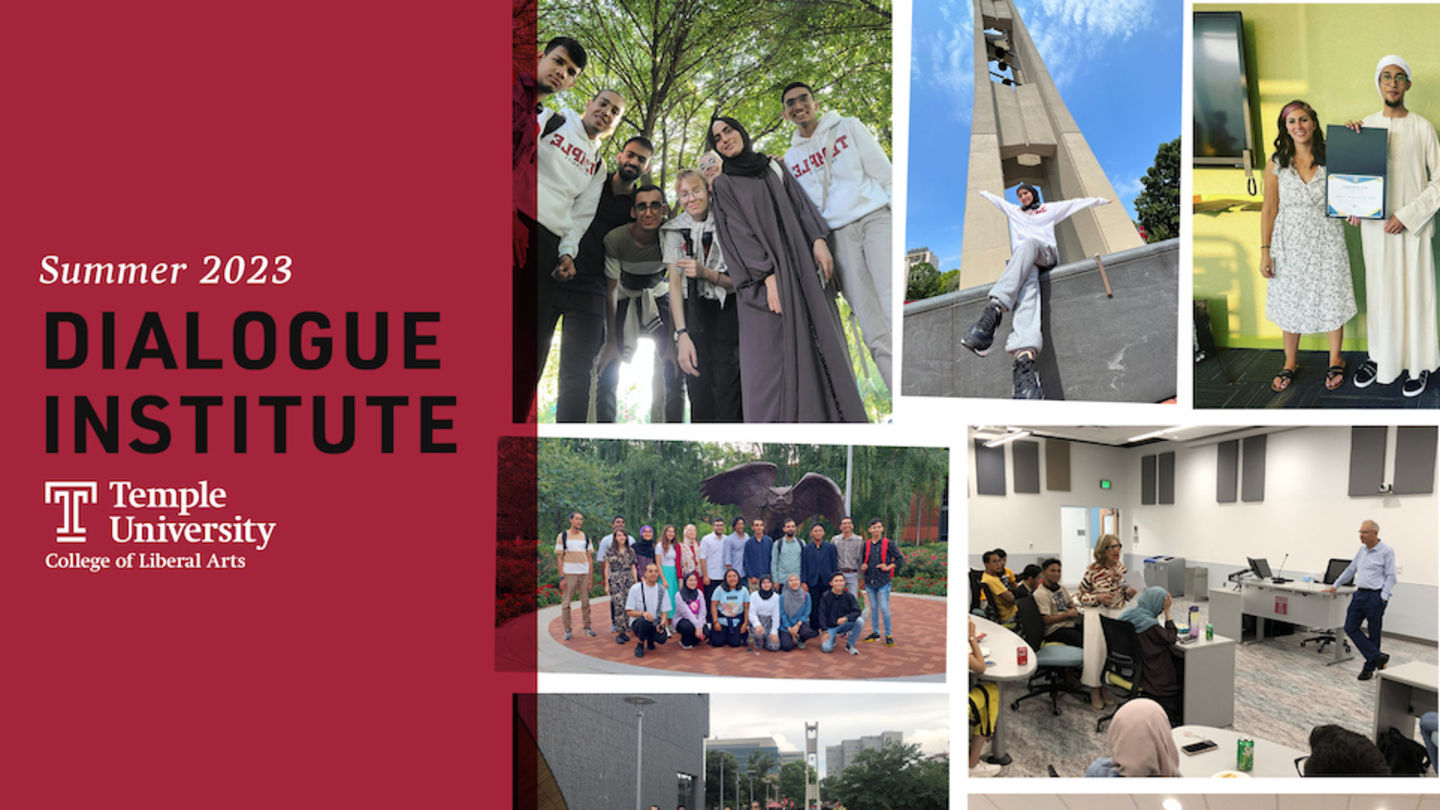 Through a dynamic curriculum that explores the intersections of faith, culture and democracy, the Dialogue Institute, a nonprofit organization based at Temple University, is supporting a new generation of leaders who are equipped to navigate global diversity and build bridges to seek the common good. 
Since 2010, the Dialogue Institute has welcomed international students to Temple through the Study of the U.S. Institutes (SUSI) Program, funded by the U.S. Department of State. This life-changing program has empowered more than 350 students to embark on a remarkable journey of discovery during a four-week exchange on campus. 
This past summer, a diverse cohort of 20 SUSI students from Egypt, Lebanon, Iraq, India and Indonesia resided in Morgan Hall, engaging in an enlightening exploration of religious diversity and democracy in the U.S. The summer program includes a combination of academic sessions and lectures that cover topics such as dialogue skills, the U.S. cultural and political landscape, and religious and civic literacy. Students also visited Temple's Kornberg School of Dentistry to meet with Dr. Amid Ismail, who discussed the importance of dialogue and cultural understanding in the delivery of healthcare services. All sessions are interactive and challenge students to think critically about local and global issues. 
Venturing beyond the classroom, the Dialogue Institute is dedicated to experiential education through site visits to area mosques, churches, synagogues, museums and key civic sites. Recent excursions beyond Philadelphia included a week-long trip to Phoenix, Arizona, and a visit to the nation's capital, Washington D.C. These immersive experiences allowed participants to explore the vibrant diversity of the United States while discovering the universal values that can unite us all. 
A standout feature of the program is the Community Action Project, a culmination that tasks each student with developing and executing a program aimed at addressing a pertinent issue concerning religious diversity and democracy in their respective home countries. This project serves as a platform for students to apply the knowledge and skills they have gained throughout the program.  
Upon returning home, students will implement their projects at the local level, presenting an opportunity to make a tangible and positive impact within their communities and beyond. The success of this endeavor is evident through the achievements of Dialogue Institute program alumni, who have gone on to assume roles as community organizers, local leaders, government officials and more. Through their work, they continue to educate others about democracy, civic engagement and peacemaking. 
On July 18th, 2023, SUSI students presented their final projects in Temple's Mazur Hall before a public audience. Announced at this event was a new, groundbreaking partnership with Temple's Department of Religion and Office of Noncredit and Continuing Education. With Religion Department chair Dr. Khalid Blankinship signing off on this initiative, alumni of the SUSI Student program were presented with prestigious Temple University certificates and digital badges, highlighting their achievements in becoming global leaders in religious diversity and democracy. Dr. Laura Levitt, a professor in the department reflected on her encounter with the students: 
This Dialogue Institute program is a ray of hope in a world increasingly divided and dangerously antagonistic. What we saw this summer was a broad range of young people from around the world learning how to critically engage with each other. These young people came together at Temple to learn how to listen and how to respond with respect and intellectual curiosity. I cannot think of anything more important in these dangerous times. 
Across the globe, we are witnessing the rise of authoritarian challenges to diverse, democratic societies. We need to support the growth of leaders in the U.S. and abroad who practice pluralism, and democracy, and advance understanding, compassion, and dialogue across differences. 
The Dialogue Institute's annual SUSI program at Temple University plays a significant role in promoting intercultural and interfaith understanding among young international leaders and provides opportunities to build bridges with Americans. As an organization dedicated to promoting cross-cultural understanding and global citizenship, we are honored to have the opportunity to welcome these students from across the globe and provide them with unique learning experiences in Philadelphia and beyond. 
The Dialogue Institute was founded by Dr. Leonard Swidler who taught in the religion department for 56 years. The institute is currently directed by Dr. David Krueger and the SUSI program is run by Dr. Andi Laudisio. Both earned their doctoral degrees from Temple's Department of Religion.
To find out more, visit the Dialogue Institute website and follow them on social media.