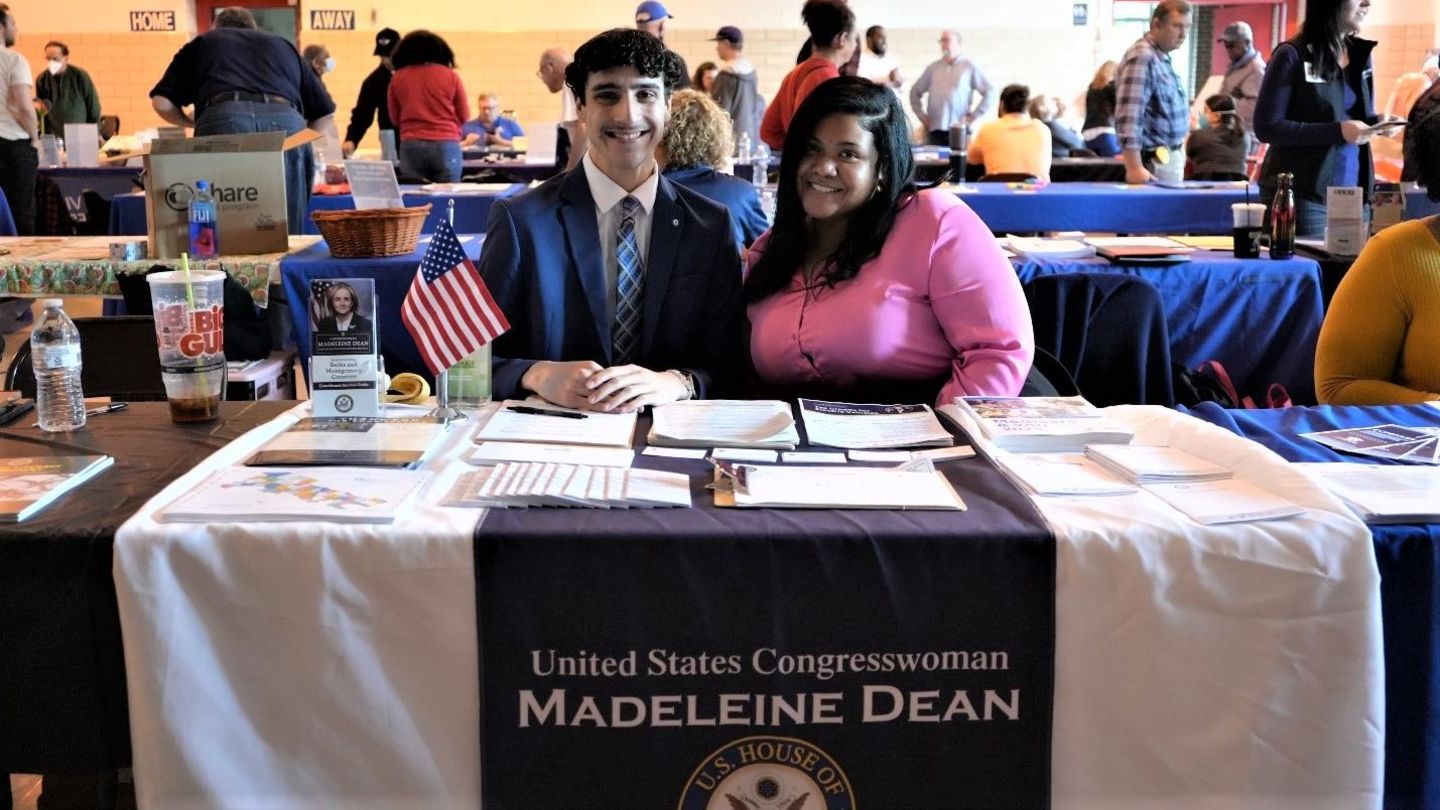 Andrew Green representing Congresswoman Madeleine Dean at a community event.
Andrew Green graduated with a BA in Political Science in 2023 from CLA, and now serves as a Staff Assistant and IRS Caseworker in Congresswoman Madeleine Dean's Glenside District Office. Continue reading to learn more about his current position and his time at Temple.
What is your current position? What kind of work do you do day-to-day?
I am a Staff Assistant and IRS Caseworker in Congresswoman Madeleine Dean's Glenside District Office. This position entails lots of phone etiquette! I intake cases and constituent concerns and ensure they go to the right place. We have to log every conversation and call, and I am often the first point of contact for a constituent when they reach out to our office about a federal concern. My position entails intaking, updating, and relaying casework as needed. I often speak with direct contacts in federal agencies and advocate for constituents until their issue is mitigated.
What is your favorite part of your current position?
I love the socialization that comes along with this position. As stated, most of the work I do is over the phone, and it is always nice to talk to someone new and learn more about what concerns are most important to them. It is also very satisfying to give a constituent a positive resolution and close a case, especially if it is long overdue! I also greatly appreciate the opportunities that come along with this position. Just the other day, I had the chance to visit my hometown of Pottstown and tour some local businesses that I had no idea existed! It feels good to give back to my community and learn more about what matters most to my neighbors.
What are the steps that you took that led you to your job?
I carved out a lot of time to construct a strong application, resume, and cover letter with the great help of my advisors for the District Office's spring internship. I landed the position after meeting with my advisors, sharing my concerns, taking their constructive criticism, and practicing interview questions. From there, I worked 19 hours a week in the District Office. Twice a week, I would work in Glenside in the morning and commute back to Philadelphia for class in the afternoon... it wasn't always easy! However, due to my hard work and dedication, I was offered a part-time position, which extended my internship hours and responsibilities. This then became a full-time spot after I graduated. Word to the wise, it is always possible to turn an internship into a full-time job!
Can you tell us a little bit about your path at Temple?
I came to Temple during the pandemic with 27 high school dual enrollment credits that were granted to me by The Foundation for Pottstown Education. Worried about the cost of housing and my personal health, I opted to stay fully virtual for an extra semester before moving to an off-campus apartment in my fourth semester. I took summer courses and 18-credit courseloads while working part-time at an on-campus job with the Intergenerational Center at Temple so that way I could build my resume and graduate a year early. I also (somehow) found time to intern with my State Representative in Pottstown while taking Spanish I and II last summer. My final two semesters at Temple were my busiest, with my very last semester being the one I worked with the Congresswoman's Office during. It didn't always feel the best to be spread so thin, but my hard work certainly paid off. It was crucial for me to schedule downtime so that I always had at least an hour or two every day to lie down or tend to my hobbies and interests. I finally graduated in May 2023, one month after turning 21, as a result of my three years at Temple.
What lead you to pursue public service?
I have always had a vested interest in public service. Being able to assist people with issues that have become difficult or unable to complete alone brings a lot of positivity into the world. I look forward to going to work when I know I have good news to bring to a constituent. Advocating for the unheard and the underrepresented is of the utmost importance given the current political landscape, and I always saw myself as a pillar in this process. I worked in public service and advocacy groups since high school, even serving as a student member of my local School Board. It always starts small, but once the ball gets rolling, there really is a lot that you can do as you build up your experience and form your advocacy issues of focus. I hope to continue down this path of public service moving forward.
How did your experience at Temple help prepare you for this position?
Temple offers a wealth of available courses that helped me learn more about the function of government and bureaucracy. It was necessary to have this knowledge of the government and its abilities when going into my political position. I also was able to take advantage of the great knowledge, insight, and guidance that was offered by my wonderful advisors. If it were not for Sean Murphy, Dr. Barbara Gorka, and the Career Center, I certainly would not have had the encouragement or resources to send in as good of an application as I did. I attribute a lot of my success to my coursework and my advisors at Temple; I will never forget their efforts in my advancement.
What is one piece of advice would you give for Temple undergrads to succeed?
Rest is not earned!! It is a common misconception amongst undergrads that the only way to succeed is to work double overtime and never have time to sleep. I kept myself very busy while I was at Temple, and I am guilty of overworking myself at times; however, it is necessary to remember that everyone needs time to do nothing. An object in motion stays in motion, so it is easy to push off stepping away for "just one more page" or "just one more hour", but neglecting your need to rest can create issues with your work quality and mental health. You'll have the rest of your life to work, if you have an opportunity to do something fun, learn a new skill or hobby, or just nap, take it! So long as it doesn't greatly interfere with your benchmarks, due dates, and quality of work it is ALWAYS okay to take a break. Also, never compare yourself to others. Your time for success will always come. Impostor syndrome is very real, but you should never question your abilities or place in this world. If you made it there, you deserve it! Always apply yourself to whatever you desire. Even if you think someone might be a better candidate, leave that for the judges to decide! You didn't take it away from someone else, you are here because you earned it!
What's the most rewarding part of your job?
It is always so rewarding to put a smile on someone's face because you helped to fix their problem. This doesn't always happen, but a simple "thank you" card or phone call can really make it all feel worthwhile. Even the satisfaction of knowing that you did something to help someone else is enough to bring meaning and reward to a mundane task. Also, having the opportunity to give back to my community and assist my neighbors with their concerns will always be much appreciated and valuable to me. It is hard not to feel proud of your work when you know you were able to make a difference in someone's life.
What's next for you?
I hope to stay with Congresswoman Dean's Office for the foreseeable future. I have always felt a deep connection to my hometown and I want to work for politicians who represent people like me. I have already experienced upward mobility in that I turned an internship into a full-time, salaried position, so I look forward to what my future holds in the office within the next 1-5 years. I hope that someday, down the line, if I am not a member of the senior staff for the politician, I can be the politician myself. I love where I come from and I can't wait to continue my advocacy work for the communities who have built me into who I am today.