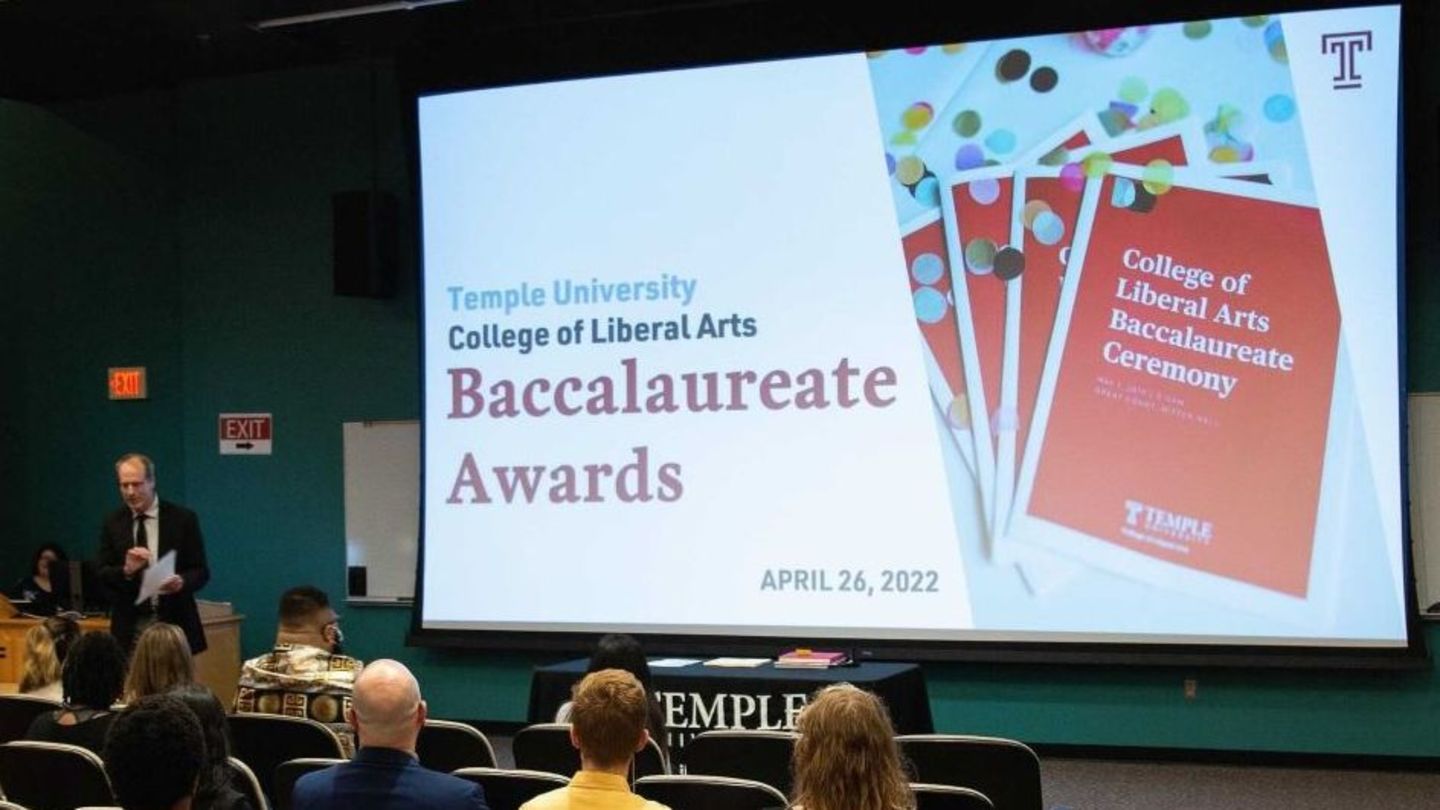 Come each spring, feelings of pride, joy and accomplishment float in abundance through the air for all to feel as our graduating College of Liberal Arts Owls prepare to spread their wings and take flight.
For a select handful of graduates, there's an extra cause for celebration during this time.
Every year, prior to spring Commencement, the College of Liberal Arts announces the year's Baccalaureate Award winners and a ceremony is held in their honor. Separate from Latin Honors, a strictly GPA-based distinction, Baccalaureate Awards are CLA's highest honors given to graduates who have exhibited "[dedication] to the academic and social life of their departments and to the College of Liberal Arts", said Senior Vice Dean of the College of Liberal Arts Annette McMenamin Bakley.
A tradition of giving that's over half a century old, CLA's Baccalaureate Awards are paid from funds donated—over the course of many years—by alumni, faculty and staff to encourage CLA students to get involved in their respective departments and at the college on a greater level— an often academically, socially and professionally rewarding endeavor.
"Our Baccalaureate Awards ceremony is a special one", continued McMenamin Bakley. "In addition to honoring our students, we also celebrate the faculty who were important to their development as scholars." Many winners attending the ceremony took the opportunity to pose with their faculty mentors for a photo commemorating their accomplishments and mentors' impactful support.
As their undergraduate careers drew to a close, several of our awardees reflected on their favorite memories made at Temple.
Marcus Baldwin, CLA '22
Faculty Mentor: Dr. Molefi Kete Asante
"My favorite Temple memory was having the opportunity to work with Dr. Asante as an intern during the summer of 2021."
Shoshana Bockol, CLA '22
Faculty Mentor: Laura Biesiadecki
"Most of my fondest Temple memories are related to the found families I created with my roommates and Babel Poetry Collective peers."
Maddie Gee, CLA '22
Department Mentor: Liz Janczewski
"I loved that I was able to create new memories and experiences as an independent college student on the same campus where I had grown up."
Tyler Perez, CLA '22
Faculty Mentor: Katherine Henry
"My favorite memory is the day I joined The Temple News, where I grew my skills as a writer, communicator, and leader."
Katie Perrone, CLA '22
Faculty Mentor: Orfeo Fioretos
"My favorite Temple memory is completing my political science capstone course. It was extremely rewarding to spend hours working on a project and to feel very proud of the result."
Luke Powell, CLA '21
"My experience studying abroad in Tokyo in 2019 was one of the most valuable and important moments of my life, beyond the bounds of the university."
Khushi Sibal, CLA '22
Faculty Mentor: Kathy Hirsh-Pasek
"My favorite memory at Temple is the comfort of walking to my classes and being able to see all the seasons take shape. The advantage of attending class in person feels even more special after COVID."
The College of Liberal Arts congratulates the Class of 2022 Baccalaureate Award winners and wishes all 2022 graduates the best as their next chapter begins!
Mariana Abreu-Costa, Political Science Merit Prize
Marcus Baldwin, Shirley Graham Du Bois Award for Academic Excellence and Africology and African American Studies Outstanding Undergraduate Academic Achievement
Adiba Bhuiyan, Norman and Ruth Sun Memorial Scholarship
Madison Bockol, Lucia Beck Weiss Prize in Women's Studies
Danielle Brooks, Outstanding Graduating Senior in Korean
Stephen Brown, Edith Windsor Award and Toby A. Olshin Memorial Award
Samantha Campbell, Ronald C. Schwarzkopf Award in Political Science
Melissa Centeno, Criminal Justice Service Award
Andreas Copes, Edith Windsor Award
Amy Cuniff, Geography and Urban Studies Department Award for Outstanding Achievement
Cecelia Curran, Chief Inspector Vincent J. Greene, Sr. Memorial Award in Criminal Justice
Ayanna Curtis, Annie Hyman Award for Outstanding Service
Lazar Dokov, Benjamin H. Kohl Memorial Award
Dex Downie-Greenridge, Professor Edward R. and Essie Baron Memorial Award
Gabriela Duran, Outstanding Graduating Senior in Arabic
Autumn Edwards, Outstanding Graduating Senior in Japanese and Outstanding Graduating Asian Studies Major
Brianna Fairman, Mary L. Fink Memorial Fund - Poetry
Matheus Francisco Fronza, Knudson Journalism and Latin American Studies Award
Colin Garber, Political Science Award for Excellence
Madeline Gee, Patrick Stocking Memorial Prize
Benjamin Ginsberg, Norman & Ruth Sun Memorial Scholarship
Kristina Glass, Carolyn Adams Award in Geography and Urban Studies
Henry Gottschall, Delaware Valley Geographical Association Award
Samuel Hall, Political Science Prize
Samuel Harrison Hilfiker, Departmental Prize for Excellence in Classics and Professor Edward R. and Essie Baron Memorial Award
Emma Holt, Henry N. Michael Prize in Geography and Urban Studies
Victoria Kline, Milton Moses Memorial Award
Maighdlin Lagonegro-Coar, Sigma Delta Pi Prize
Sophie Lalande, Robert J. Mason Environmental Studies Award
Noah Mannix, Randy and Samantha Deglin Memorial Award
John Meyer, Political Science Scholastic Prize
Michael Monaco-Vavrik, Robert J. Mason Environmental Studies Award
Mohit Mukherji, Clifford M. Kliger Memorial Award
Lauren Nolan, Outstanding Graduating Senior in Chinese and Diaz-Valenzuela Award
Jessica Nopper, Claude C. and Mary Carson Bowman Award
Heejin Pae, Sociology Award
Samantha Patterson, Outstanding Graduating Senior in Korean
Isabella Payne, Neysa and Arlin Adams Prize for Excellence in Pre-Law Studies
Tyler Perez, Loretta C. Duckworth Prize In English
Alessandra Perotti, Edith Windsor Award
Kathryn Perrone, Ronald C. Schwarzkopf Award in Political Science and Dr. Arthur N. Cook Award in History
Igor Piovezan, Mary Procida Prize in Gender and History
Luke Powell, Outstanding Graduating Senior in Japanese and Robert Marler Award
Olivia Quartey, Sociology Prize
Tess Reilly, Marthe Lavallee Williams Excellence Award and Rosemary Hodgins Prize in French
Ivette Rios, Kristina Joanne Chelius Awards
Destiny Shembo, Africology and African American Studies Outstanding Undergraduate Academic Achievement
Khushi Sibal, Clifford M. Kliger Memorial Award
Liam Smith, Sigma Delta Pi Prize
Edward Sobeck, Dr. Alfred M. Sellers Veterans Scholarship
Samantha Sprechman, Outstanding Graduating Asian Studies Major
Grace Spurrier, Political Science Prize
Anna Stewart, Psychology Prize
Aalayah Taylor, Dr. Kenneth E. Williams Memorial Award
Sophia Tran, Psychology Service Recognition Award
Matthew Wolf, Dr. Arthur N. Cook Award in History
Helen Yun, Dr. Alfred M. Sellers Veterans Scholarship