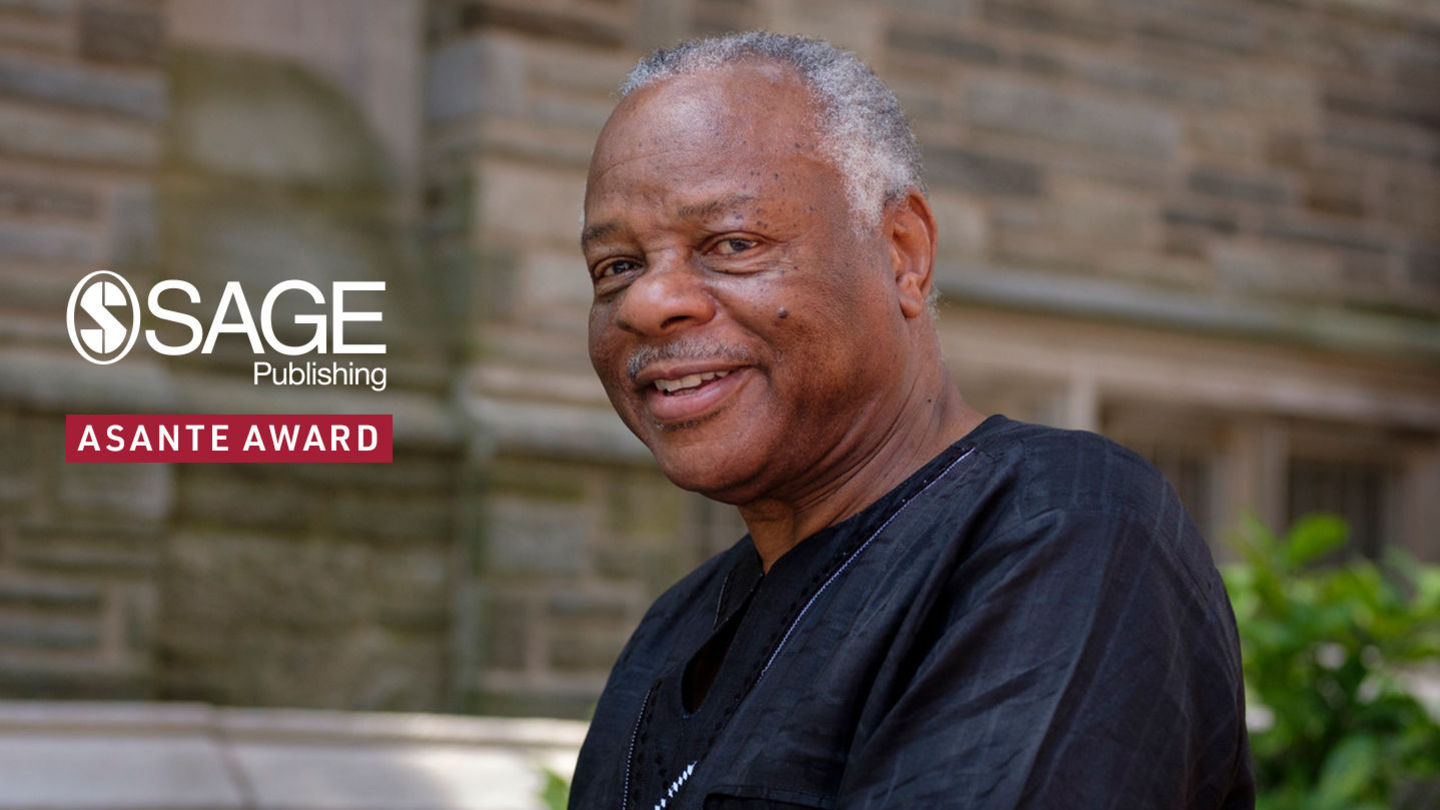 In honor of Africology and African American Studies (AAAS) Chair and Professor Molefi Asante's 50th anniversary as Journal of Black Studies editor, publisher SAGE Publishing is endowing the College of Liberal Arts with a $100,000 AAAS graduate research scholarship.
"The SAGE Asante Award will become a standard by which we evaluate graduate student scholarship in the discipline of Africology," says Dr. Asante. "SAGE's audacious move in this direction captures the journal's visionary spirit.
"The Africology and African American Studies Department is thrilled by SAGE's recognition of the role we have played together in sustaining the field of African American studies, now commonly known as Africology. The Journal of Black Studies, one of the oldest peer-reviewed journals in the field, is a powerful instrument for intelligent writing."
When Dr. Asante proposed the journal in 1968, SAGE immediately recognized it as a vital addition to social science research. Along with the U.S.'s first doctoral program in African American studies, which Dr. Asante launched at Temple University in 1988, the journal became a foundation of the field. These pioneering moves led to the creation of over 350 U.S. degree programs, including 17 doctoral programs.
The SAGE Asante Award will become a standard by which we evaluate graduate student scholarship in the discipline of Africology
Now, the SAGE Asante Award will help push Africology research forward in perpetuity. SAGE Publishing CEO Blaise R. Simqu identifies the scholarship as necessary financial relief for graduate students with the desire to conduct that research.
"For every graduate student, even myself when I was a graduate student, there's always an undercurrent of financial strain and financial anxiety," explains Simqu. "And I believe that if graduate students have access to grants and methods of funding their research, they'll have more time to do better research."
Simqu, who describes Dr. Asante as "an incredibly warm individual," has maintained a strong working and personal relationship with the professor since working as a SAGE production editor in 1986. The CEO is proud of the work the publisher has done with Dr. Asante these past five decades to create and evolve the field of Africology. 
And while Simqu recognizes that racial justice is a particularly hot topic in the aftermath of George Floyd's death and re-emergence of the Black Lives Matter movement, he stresses that the research the SAGE Asante Award will empower will forever be necessary.
"For SAGE, this is representative of continuing support in the field of Black studies, but also as a way to commemorate and celebrate Molefi Asante's amazing commitment to the field," says Simqu. "Dr. Asante did change the world with the Journal of Black Studies, and SAGE was his partner. It's important to us, particularly given the injustices and challenges of race spotlighted in America right now, to commemorate that as we approach the twilight of Dr. Asante's career."
The AAAS chair has shown no signs of slowing down his pioneering efforts as he enters this stage of his career. Earlier this year, Dr. Asante helped SAGE identify a black-owned publisher to support through publishing African and Black-centric works.
Naturally, Dr. Asante is as excited about those forthcoming publications as he is to be involved with the Temple scholars whose work will flourish thanks to the SAGE Asante Award. "I am humbled by SAGE's contribution to this award representing the partnership we have developed and sustained over the past 50 years. The SAGE Asante Award will be an icon of excellence for years to come."