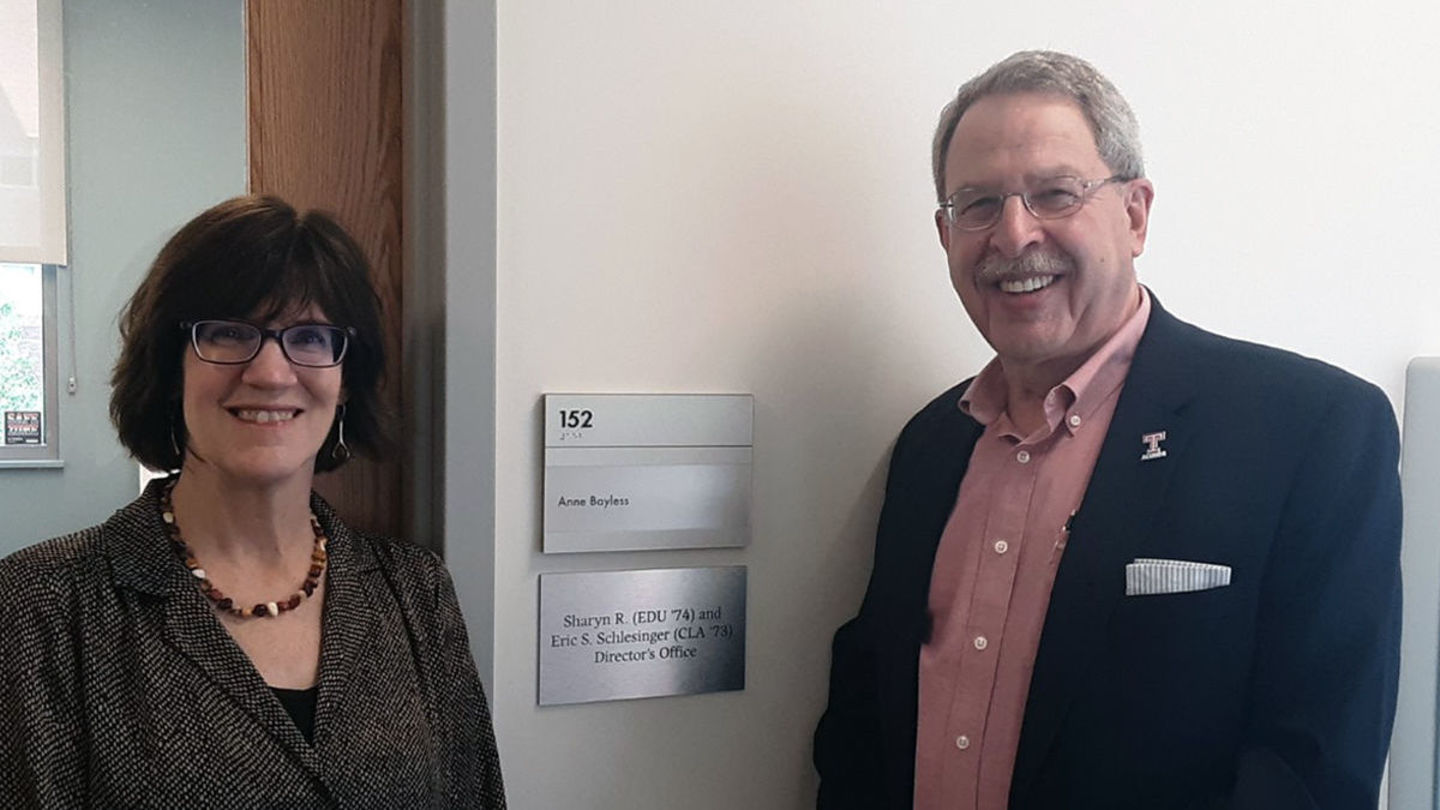 Students usually want three things out of internships: experience, knowledge and payments. While every internship will provide the first two, it's that third item that can be, well, hit or miss. No one wants to work for free, of course, but of even more concern is that many students simply cannot work for free.
Enter the College of Liberal Arts' (CLA) Pathways to Professions program.
Get Paid for Unpaid Internships
Pathways to Professions gives students $2,000 stipends to undertake otherwise unpaid summer internships that are meaningful and valuable to them. The stipend is made possible by generous alumni like Eric Schlesinger, CLA '73, who recently established the Sharyn R. and Eric S. Schlesinger Pathways to Professions Scholarship for students majoring in Psychology or other social sciences. 
Named in part for Schlesinger's late wife, whom he met on a Temple University elevator, the fund supports what Schlesinger believes is a worthwhile cause. 
"Even though they are not paid for the internship by the organization, the student does not feel they're losing out in accepting that internship," says Schlesinger. "They're gaining the stipend from the university, whereas the alternative would be for the student to say, 'I can't afford to do that, I can't afford not to get paid for an internship. I need money to support myself. I have to get a job waiting tables or driving a truck that I'm going to make money from.' This is an incredible gift that the university is making available."
Schlesinger should know. After all, he's worked in career services since 1974. In his professional circles, Schlesinger was hearing a lot of questions about what sort of internship funding different universities are providing. This made him reflect on the opportunity cost being faced by students who couldn't afford to gain vital career experience through an unpaid internship.
By the Liberal Arts, for the Liberal Arts
Because he's worked both as a career coach and as a hiring manager, Schlesinger has seen how this affects students from both sides of the coin. With that experience and a Temple liberal arts degree under his belt, Schlesinger knows as well as anyone how important it is for students to find their way to the Joyce K. Salzberg Center for Professional Development before graduating.
"That the college is offering the services of the professional development center and that there's a career course in each department is, I think, a game-changer," says Schlesinger.
How so? Well, Schlesinger remembers that when his wife was majoring in education at Temple, she didn't get into a classroom to teach until her senior year. That experience made her realize late in her college career that she did not want to teach in a classroom.
Today's CLA students can get help finding job experience in fields of interest much earlier. That experience can either validate the path they're on or inform their shifting to a new one. What's more, that help is curated for liberal arts students, with advisors who understand CLA students want to make a difference in the world while also launching successful careers.
"The young woman who was the first recipient of the Schlesinger scholarship did some volunteer work in the fall," says Schlesinger. "And now she's going to do her summer internship with the same organization, Girls, Inc. This gives her an opportunity to see what that's like and to confirm for her that it's something she could devote time to and feel something about.
"That was a valuable insight to gain. And so the notion of internship as exploration but also as credential-developing from an employer standpoint, it's vital to put those statements on your resume, because that's what employers want to see, that you have some experience you can bring to the table."
Real Knowledge for Real Life
Again, Schlesinger stresses that as a career coach he's advised professionals on getting that experience front and center on their resumes and as a hiring manager, his eyes would immediately search for it when reviewing resumes. 
What exactly that experience is for CLA students can vary greatly given the breadth of programs the college offers. But Schlesinger points to the critical thinking and global perspective all liberal arts students gain as vital in both graduates' careers and their lives.
"It's that gaining of a broad swath of knowledge to be an educated individual, to understand the world you live in whether you're working in government, in politics or whether you are a citizen and experiencing government and politics, whether you are in a job in economics or you are a member of society and you're experiencing an increase in gasoline at the pump, whether you are in psychology or you are interacting with other people.
"All these things that we learned through these different courses in liberal arts help us to be better people when we reach the world beyond the walls of the university."
Learn more about how and why every CLA student should have at least one internship.