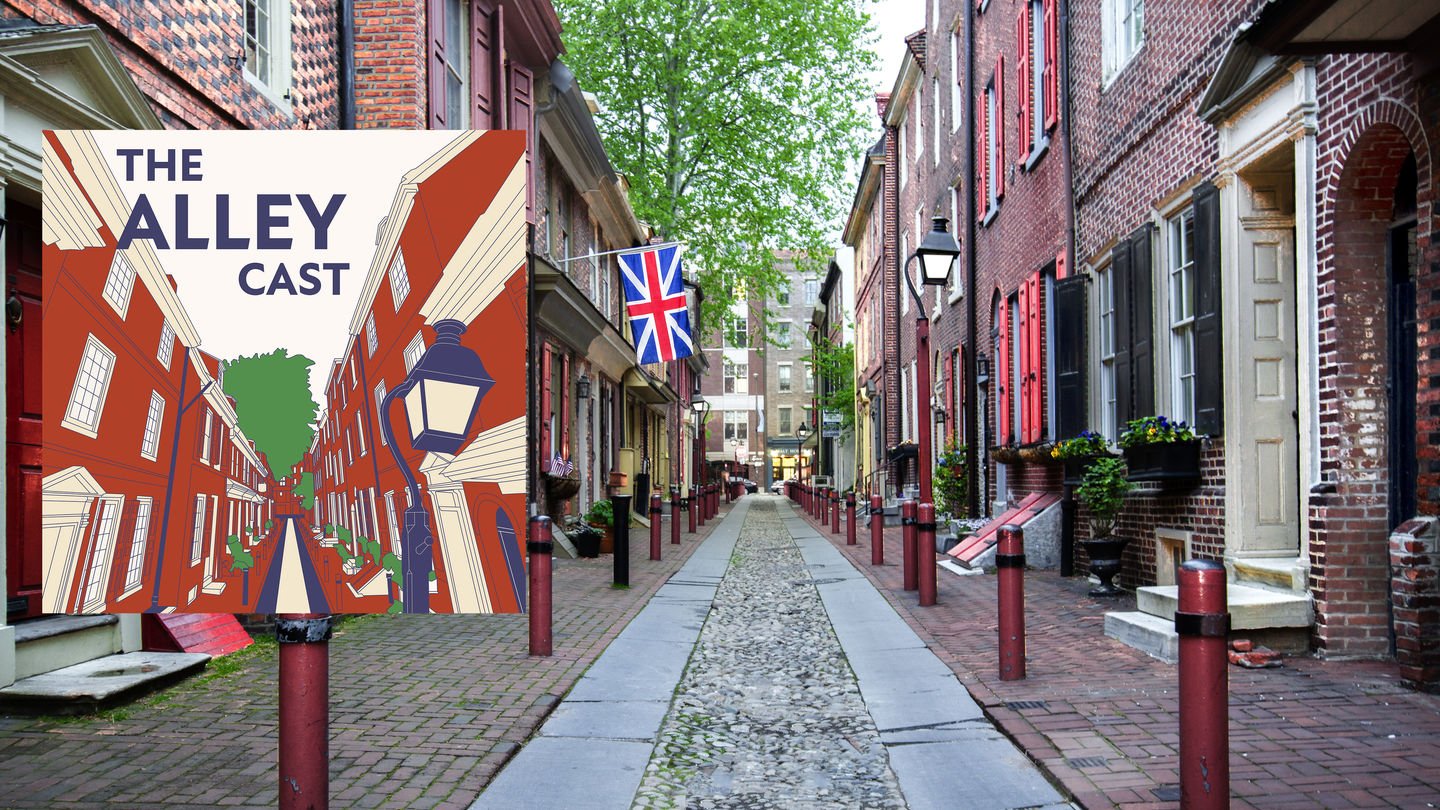 If you're going to spend a couple of years of your life studying history as a graduate student, you could do worse than choosing the Birthplace of the Nation as your study locale. At Temple University's College of Liberal Arts (CLA), students pursuing a History master's degree with a Public History concentration don't just have the opportunity to examine history through an advanced critical lens inside the classroom. They also have the chance to explore the campus' backyard for some real-world learning and career experiences at some of the United States' most historically significant locations.
Ted Maust, CLA 2018, is putting his Temple Master of Arts in Public History (MAPH) to good use as the director of Elfreth's Alley Museum. A National Historic Landmark, Elfreth's Alley is a magnet for tourists to the city and is known as America's oldest residential street. Maust, though, dislikes that moniker because it ignores permanent native settlements dating back to the 12th century. He sees its biggest appeal as something a bit simpler.
"The thing that makes it notable as a street as a whole is that, among American preserved spaces, it's one of relatively few that deals with common people," he explains.
Elfreth's Alley is a residential street first developed in 1703 by tradesmen who wanted a quick route to the nearby Delaware River. Thanks to preservation work that began in the 1930s, Elfreth's Alley is now a showcase for colonial architecture, a still-inherited community that celebrates the working class that built America.
"The Alley...tells the story of the working class, women and people of color, not just during the colonial era but over three centuries of the city's history and development."
To continue that celebration, Maust launched The Alley Cast, a podcast he runs with two current Temple MAPH students (Isabel Steven and Joe Makuc) working as interns at the museum. Maust credits Temple "history professors being really invested in their alumni's success" as one of the catalysts for the podcast. After he became director of the museum in 2019, some former professors reached out to ask how they could collaborate.
As the museum's only employee, Maust needed some help. Thankfully, a couple of Temple Public History grad students were hungry for some experience. They had taken a course that included a project around some of the work Maust was doing at the museum.
"One of them was already writing a paper that was examining some historical figures at the alley, and the other was interested in replanting or gardening and doing some sort of biological teaching in terms of native plant species," recalls Maust. "They both approached me, and we started planning how they would do summer internships with us in 2020. They would help create exhibit programming for tourists and then carry it out and essentially be my coworkers for a little while."
Then COVID-19 happened. Tourist exhibits were put on hold.
Not wanting to let the chance to expand the museum's scope while giving the grad students some valuable work experience slip away, the trio decided the solution was to start a podcast. The Podcast would not only make the alley accessible to those unable to visit during COVID-19, but would further bring to life the lesser-told stories that comprise Philadelphia's history.
"I hoped that would be a route to tell some longer stories and also sort of get people to think of us as not just a place that is frozen in time," explains Maust, "but a place that is actively telling stories and doing more research and getting a fuller and more complex idea of the stories that are there."
Elfreth's Alley intern and Temple MAPH student Isabel Steven sees great importance in the Alley's inclusive voice.
"Elfreth's Alley offers a much-needed voice that counters the dominant narrative told here in the city, which centers elite, white colonial men," explains Steven. "The Alley, by contrast, tells the story of the working class, women and people of color, not just during the colonial era but over three centuries of the city's history and development."
While The Alley Cast's first season gave a chronological overview of Elfreth's Alley, Maust is excited that season 2 will premiere this summer and take a deep dive into work done by the alley's residents (woodworking, construction, child labor, etc.)
Maust says the second season wouldn't have been possible without the sponsorships of the History Department and The Center for Public History. Nor would it have come together without students in Hilary Iris Lowe's Managing History course performing research and even submitting script drafts.
While you wait for the second season to launch, you can catch up on The Alley Cast's first season.