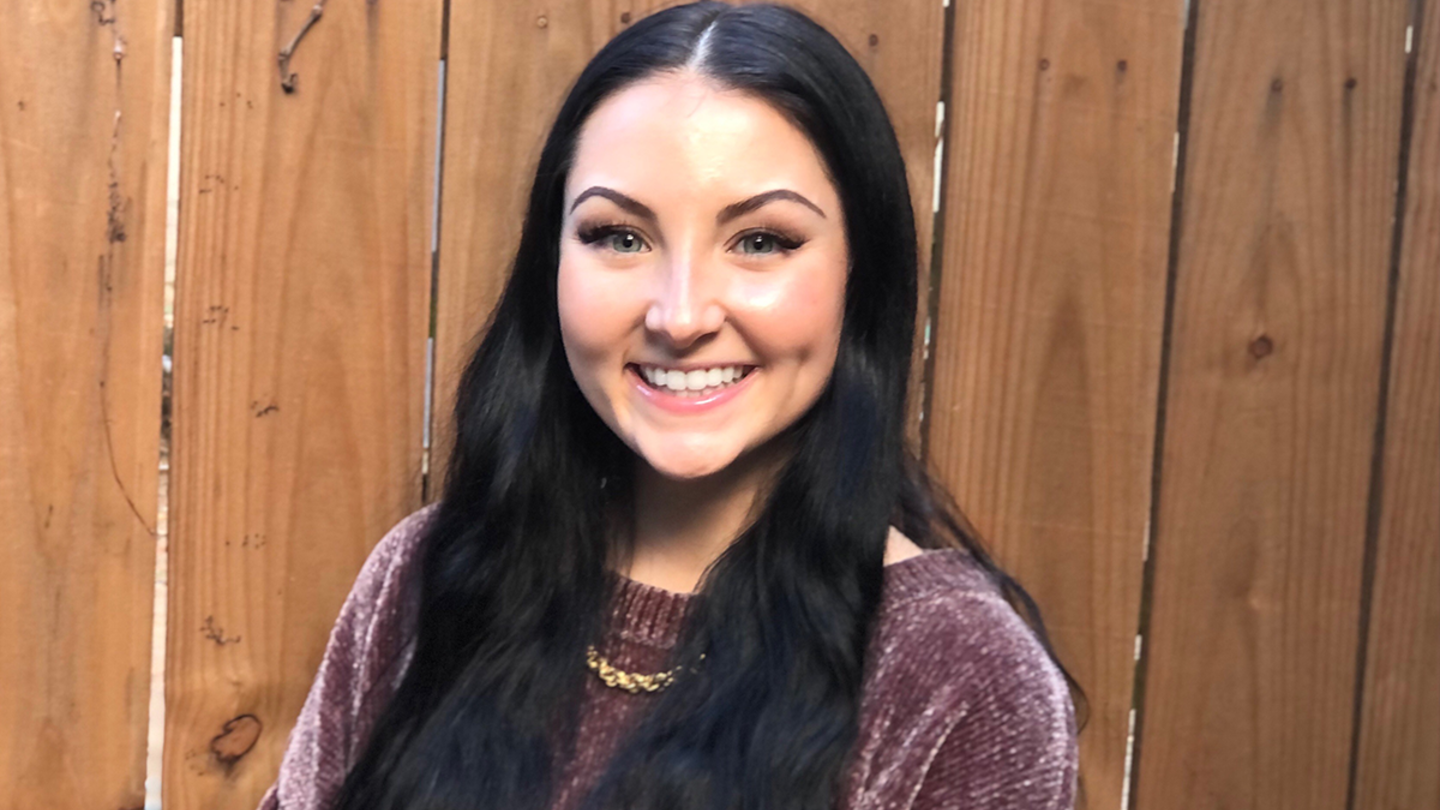 By: Meg Kiernan
Like all of us, Savannah Holderer has found a way to persevere through the COVID-19 pandemic's topsy-turvy realities. Her secret? The senior English major has adopted a "seize the day" disposition when it comes to extracurricular involvement and taking charge of her professional development.
A former Klein Journalism major, Holderer switched to the College of Liberal Arts (CLA)  sophomore year. She recalls being a frequent recipient of the question every English major knows all too well: "Do you want to be a teacher?"
But for Holderer—and countless other English majors!—the prospect of teaching isn't what gets her out of bed in the morning. Since youth, she's had visions of writing fashion and beauty editorial content.
Switching to an English CLA major while maintaining a Journalism minor, she decided, was the best way to develop writing skills for casting a wide net.
While some English majors' paths do point to academia, their career possibilities extend beyond education. Professor and Undergraduate English Advisor Gabe Wettach's Career Seminar for English Majors solidified this reality for Holderer.
"When I took that class, guest speakers would come in frequently—alumni, student interns and others—and they all had such different stories and paths they were taking," Holderer says. "It was eye-opening, and I realized, 'wow, I really can do all kinds of things with this degree.'"
With a freshly piqued curiosity, Holderer applied to CLA Professional Development's Experience Target Day in 2019 to see how an English degree could translate into a career. She was one of 22 students who attended, and the robust experience opened her eyes to marketing and communications roles that value English majors' skills.
"Smaller technicalities, an internship could teach me… But 'how to write' is big and something an internship can't teach."
Holderer also learned firsthand that the path to gaining experience isn't always a smooth one. After applying to a Target corporate internship following Experience Target Day, she advanced to the third round of interviews but was passed over for the position. A short time later, another employer ceased communicating with her post-interview.
"It was a double whammy," Holderer says. "Internship employers will often want to see experience, but the internship itself is the experience I'm trying to gain!"
Undeterred by a few bumps in the road, Holderer took to Handshake, Temple's career management system students use to search for jobs and internships, professional development events, and connect directly with employers. Any employer wishing to post to the platform is screened by staff from CLA's Joyce K. Salzburg Center for Professional Development to ensure legitimacy.
"I love using Handshake, knowing that everything I look at is verified. It forms a level of trust with a company you may end up interviewing with," says Holderer.
Filtering job results by industry and scouring for daily job updates uncovered an internship opportunity with Young Hot & Modern. The online lifestyle magazine offers news, tips and entertainment while "sifting through the noise of celebrity chatter and elevating the voices of purpose-driven women."
Holderer applied, and the New York magazine interviewed and hired her for a remote editorial internship writing on various beauty, fashion and cultural topics.
By shifting majors to English, Holderer strengthened and diversified her writing skills, which helped her succeed in her internship.
"Smaller technicalities, an internship could teach me," she explains. "Or I could figure them out by teaching myself. But 'how to write' is big and something an internship can't teach. Overall, you have that or you don't. And it's something all my English classes have taught me through essays and shorter discussion board posts."
Although Holderer sought an internship in a particular niche, she intentionally exposed herself to new employers and connections by attending job and internship fairs after the Career Seminar for English Majors showed her how much English majors can do.
"Our future is still happening, even if it doesn't feel like it."
But networking among strangers didn't come naturally to Holderer. Like many students, shifting priorities to avoid networking situations out of her comfort zone was a challenge.
"I was nervous going to these events as a sophomore and junior. I could have easily told myself, 'I'm too busy to put on my business casual and head to the SAC for this or that event.' I could have prioritized staying home in sweats and doing homework," she says. "But exposing yourself to as many people and brands and opportunities as possible is the best thing you can do, especially as an English major."
Holderer recommends any English students feeling stagnant because of COVID-19 continue practicing the things that interest them—regularly blogging, reading, writing poetry etc., will keep your passion alive.
All networking and professional development opportunities are currently happening virtually, giving students access to more events than ever. Students can network and participate in job fairs from the convenience of their living room with a laptop or phone. As Holderer points out, students still need to put themselves out there.
"It's important to remember this time is temporary. But that doesn't mean that because we have an opportunity to stay in or stay home it should make us take a back seat! Our future is still happening, even if it doesn't feel like it."