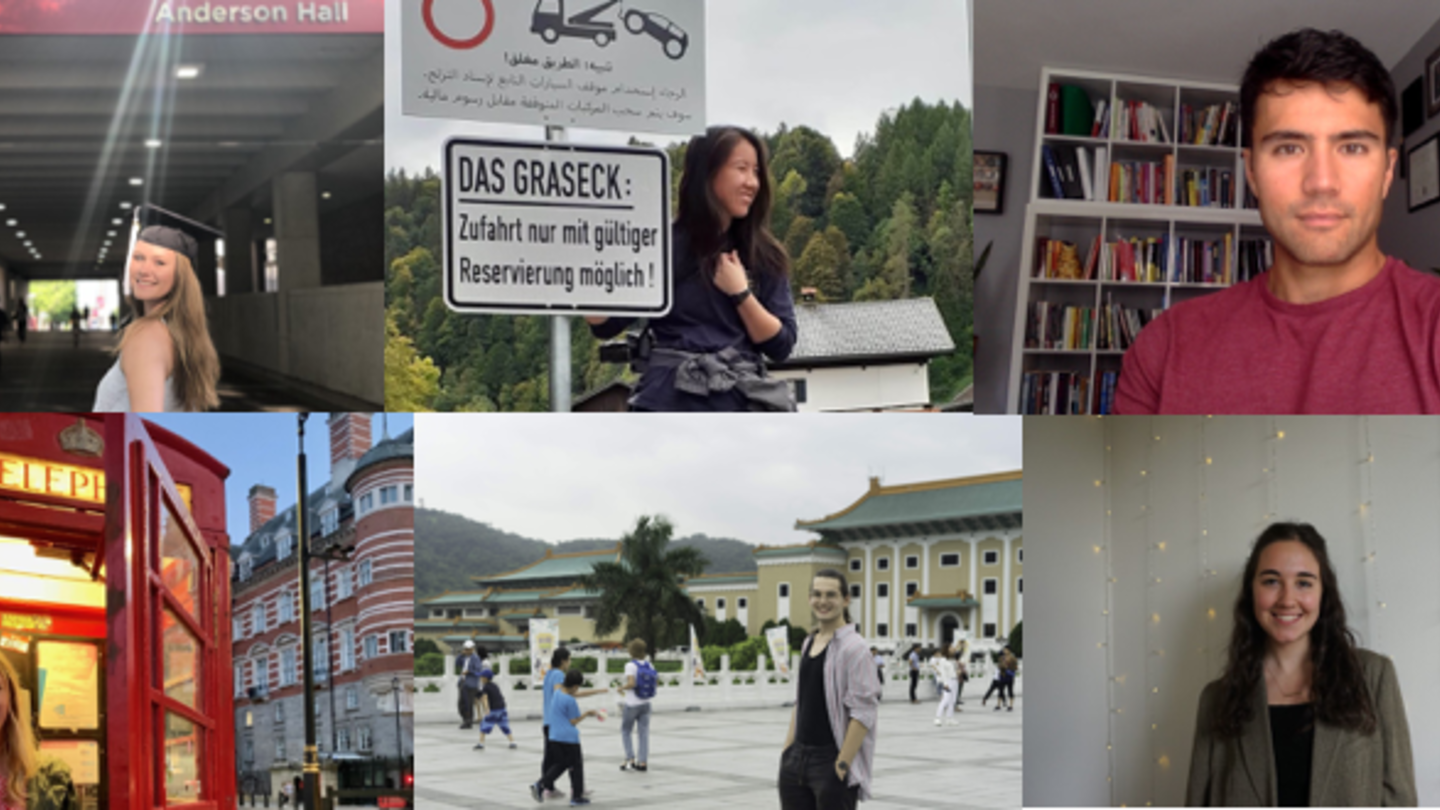 This has been a year unlike any other, but today Temple University's College of Liberal Arts (CLA) is celebrating an accomplishment unlike any other. In 2020, our students smashed CLA's record for the Fulbright U.S. Student Program: we had 15 winners. That's nearly double our previous record set in 2018. Incredible!
Maggie Andersen,  Journalism and Italian Major
Lucy Caffrey-Maffei, Spanish and Sociology Major
Ivy Nuo Chen, Mechanical Engineering and German Major
Stephanie Cuomo, Secondary Education Social Studies and History Major
Janessa Huges, Speech Language Hearing Science and Spanish Major
Walter James, Political Science PhD Candidate
Thomas Kuklinski, Religion and Chinese Major
Bonnie McClellan, English, Philosophy and German Major
Claire McGlinchey, Communication Studies and Environmental Studies Major
Maeve Moran, Anthropology Major
Rachel Murphy, Community Development and Spanish Major
Sam Nelson, Anthropology and Spanish Major
Morgan Rowe, English and Political Science Major
Rachel Warner, Global Studies, German and Political Science Major
Tara Faik, Political Science Major (Alternate)
While the list of winners is too long and storied for us to detail each of them here, CLA has spotlighted a diverse selection of our 2020 Fulbrighters below. You can click on each student's link in the list above to jump to his or her section.
---
Lucy Caffrey-Maffei | CLA '18 | Spanish and Sociology
I chose Temple's College of Liberal Arts because: of its urban setting, which uniquely situated me to take advantage of the vast career opportunities across the city and to explore my interests, which included politics, social justice issues and the Spanish language. The College of Liberal Arts seemed a natural fit to pursue those same interests in an academic setting. 
Applying for and winning a Fulbright was: hard work. I endeavored to apply for a Fulbright in May 2019 and submitted my finalized application in October 2019. Over the five-month period in between, I spent days and nights writing and rewriting handfuls of draft applications, meeting with the Office of Scholar Development and Fellowships Advising and asking friends and family for feedback. The months of waiting to hear if I was a semi-finalist and then a finalist were agonizing, but it was gratifying and overwhelming to know that my passion for education came across in my application and that the Fulbright Commission saw both what I could bring to my placement community and what I could gain in career development.  
My Fulbright project will explore: education in Spain through the eyes of an educator. I was selected to be a teaching assistant in a bilingual high school in the suburbs of Madrid. As a Boston Public Schools alumna who's worked in the Philly education world for four years now, I'm excited about the opportunity to learn from another country's approach to and perspective on education, especially the public sector. 
Temple supported me through: the Office of Scholar Development and Fellowships Advising. Although I was already a Temple alumna when I started applying for the Fulbright, I was still able to take advantage of the office's resources, and Dr. Barbara Gorka was my biggest supporter throughout the process. I also would not have been named a finalist without the contributions other Temple faculty made to my application, whether by offering feedback or providing a recommendation. 
---
Ivy Nuo Chen | CLA, ENG '20 | German and Mechanical Engineering
I chose Temple's College of Liberal Arts because: I wanted to continue studying German while pursuing my studies in engineering. The seminar-style nature of classes in CLA also taught me how to communicate and work with a diverse group of people, a skill that has helped me in my various engineering roles outside of the classroom. 
Applying for and winning a Fulbright was: a journey of conquering self-doubt. As an engineering student, I have terrible imposter syndrome. I know I can get good work done, but it is sometimes hard to think that what I do is worthy of an award. Many professors told me I didn't have a deep enough research background to apply, but a combination of close friends and professors ultimately convinced me to shoot my shot and supported me throughout the writing process. The College of Liberal Arts and the College of Engineering taught me to go after any opportunities that interest me and to leave no stone unturned. 
My Fulbright project will explore: my interest in using robotics and engineering to aid humans in knowledge acquisition. I will be investigating the use of drones for outdoor motion capture, with applications in tracking wildlife populations and aiding first responders in search and rescue missions.
Temple supported me through: continual support in the form of scholarships, grants and interpersonal connections throughout my undergraduate experience. Without the people and resources, I would not have built the background and relationships necessary to be a competitive applicant for the Fulbright Research Grant. Also, big shout-out to the Office of Scholar Development and Fellowships Advising and my various readers for helping me through my many edits!
---
Stephanie Cuomo | CLA, EDU '20 | History and Secondary Education Social Studies
My Fulbright project would have explored: my Fulbright project would have been an English Teaching Assistantship for university-level English classes in Colombia. I would have supported a local professor in planning and leading English language instruction in the classroom. Outside of the classroom, I would have sought opportunities to volunteer with local social service organizations as part of a community engagement project of my own design. 
Winning but having COVID-19 cancel my award made me feel: incredible when I received it after working so hard on my application materials and going through the interview process. When my award was canceled due to factors relating to the pandemic, I was very disappointed, but I am a firm believer that everything happens for a reason, so I've kept a positive outlook. Since then, I've accepted an opportunity to teach 7th grade English Language Arts and Social Studies in a Philadelphia charter school and am excited to see where that takes me. 
Temple supported me through: Temple supported me throughout my time as a student thanks to passionate professors and dedicated faculty that have helped shape me into the person I am today. My experiences at Temple pushed me to develop the skills that ultimately enabled me to succeed in winning this award. When my grant was canceled, Temple continued to support me in my job search as I focused on opportunities to teach locally in Philadelphia. 
My advice to future Fulbright applicants is: is to keep in mind that the strength of your application is not only dependent on having a great-looking resume but also your ability to convey your unique voice and perspective in your application materials. Therefore, you should begin the writing process early and be prepared to work on multiple drafts. 
---
Walter James | PhD Candidate | Political Science
I chose Temple's College of Liberal Arts because: the Political Science Department faculty was a good fit for my research interests. Once I came here, I quickly found out that not only are the professors academically aligned with my interests, but also caring and compassionate people. 
Applying for and winning a Fulbright was: a lot of work but ultimately rewarding. Writing the statement of grant purpose forced me to sharpen my "elevator pitch" for my dissertation and argue for its relevance to non-specialists. It was also rewarding in that I made connections in the host country by reaching out to academics to see if they would be my mentor during my Fulbright stay.
My Fulbright project will explore: the politics of financial regulatory reform since the 2008 global financial crisis. In Japan, in particular, I'll be investigating the interactions between the government, the bureaucracy and the financial industry in reforming the financial system, dating back to the mid-1990s.
Temple supported me through: many channels. Dr. Barbara Gorka and Dana Muniz Pacheco at the Office of Fellowship Advising offered constant support through meetings, reading drafts and bringing together expert readers to comment on candidates' application material. They frequently reminded us about upcoming deadlines and kept the candidates on track. The Political Science faculty was also more than willing to look over my drafts and suggest contacts in Japan. There are lots of people I'm grateful for. 
---
Thomas Kuklinksi | CLA '20 | Religion and Chinese
I chose Temple's College of Liberal Arts because: Temple has a research-focused humanities program. Between the LAURA scholarships and individual research projects with professors, Temple had the academic rigor and freedom I was looking for. Before I graduated, I had the opportunity to work on three research projects and do an independent study related to my major. These weren't just great professional experiences but affirming personal experiences. After completing these projects at Temple, I knew that a future in academics is something I wanted to pursue.
My Fulbright project would have explored: the "Mingru Xuean" (the "Record of Ming Scholars") by Huang Zongxi. This text is a foundational piece of Chinese philosophy and history, as it explains the social conditions and academic landscape of late dynastic China. This historical record details the biographies of over 200 influential scholars from the Ming Dynasty and presents these scholars within their respective schools of thought and academic lineages.  The elite circles this text describes implemented reforms and shaped all levels of society from politics to education to religion to business. By analyzing the lives and philosophical positions of these scholars, I intended to gain a more nuanced understanding of their respective academic movements and how their ideas still shape China today.
Temple supported me through: making connections. The Fulbright research awards encourage you to have a strong relationship with your future advisor and partner university. Thankfully, Temple has a partnership with the Confucius Institute at Zhejiang Normal University in China, so the Chinese Department was a big help in introducing me to the academic staff abroad. 
My advice to future Fulbright applicants is: always have a backup plan. For the longest time, I thought that Fulbright was the only thing I wanted to do after graduation. In true 2020 fashion, Fulbright Research Awards in China were originally delayed because of the global pandemic and ultimately canceled by President Trump via executive order. Thankfully, my Chinese professor helped me get into a fully funded graduate program in Taiwan, so even though I won't be able to participate in the Fulbright Program, I'm still going to be able to continue my academic career this fall. 
---
Maeve Moran | CLA ' 20 | Anthropology
I chose Temple's College of Liberal Arts because: I loved the flexibility that studying within CLA and the Temple Honors Program afforded me—I was able to study abroad twice and explore a wide variety of my interests (from anthropology and history to biology and public health) through my coursework.
Applying for and winning a Fulbright was: a lot of work! With the invaluable help of Dr. Barbara Gorka and the Office of Scholar Development and Fellowships Advising, I went through a rigorous brainstorming, writing and editing process in crafting my application. The process was undoubtedly worth it, though—I'm obviously thrilled about the outcome—but even if I hadn't received the award, I still learned so much about myself and my goals just by applying. 
My Fulbright project will explore: how an understanding of the psychological and sociocultural determinants of physical health can facilitate the development of more effective health care infrastructures and behavioral health interventions, particularly within geriatric populations. My research through my degree program, a Master's in Health Psychology from the University of Stirling in Scotland, will seek to inform social medicine strategies to support the rapidly aging population of the United States. I also hope to explore how the UK's implementation of the National Health Service, a universal health care system, has improved geriatric health outcomes. 
Temple supported me through: the incredible Office of Scholar Development and Fellowships Advising and the Temple Honors Program. Dr. Barbara Gorka and her team in Fellowships Advising were an indispensable resource for me in understanding the Fulbright process and refining my application materials. Dr. Ruth Ost, the rest of the Honors Program staff and all of my Honors professors were incredibly supportive throughout my entire Temple experience in motivating my own intellectual and personal growth! 
The College of Liberal Arts congratulates all of our Fulbright scholars and alternates!