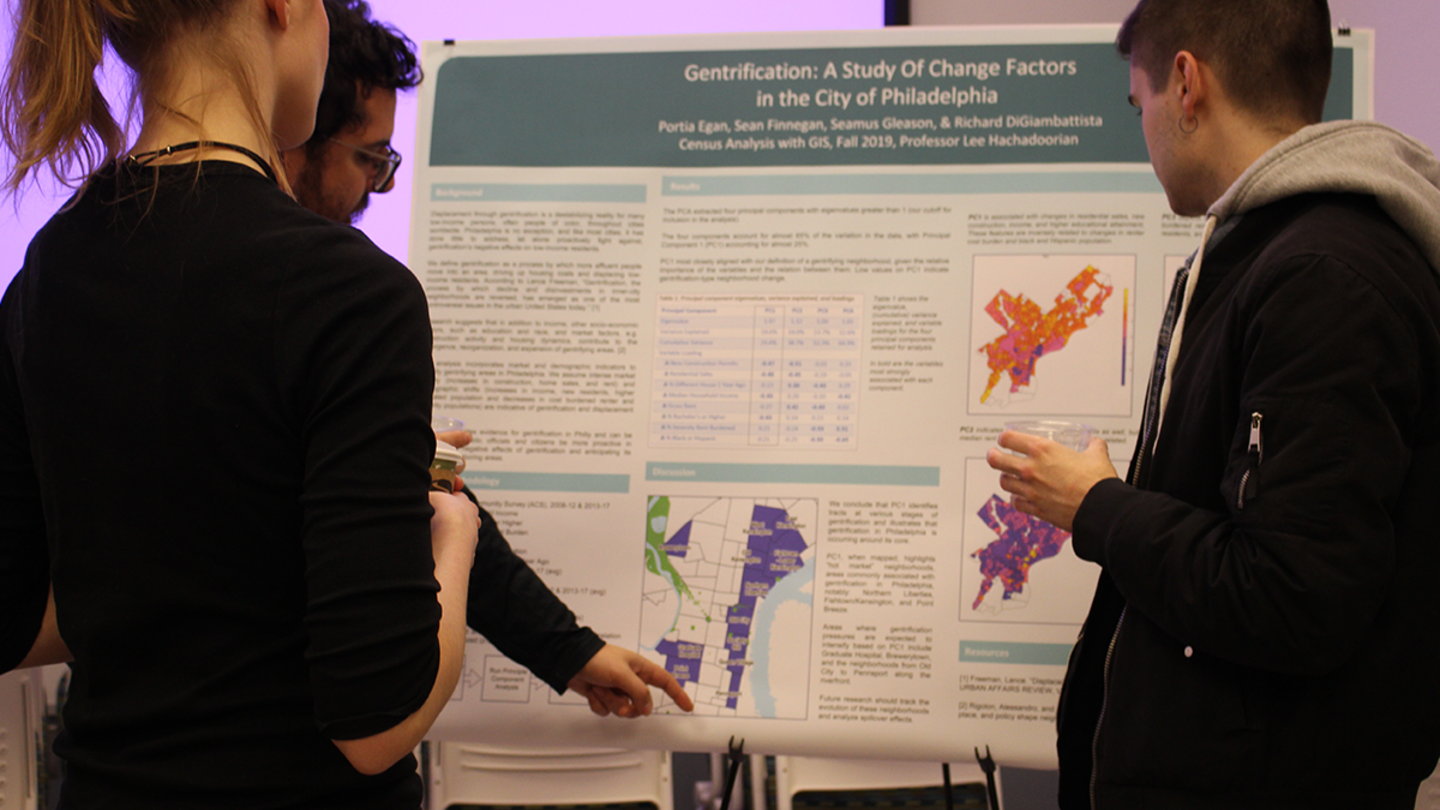 By: Nick Santangelo
Geographic information systems (GIS) is a growing field, with the Bureau of Labor Statistics predicting a 35% growth in annual GIS job openings over the next decade and salaries averaging $70,000. There's also a shortage of trained GIS professionals to go along with the growing demand for them. Because of those factors, an increasing number of bachelor's degree graduates are viewing a Professional Science Master (PSM) in Geographic Information Systems as their best path to advancing their careers.
One of the final steps in earning a PSM in GIS is completing a capstone project that links students' classroom lessons to real-world applications. Working professionals enrolled in Temple University College of Liberal Arts' PSM in GIS students are encouraged to tie their capstones to their careers. This past semester, several students did just that. And since Temple's home of Philadelphia offers a wealth of exciting GIS employment opportunities, students had some amazing jobs to complete their projects at, such as:  
Among the 2020 graduates who worked on those projects were Jared Dobkin and Jillian Long. Dobkin works for the Share Food Program, Philly's second-largest food bank, doing work involving their mobile market program. In the spring, however, his responsibilities have shifted to routing, web applications and GIS work tied to the COVID-19 pandemic. Long, meanwhile, is in the midst of a year-long GIS fellowship with Philadelphia City Council. Working at City Hall, Long conducts GIS research to support City Council's policymaking.
Jillian Long
For her capstone project, Long performed a retrospective analysis of former Philadelphia Mayor John Street's Neighborhood Transformation Initiative. The initiative's purpose was to improve blighted areas of the city that had been passed over in favor of improvements made to Center City by Street's predecessor.
"The idea was that with all of this blight, no one will ever want to develop here," explains Long. "If we take that away, if we clean up our neighborhoods a little bit and get rid of these dying, decaying houses, then that could push forward development in years to come. "
At first, Long struggled to wrap her head around the concept. After all, before the COVID-19 pandemic, development had been booming in Philadelphia for almost a decade. But the reality is that Philadelphia's revival in the 2010s came after four decades of decline.
"And now we see there is so much development in Philadelphia that initiatives like this aren't necessarily required because now it's worth the developer's money to come in and just do a demolition themselves, and they'll make their money back," continues Long. "What we did was we took all of the demo properties, saw where they were, saw what cluster they fell into and basically assessed where they are now. Which Council District this fits in, what's their status and are they being maintained? How has the neighborhood changed in the past 20 years?"
The COVID-19 construction pause and work from home mandate for most professionals caused Long's responsibilities to change a bit. She's working on GIS data and census projects remotely while thinking about where her future might take her once her fellowship concludes and the COVID-19 situation improves.
"What interests me is anything public health-related, anything public service-related," she says. "I've been looking around pretty much everywhere, and I've also widened my search from strictly GIS analysis to maybe doing more data analysis, research data analysis, which speaks to the diversity of the PSM in GIS degree itself because we're introduced to a lot of different tools that translate across many job markets."
Jared Dobkin
To wit, Jared Dobkin's job with the nonprofit Share Food Program is much different than Long's City Council fellowship. The program distributes food to 500 pantries and cupboards around Philadelphia, ranging from soup kitchens to church basements. On the job, Dobkin uses the GIS skills he learned in the master's degree program daily. That made his job a perfect fit for his capstone project.
"I picked up some additional GIS work to be able to complete my capstone in the program," he says. "I was originally working on an analysis of the areas that our pantry served, but that pretty quickly turned into a logistical and management study of our fleet and how we make deliveries. Currently, I'm responsible for routing and delivering routes for all the outbound deliveries as well as a geospatial analysis of our pantry networks."
The pandemic, however, "completely changed" the nature of Dobkin's capstone work. He says his professors were all flexible with him throughout the altered spring 2020 semester, but he went from working on a Share Food website to being thrust into routing food for people and communities that need it immediately due to fallout from the novel coronavirus.
Thankfully, Share Food has found ways to still effectively help people during the pandemic.
"With our Pack and Drop program, people can just stay in their cars the whole time and drop off much-needed packages to, say, seniors in Philadelphia," explains Dobkin. "They can also volunteer from their home to be able to make calls and do data entry work for us, and that's greatly appreciated, and all of these opportunities, as well as the opportunity to donate to provide us much-needed equipment and support, are all on our website."
Interested in learning more about GIS capstones? Join us virtually for the next presentations on Aug. 6 at 5:30 p.m.