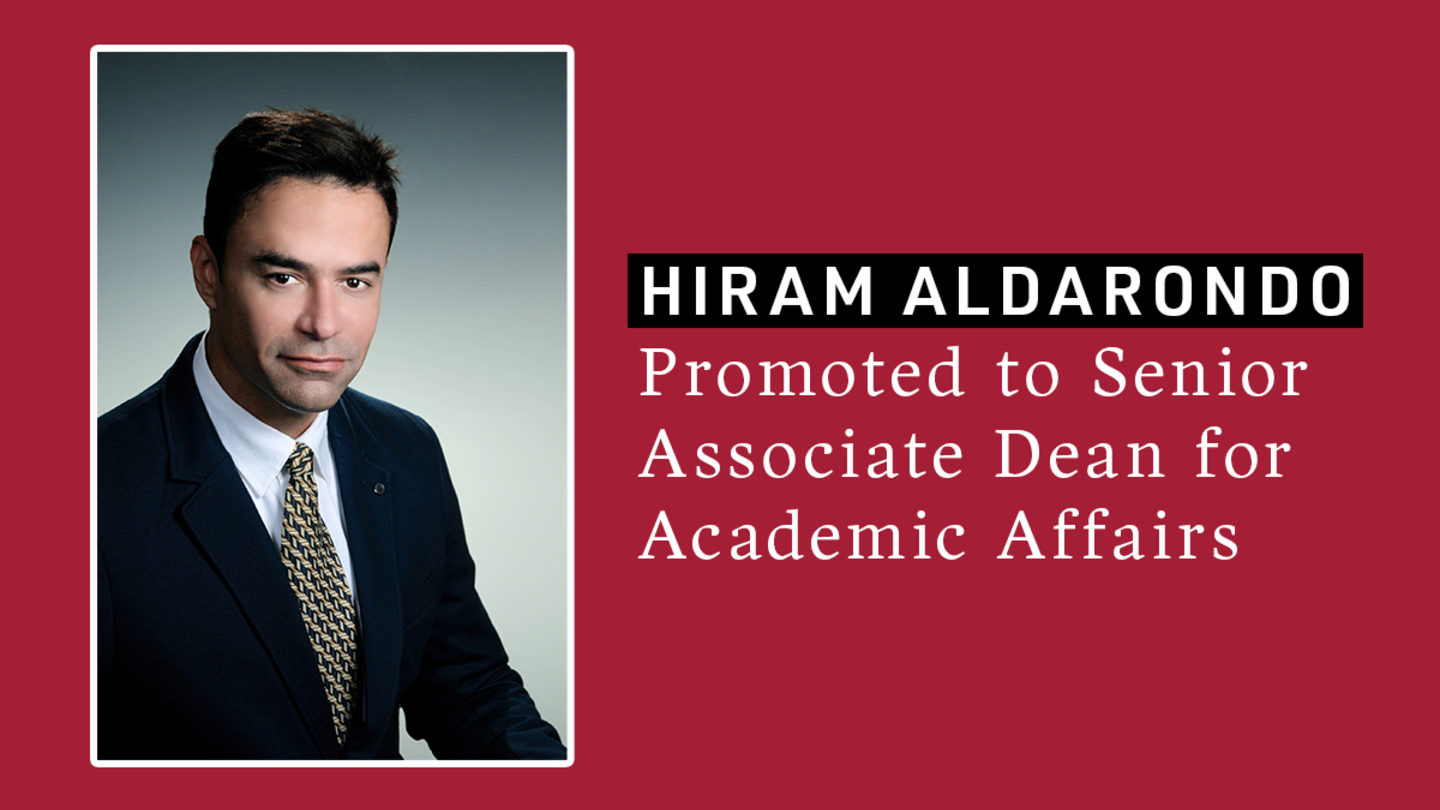 By: Nick Santangelo
Hiram Aldarondo, former associate dean for academic initiatives, has been named the College of Liberal Arts' (CLA) senior associate dean for academic affairs. Dr. Aldarondo plans to focus on further diversifying the student body and increasing community engagement across the college.
Prior to joining the administration, Dr. Aldarondo served as director of the Latin American Studies Program, chair of the Spanish and Portuguese Department, and travel director of the College of Liberal Arts' very successful Latin American Studies Semester program (LASS). In these positions, as Dean Richard Deeg explains, Dr. Aldarondo was an effective academic leader deeply committed to the college's mission. 
"Dr. Aldarondo has excelled for years as both an educator and an administrator," says Dean Deeg. "His leadership skills, dedication to helping liberal arts students succeed and his experience as a CLA student himself made him the ideal person to develop new academic programs and create initiatives to further grow our student body. In his new role, I'm confident his vision for vital college functions such as curriculum development, professional development, advising and community engagement will help drive the college towards a future that's as impactful for our students as it is successful for the college."
Dr. Aldarondo is grateful to Dean Deeg for the opportunity to assume this new role, and he looks forward to continuing his engagement with the CLA community from a new vantage point. His awareness of the value of public education began as a student. Born and raised in Puerto Rico, he earned his undergraduate degree in Public Communications from the University of Puerto Rico, a public university and one of the island's leading institutions of higher learning. He then received a master's degree from Temple University, followed by a PhD in Romance Languages and Literatures from the University of Chicago. The shift from a public institution to a private one left its mark on Aldarondo.
"After graduating from Temple, I remember going to the University of Chicago in the '90s and seeing a huge difference in the student population between the two universities," says Dr. Aldarondo. "Temple University was and is a very diverse institution, but I didn't appreciate that until I went to the University of Chicago. Things have changed since then, but at that time there weren't many minorities or students of color at the University of Chicago. That made an impression on me, and as a result, I have always been an advocate for equity, diversity and inclusion in academia. That is also the principal reason I decided to accept a tenure-track position at Temple as soon as I graduated from Chicago." 
As a scholar, Dr. Aldarondo specializes in 19th and 20th-century Latin American literature. His research areas include cultural discourses of modernity and national formation, as well as displacement and testimonio in literature. Given his interests, he has always cultivated an inclusive atmosphere in his classes.
"I always say that what I teach in class is nothing more than a way of looking at life because literature is a template for living," he says. 
As the senior associate dean for academic affairs, Dr. Aldarondo's responsibilities will include overseeing student and curricular affairs, developing new market-sensitive undergraduate and graduate programs and working closely with the Office of the Dean to broaden the college's academic mission. As an alumnus of the college, Dr. Aldarondo is ideally positioned to advocate for the best possible experience for our students, from the time they begin their undergraduate career to the moment they finish their capstone or PhD dissertation. His immediate priorities are expanding internships and community engagement across the college, as well as further diversifying the student body.
Dr. Aldarondo is stepping into his new role at a moment when many of the college's basic functions are in flux due to the COVID-19 pandemic. This reality has already made the past semester and current summer "extremely challenging," and right now the new senior associate dean is focusing on overseeing the CLA Online Teaching Certification Program. This program aims to train and certify all full-time and part-time instructors, including teaching assistants, as online instructors.  
"With this training in place, the college will not only provide our faculty with the tools needed to teach online, but also guide them in the best practices for sound online course design, as well as in applying robust learning methods that enhance online learning," Dr. Aldarondo explained.
It is exactly this kind of vision, execution and dedication to providing CLA students with the best possible learning environments that will distinguish Dr. Aldarondo's tenure as senior associate dean for academic affairs.