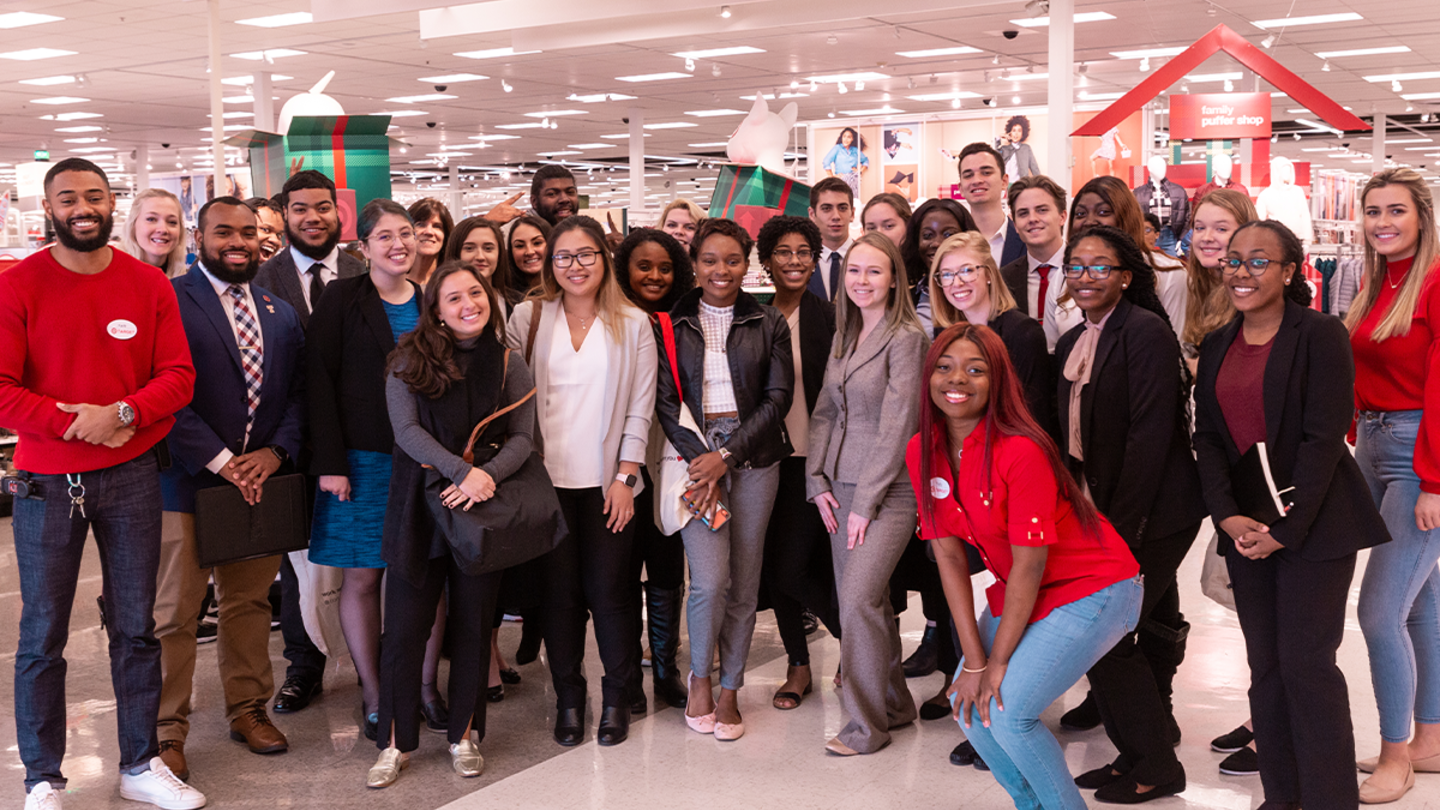 By: Nick Santangelo
Every student knows the bullseye brand. But did you know that Target is a lot more than just stores? A group of 22 College of Liberal Arts juniors found out as much firsthand during Professional Development's Experience Target Day last Thursday. Below, three of those students share their top takeaways from the event.
---
Jessi Gourdier | English Major
Target Cares About Its Employees
Target has increased its minimum starting pay to $13.00 an hour. This is more than some people make as managers at some competitors. In addition to a considerably high starting pay, Target offers incredible benefits including dental, vision, maternity leave, tuition assistance, 401k, three weeks' vacation—the whole nine yards. Target also offers a yearly allowance for childcare. Say your child's babysitter bailed and you need to pay for one from care.com, for example. Target will reimburse you for the money you spend on that.
Working with Target Means Putting in the Hours
It's retail, so this should be expected, but it was something I hadn't considered. Team leaders are putting in upwards of 50 hours per week. Weekends are the busiest times, so they're all hands on deck and employees have to work every other weekend. If your corporate internship turns into a full-time store job after graduation, you have to be willing to make the job a priority. Though it may sound like a lot of work, it also means being able to build close relationships with coworkers.
---
Savannah Holderer | English Major
Target Employees Take Pride in Their Work
The Experience Target Day: Behind the Bullseye gave College of Liberal Arts students an inside look at Target, as a brand and company, as well as showcasing its summer internship program. Target is much more than a one-stop-shop; it's an experience in and of itself. People can choose to physically go to Target because of its atmosphere, experience and employees. And Target staff pride is truly inspiring. Cashiers are called advocates because their role is much more than transactions; it's the empowerment they have when dealing with "guests," which is what target calls customers and how it treats them. They are people with lives, families and stories, which Target recognizes.
Liberal Arts Skills Translate to Target Corporate Internships
I would strongly advise and encourage any College of Liberal Arts student to give a Target corporate internship a try. The skills that we possess are truly innovative, adaptable and valuable in the industry setting. For instance, our strong communication abilities enable us to be successful leaders in any situation we choose. I can now strongly and confidently say I can see where my skills as an English major fit in with corporate companies. When it comes to Target and CLA majors, there is much more than meets the bullseye.
---
Gwen Jensen | Global Studies Major
Age Is Just a Number
I was surprised at how young the people managing teams of 40+ employees were! The three ambassadors were only a few years older than me. Listening to their stories of how they achieved so much at such a young age made it easy for me to get excited about the opportunity and to picture myself as one of them! They also shared how being a young executive poses its own challenges and how they overcame doubts about their abilities and connected with coworkers of various ages and experience levels.
There's a Lot Happening Behind the Scenes
I've never thought about how many moving pieces come together to create the polished and comforting Targets I've been to. As Target was gearing up for the busy Christmas season, it was especially interesting to see the behind-the-scenes of the storage room, how it connected to the outside displays and how important each piece of each store is to keeping the store moving smoothly!
---
To learn more about Target and other internships available to CLA students, contact Associate Director of Student Professional Development Liz Anselmo at liz.anselmo@temple.edu.