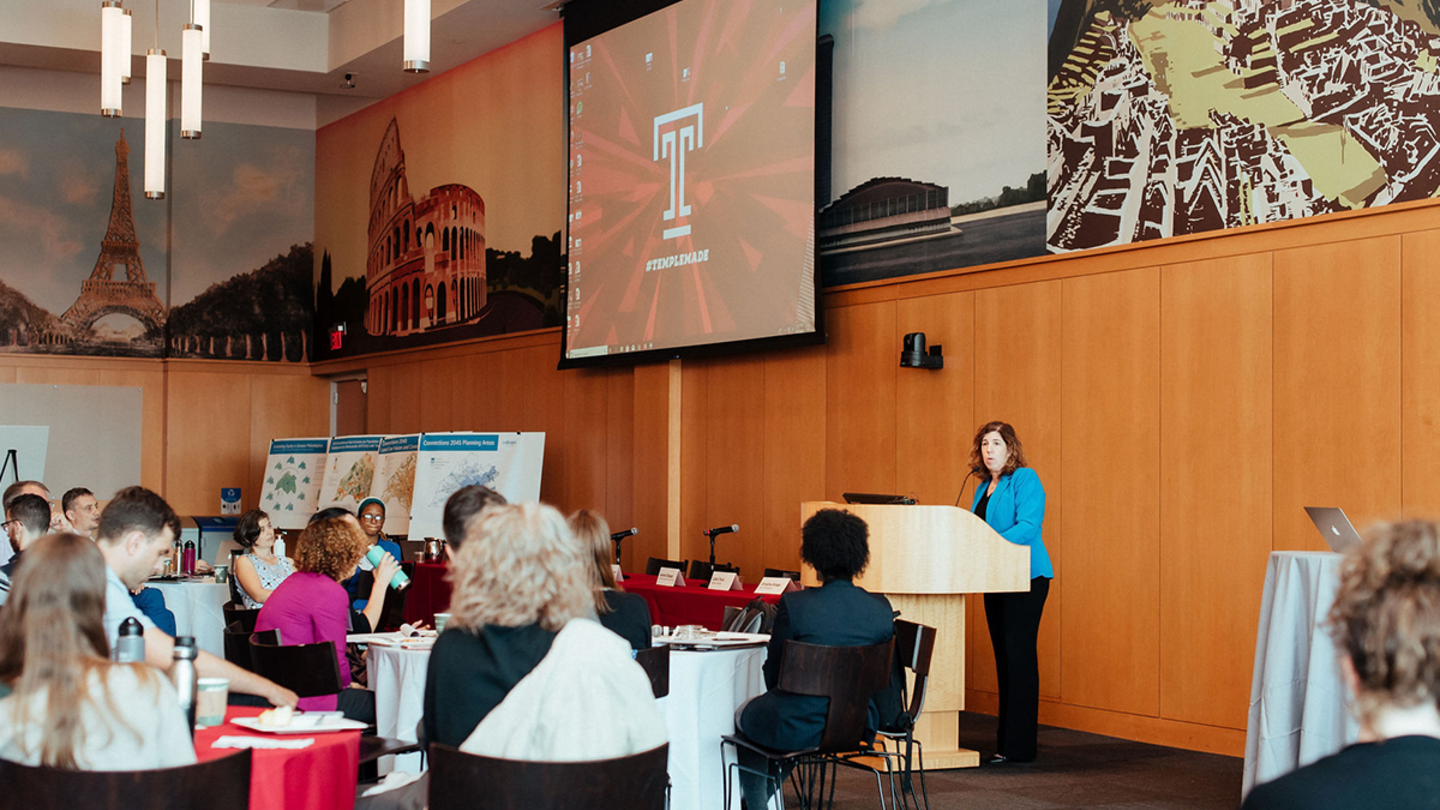 The College of Liberal Arts' Center for Sustainable Communities (CSC) has released a new report in conjunction with a recent National Science Foundation funded three-day Sustainable Urban Systems workshop held at Temple and hosted by CSC. The report highlights the role of infrastructure in shaping equity and well-being across the urban-rural gradient, the need for research into the interconnections between and across urban and rural communities, and the necessity of "knowledge co-production" in sustainability research inclusive of a range of expertise and voices.
Held in Alter Hall and the Howard Gittis Student Center, the workshop brought together 68 participants from across the region and the nation, representing researchers from a range of disciplines, including the social, engineering, health, data and environmental sciences, along with industry leaders, government officials, educators, journalists, and community organizers. Over the course of the three-day workshop, participants worked collectively to bridge their particular expertise and perspectives in drafting an agenda for future research.
While much of the research into sustainable environmental solutions has been centered on urban areas, the workshop focused explicitly on the connections and relationships between rural and urban communities, the ways in which infrastructure facilitates and shapes these connections, and its implications for social equity and well-being. In her opening remarks, Dr. Melissa Gilbert, Director of the CSC, sketched out a complex set of relationships between communities.
"We know that infrastructure, including transit, water supply, storm water controls, energy, food, and information and communication technologies, shapes the sustainability of urban systems and provides platforms for economic growth and societal well-being. We also know that the impacts of infrastructure have a larger footprint than the urban areas that they most prominently serve. There are interdependencies between urban and rural areas in the provision of services by infrastructure and services that are often unequally distributed and/or have differential impacts across the urban-rural gradient."
These systems of infrastructure often go largely unnoticed and unexamined both in sustainability research and public policy debates around sustainability. The report highlights the fact that making visible these often invisible systems and understanding how they impact issues of health and equity requires new ways of conducting research. Dr. Gilbert emphasized that understanding these complex systems and their impacts requires "models for the co-production of knowledge" meant to address how academics, policy makers, community groups and industry can work together to produce useful and effective knowledge for sustainability challenges.
The report identifies several key gaps in our knowledge of urban-rural sustainability issues. These include:
• A need better conceptualizations of urban-rural systems that can accurately account for their complexity.
• The need for comparative research across the urban-rural gradient, between different urban-rural sites, and especially between the Global North and the Global South.
• A lack of research that looks at the impacts of specific infrastructures on health outcomes.
• A lack of knowledge about what communities actually think about equity, infrastructure, and sustainability, which underscores the need for feasible and ethical models for co-producing knowledge.
Dr. Gilbert emphasized the importance of identifying what we don't know as a first step in tackling complex questions of sustainability. "Understanding the gaps in our knowledge is essential to building a sustained research agenda into how best to address equity and well-being as they relate to these complex systems."
The workshop and report are just the beginning of what CSC and workshop organizers envision as a sustained project. In addition to producing scholarly articles that further develop frameworks for addressing gaps in the research, organizers and participants are committed to building and maintaining research networks and collaborations and furthering the emerging transdisciplinary research projects developed in the workshop.