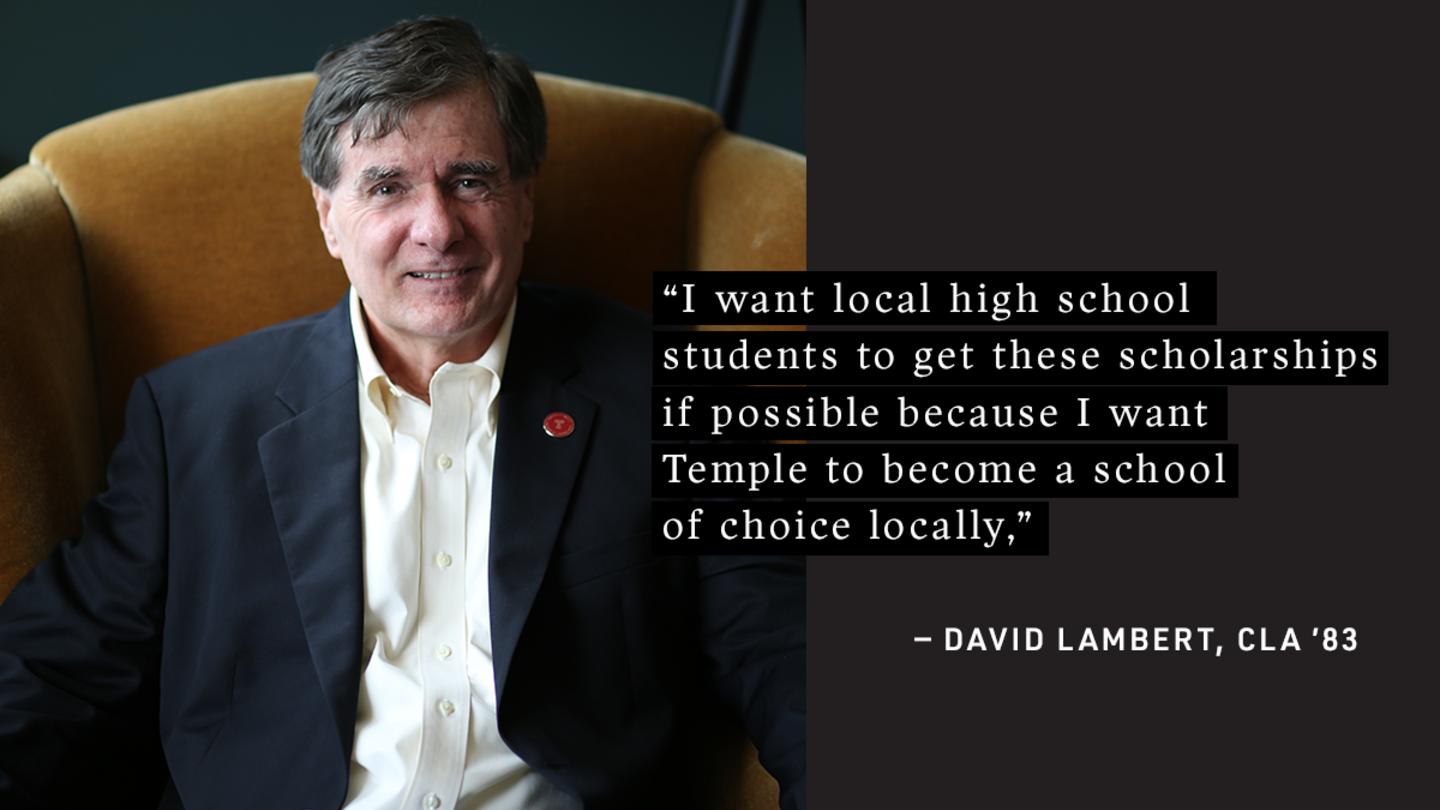 By: Nick Santangelo
Perception can be a funny thing. For instance, Dave Lambert, CLA '83, says a common perception many would-be college students and their parents perceive studying the liberal arts as being akin to studying art appreciation. By that he means an education in the liberal arts is misperceived as being ill-suited for producing graduates who can experience successful, lucrative careers. But the College of Liberal Arts (CLA) sociology PhD graduate can speak from experience about how that's simply not the case.
"The thing about sociology, especially sociology at Temple University, is that there was a real emphasis on quantitative research and theory," says Lambert. "Theory is very, very valuable because it gives you lenses via which to look at the world around you."
Those lenses allow CLA graduates to see the underlying structures that lead to societal, business and government problems. Thanks to the critical thinking and research skills he learned as a CLA student, Lambert enjoyed an incredible career in business development and research. Some of his most notable professional endeavors include conducting political polling for ABC News and the Washington Post; assessing U.S. Postal Service mail volumes and receptivity; studying the decline in civic engagement for a major university; studying eligibility for, and participation in, the City of Philadelphia's school lunch program.
Lambert has the liberal arts to thank for his ability to bring in major research contracts for his employers. And ever since 1994, he's been bringing in major opportunities for Temple Honors students to prepare themselves for their own successful career tracks.
He's done it through the Lambert Foundation, a family organization that has provided full-tuition scholarships to students at Temple. Not content to stop at just funding students' educations, however, Lambert takes his offer a step further by providing mentorship to any interested scholarship recipient.
Lambert recalls one recipient whose family was pushing him hard to study premed, a field of study that no longer interested him. Lambert describes it as a real "crossroads" moment for the student, who reached out to him.
Instead of trying to decide for the student, Lambert reminded him that it was his life, no one else's, so he encouraged him to take courses in the major he now thought he desired.  If he soon realized he'd rather be back in premed, it would have only had a minor effect on completion of his degree. The most important thing was for the student to get a better sense of what was right for him. Originally unsure of what he was hoping Lambert would tell him, by the end of the call the student remarked that he was glad he had picked up the phone.
So, too, was Lambert, who relishes these direct connections with students. Most recently, he's been connecting with senior Ariana Davis, a psychology major and Spanish minor. Davis first heard about Lambert when she transferred into the Temple Honors Program as a sophomore and found out he was someone who wanted to help lower-income Honors students.
"I was ecstatic," recalls Davis of the moment she found out. "I really couldn't believe that it happened. I was like, 'There's no way that this random donor just decided to pay for my tuition.' So I was incredibly grateful and, yeah, I was elated."
In addition to funding her education, Davis describes Lambert as someone who's been "really supportive" and "a good person to have in my corner." Thanks in no small part to Lambert's financial assistance and mentorship, Davis is now hoping to eventually get a clinical psychology PhD and become a children's mental health lab research assistant.
Making a lasting impact on students' lives is its own reward for Lambert, especially if he can make it happen through his alma mater.
"I want local high school students to get these scholarships if possible because I want Temple to become a school of choice locally," he says. "I want awareness of Temple and what it has to offer to be clearer."
Between the high number of top-quality local Pennsylvania high schools and the many exemplary students at them with financial needs, Lambert sees a relatively unexplored opportunity. Armed with a Lambert Foundation scholarship to attend Temple, these students can get a great education, enjoy a fun campus life experience and still be close to their families.