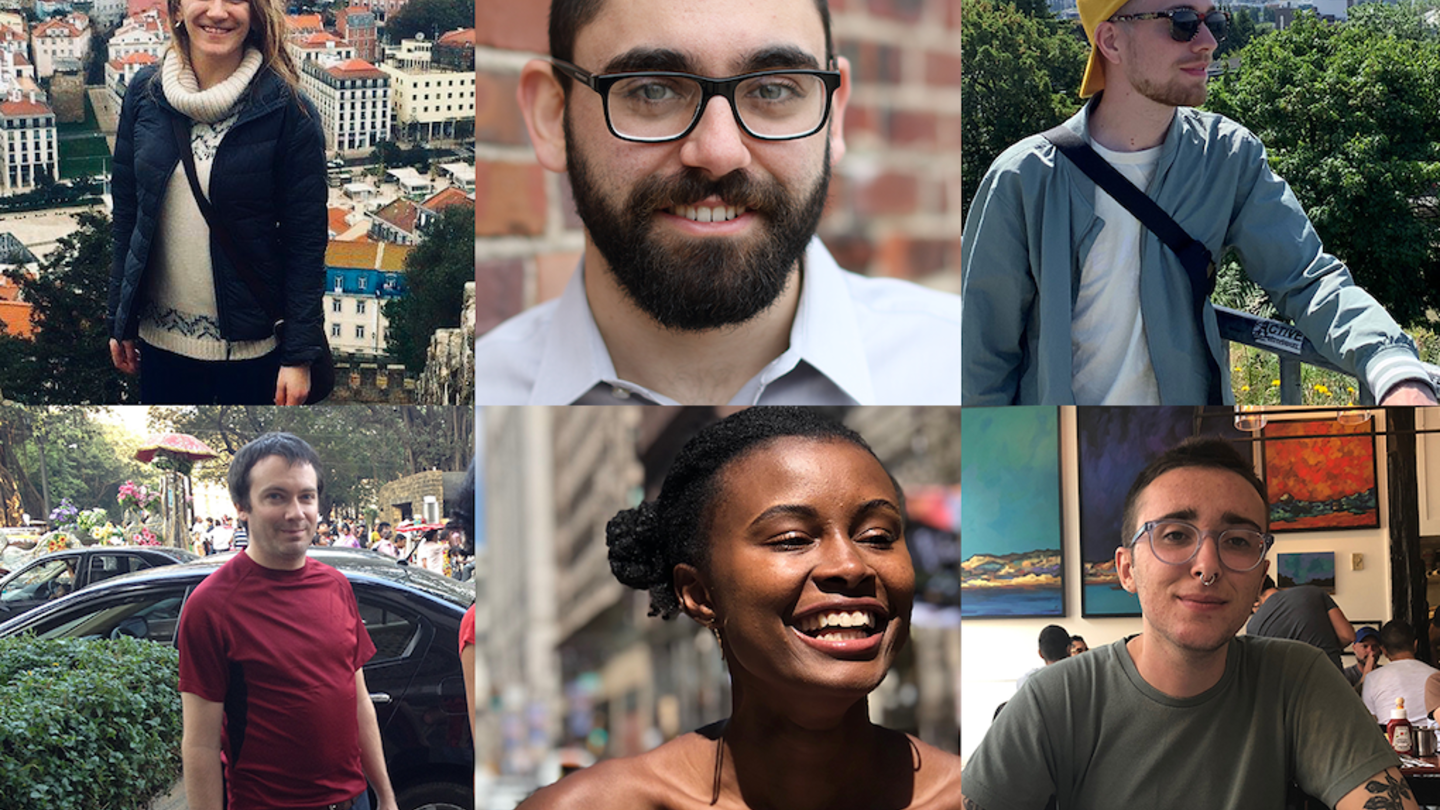 The College of Liberal Arts (CLA) is excited to announce that it once again has an impressive number of Fulbright recipients following 2018's record-setting eight Fulbrighters . This year's recipients are a fantastic representation of CLA's huge breadth of majors and minors. Each was selected by the U.S. Department of State as a Fulbrighter because of their academic excellence, their exciting research project proposals and for their ability to deliver a bit of American culture to local communities around the globe.
Ephraim Hadly, History and German 
Eli LaBan, Spanish
Levi Krum, Geography and Urban Studies
Timothy Loftus, Religion
Amma Prociuk, Spanish and History 
Tirzah Sheppard, Spanish
---
Ephraim Hadly, CLA '19, History and German Major
I chose Temple's College of Liberal Arts because: Temple was my top choice because I always wanted to move to Philadelphia, where most of my family is from. Temple is also fairly affordable, and I received a small scholarship based on academics. After enrolling, I discovered there are some amazing professors doing work at Temple in subjects that I am passionate about!
Applying for a Fulbright was: tedious. Dr. Barbara Gorka encouraged me to apply after seeing me give a presentation at the LAURA scholars reception. My first draft of my grant statement underwent multiple revisions before the October submission deadline. It's now been over a year since I started the process. The waiting was the worst part—at least three months to hear back about semi-finalist results and another three to five months for finalists. Through it all, the Office of Scholar Development and Fellowships Advising provided me with a lot of support.
My Fulbright project will explore: my long-standing interest in archival studies and left-wing subcultures. My research project is a historical study of archival practices in Infoläden (anarchist information shops) and community centers in Germany.
---
Eli Laban, Klein '17, Spanish Minor
Applying for a Fulbright was: like an epic process. I wanted to pursue it after my first study abroad program with Temple in South Africa. I got into video production and documentaries and thought about future opportunities there. Then, studying abroad in Nicaragua exposed me to the country and culture that became my Fulbright grant after applying, which was a big six-month process. I put everything into it. I really wanted it. I got rejected the first time, but I finally got it after applying a second time this year.
Winning the award made me feel: unbelievable to finally be selected after spending years working on applications and countless proposal drafts.
My Fulbright project will: use media to preserve the language and culture of Nicaragua's Caribbean Coast. Isolated from Spanish-speaking Nicaragua, the coast is home to some of the country's last remaining indigenous communities. Due to factors like the region's isolation and lack of infrastructure, its unique languages and traditions are quickly disappearing, with some languages now only spoken by 11 elderly people. Building on a project I've been working on ever since first visiting as a student, I'll collaborate with ethnic communities to produce educational language videos and record songs and stories to support local grassroots cultural preservation efforts.
---
Levi Krum, CLA '10, Geography and Urban Studies Major
I chose Temple's College of Liberal Arts because: I came to Temple undecided as a freshman. One of my driving factors in picking a school was the amount and diversity of majors available. Eventually, I settled on Temple, and I ended up in the College of Liberal Arts, which in itself had a wide variety of majors I was interested in.
My Fulbright project will involve:  me doing an English teaching assistantship in the tiny city of Macau, China. I will be working at Macao Polytechnic Institute, which is a small university. I'm super excited to help university students on their journey of language learning, as learning new languages was a defining experience of my college career.
Temple supported me through: its Office of Scholar Development and Fellowships Advising, which is truly a hidden gem. I most certainly would not have gotten a Fulbright without their help. In addition to being very patient with my many flawed application drafts, they kept me motivated and offered advice even after I had been selected.
My advice to future Fulbright applicants is: make an appointment with the Fellowship Office as soon as possible. And start drafting your essays—now! It's a long process, but remember why you chose to apply in the first place.
---
Timothy Loftus, Religion PhD Candidate
I chose Temple's College of Liberal Arts because: I came back to do my PhD at a later age than many students. I looked for a Philadelphia program with strengths in Buddhist studies so I wouldn't have to relocate my family. Being able to work with [Religion Associate Professor] Douglas Duckworth who had recently arrived at CLA was a huge opportunity. 
Applying for a Fulbright was: initially very scary. I thought it would be a good way for me to begin writing my dissertation proposal. I was pleasantly surprised at how much support I received along the way from Dr. Barbara Gorka and her office.  The multiple rounds of revision pushed me to articulate my project clearly and succinctly.
My Fulbright project will explore/research/examine: a modern Buddhist community in India. These neo-Buddhists are often thought of as being politically engaged but not very religious. I hope to show that Buddhism can be more than mindful meditation and actually has a robust tradition of speaking truth to power.
Temple supported me by: walking me through the application steps, bringing together experts to comment on my proposal and by connecting me with smart, generous and kind faculty who have mentored me.
---
Amma Prociuk, CLA '17, Spanish and History Major
My Fulbright project is: an English Teaching Assistantship in Brazil. I'll be supporting English classes at a university in 2020. The position only requires 20-25 hours per week, so I'll also engage with my community outside of the classroom. I want to take samba classes, because local dance classes are a great way to connect with people when you're living in another country.
Temple supported me by: having an incredible Office of Scholar Development and Fellowships Advising that guided me throughout the process. As a Temple upperclassman, I attended a Fulbright information session that got me interested, but I didn't apply until over a year after graduation. However, Temple still offered the opportunity to apply through campus, and I had multiple faculty members and former Fulbrighters look over my essays before I submitted them. The campus interview is another opportunity to get feedback, and these multiple perspectives highlight the strengths and weaknesses of your essays so that you feel confident about applying.
My advice to future Fulbright applicants is: to just start writing, even if you aren't entirely sure what you want to say yet. Get your ideas out and Dr. Barbara Gorka and her team of Fulbright reviewers will guide you towards what makes you uniquely qualified for the award.
---
Tirzah Sheppard (Alternate), Public Health '18, Spanish Minor
I chose Temple because: I was excited to explore a new city and because of the wide range of majors offered and the Temple Honors Program.
My Fulbright project would examine: factors contributing to poor housing conditions and health inequities, specifically through the perspectives of Afro-descendants in Colón, Panama. My proposed research, a Photo-Voice project, offers Colonenses (residents of Colón) an opportunity to identify and represent their perspective on how inadequate housing impacts community development, public health and education. My project will provide policymakers with beneficial information on how to sustain the quality of new subsidized housing developments.
Being named an alternate made me feel: excited to be a semi-finalist. I felt a little disappointed when I found out I was an alternate but still very grateful that my application made it all the way through the process. It really is an honor and shows that I put in all the work necessary. At the end, it just came down to funding. I feel more determined and confident to apply again in the next cycle.
My advice to future Fulbright applicants is: be confident in yourself! Use your imagination, your experiences and your professors to help you develop a research idea.
---
Temple University's College of Liberal Arts congratulates all its 2019 Fulbrighters and encourages interested students to visit Dr. Barbara Gorka in the Office of Scholar Development and Fellowships Advising to get help applying.