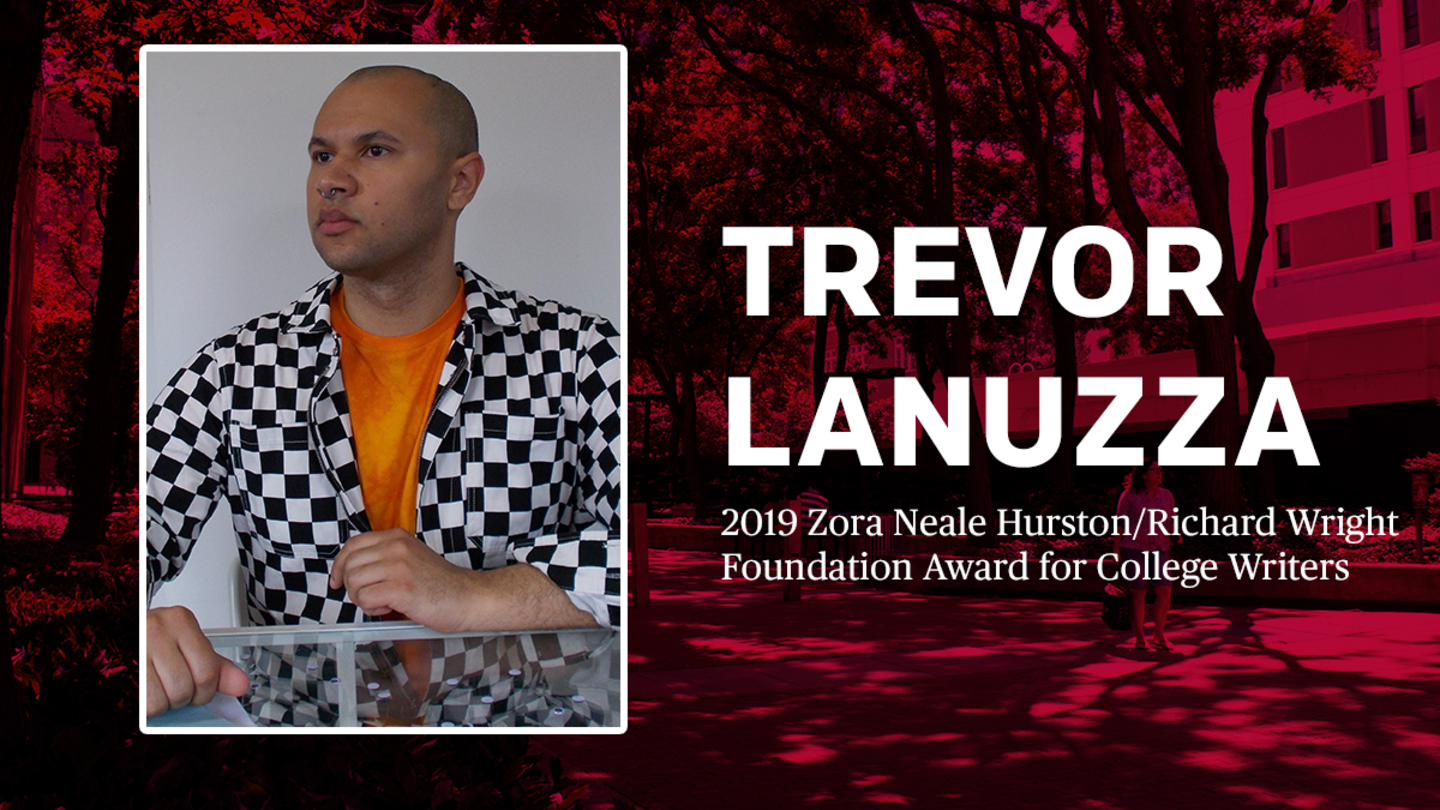 MFA candidate in fiction Trevor Lanuzza wins the Zora Neale Hurston/Richard Wright Foundation's 2019 Award for College Writers fiction prize for his story "nobody's a real mystic anymore."  
The award, which debuted in 1991 and is the longest-running program of the Hurston/Wright Foundation, encourages college creative writers with support early in their writing careers. Almost 90 students from 60 colleges and universities submitted their work for the 2019 competition. The judges, who have sole discretion in making the selections, are sent entries without information that would identify the authors or their schools. This is the sixth year that the award has been sponsored by Amistad and HarperCollins Publishers. Tracy Sherrod, editorial director of Amistad, said "It is a great honor for Amistad/HarperCollins to continue supporting the Hurston/Wright Award for College Writers. I have seen recipients of this award go on to become prominent literary voices. We are proud to be a part of this exciting work." 
The college winners will be honored at the Hurston/Wright Legacy Awards ceremony in Washington, D.C., on Friday, October 18, 2019. The evening features the announcement of the winners of the juried awards for fiction, nonfiction, and poetry, as well as the presentation of awards for career achievement. More than 200 literary stars and representatives of the publishing industry, media, politics, arts, and academia attend the annual ceremony. 
About the Hurston/Wright Foundation: The Zora Neale Hurston/Richard Wright Foundation was founded in 1990 in Washington, D.C., and is dedicated to discovering, mentoring and honoring Black writers. Through workshops, masterclasses and readings, the organization preserves the voices of Black writers in the world literary canon, serves as a community for writers, and continues a tradition of literary excellence in storytelling established by its namesakes. The Hurston/Wright Foundation is a 501(c)(3) nonprofit. Learn more at www.hurstonwright.org.
---