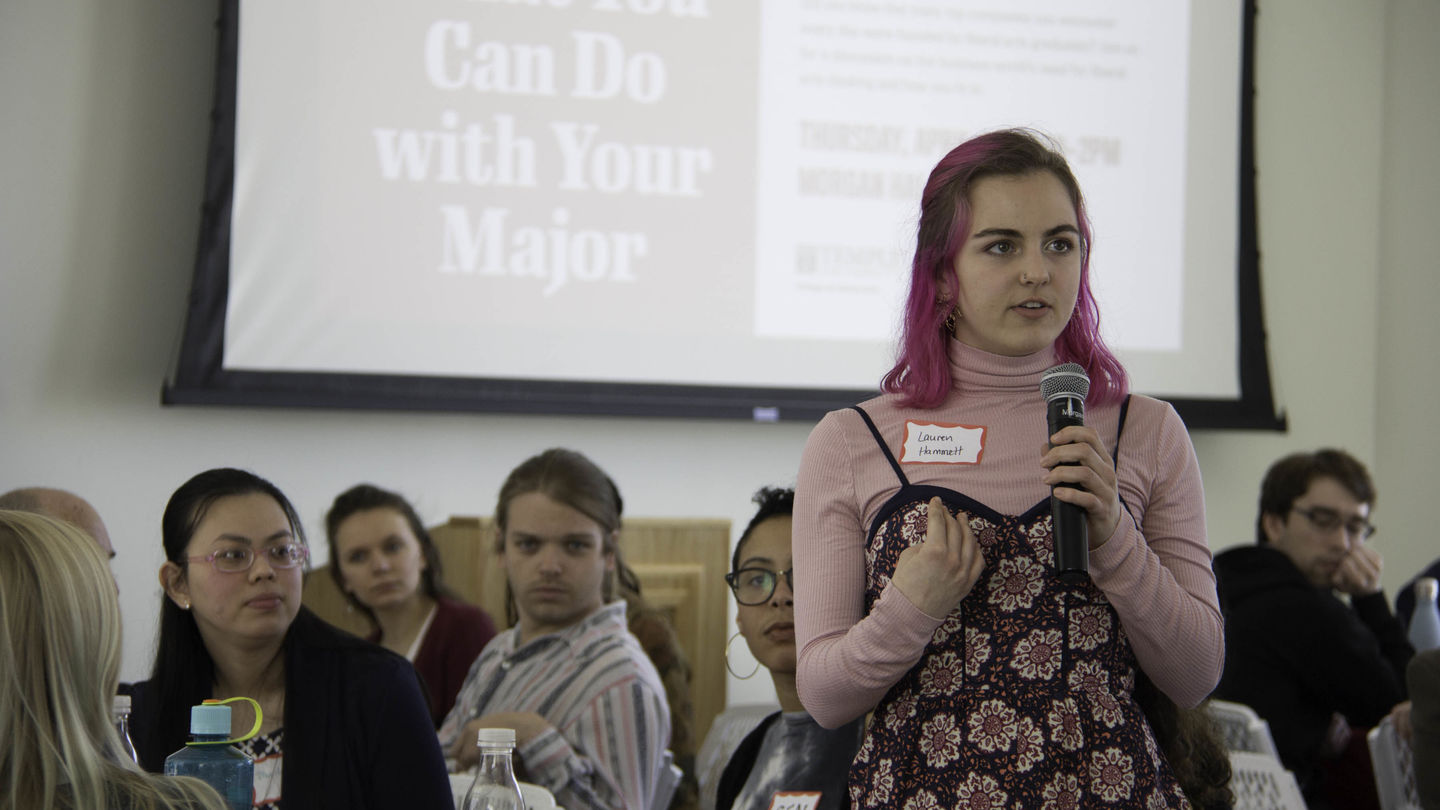 By: Nick Santangelo
The College of Liberal Arts (CLA) runs on a simple idea: college should be fun, meaning you should study something you enjoy. But CLA is also fueled by another simple idea: your studies should prepare you for your career by teaching you marketable skills that make you uniquely qualified for your career.
At CLA's Spring 2019 Leonard and Helena Mazur Alumni Networking Event, current students got the chance to mingle with alumni whose successful career experiences showed potential pathways for their own successes. Specifically, the Morgan Hall event focused on how liberal arts alumni are shaping the business world.
CLA Dean Richard Deeg opened things by lauding the students who took advantage of the opportunity, impressing upon them the correlation between networking and career success.
"We know that we give you a great education in the liberal arts, but that alone isn't enough to make a great transition into a great career," said Dr. Deeg. "Alumni networking is really a valuable tool for making that transition from being a student to having a career."
The dean also reminded students that while government and nonprofit jobs certainly present viable career paths for them, there are possibilities across the economy. The business world, he said, values the critical thinking skills that every student and alumni in the room honed as a CLA student.
Backing this up, Sharon Taylor, CLA '76, did a little myth-busting about how to launch a successful business career. Taylor, formerly Prudential Financial's SVP of Human Resources, once thought attending business school was the only way to go. At the urging of her father, an entrepreneur and former marine, Taylor started college at Temple University's Fox School of Business. But business school didn't click for Taylor, so she made a change. Looking back with a laugh, she said her father audibly gasped when he found out his daughter had switched to CLA so she could become a Spanish major.
"I want to pursue something that I really, really love and enjoy, and don't worry—I'll get a job," she recalled telling her father. "I'll be able to leverage my liberal arts background to take a broader range of courses to charter my way when I get out."
To her father's surprise, Taylor was right. Despite having no background in IT, she began her career in the field when an employer found that her liberal arts skills like problem-solving and relationship building were sorely lacking in its company. Taylor urged students to leverage these very skills themselves to show employers how they can "fill in the gaps" in their businesses.
John Ewell, CLA '87, shared a similar story of thriving in the business world despite having no formal business training. The co-founder and former CEO of Prism Engineering, Ewell explained that he too was first attracted to business school as a teen before switching to CLA to become a Political Science major.
"Written and oral communications skills have never been more important in business," proclaimed Ewell.
He said these skills—along with complex problem-solving, leadership and critical thinking—are gleaned through a liberal arts education thanks to its focus on well-rounded reading assignments, term papers and applied global knowledge.
Ewell also touched on the importance of accepting that everyone fails sometimes, so those failures should be taken as learning experiences. It was an inspiring message, one that's really taken hold here in Temple's home of Philadelphia. After all, even former Philadelphia Eagles quarterback Nick Foles urged people to not be afraid to fail after he was named Super Bowl LII MVP last year.
At the Mazur event, Sharon Taylor picked up on this same thread before freeing the gathered students to network with any alumni whose experiences lined up with their career goals.
"I am a living example not only of what a liberal arts degree can do for someone," she concluded, "but of how you pick yourself up from failure."
The College of Liberal Arts would like to thank all of our successful alumni who attended:
John Ewell, Political Science, 1987
Edwin Harron, Economics, 1991
Antoinette Marie Johnson, Geography and Urban Studies, 2006
Henry Lewis, English, 1969
Anne Long, Political Science, 1981
Susan Makurath, French, 1973
Leonard Mazur, Psychology, 1968
Anthony Moore, Political Science, 1976
Eric Mursch, Psychology, 2014
Jill Murray, Economics, 2015
Brittany Newton, Psychology, 2017
Erik Oberholtzer, Psychology, 1991
Audrey Schimeneck, Philosophy and Greek and Roman Classics, 2017
Chris Swan, Economics, 1991
Nancy Tabas, History, 1973
Sharon Taylor, Spanish, 1976
John Trone, Political Science, 1979
Eric Wurster, Criminal Justice, 1990
Agnieszka Zajewska, Philosophy, 2016
---