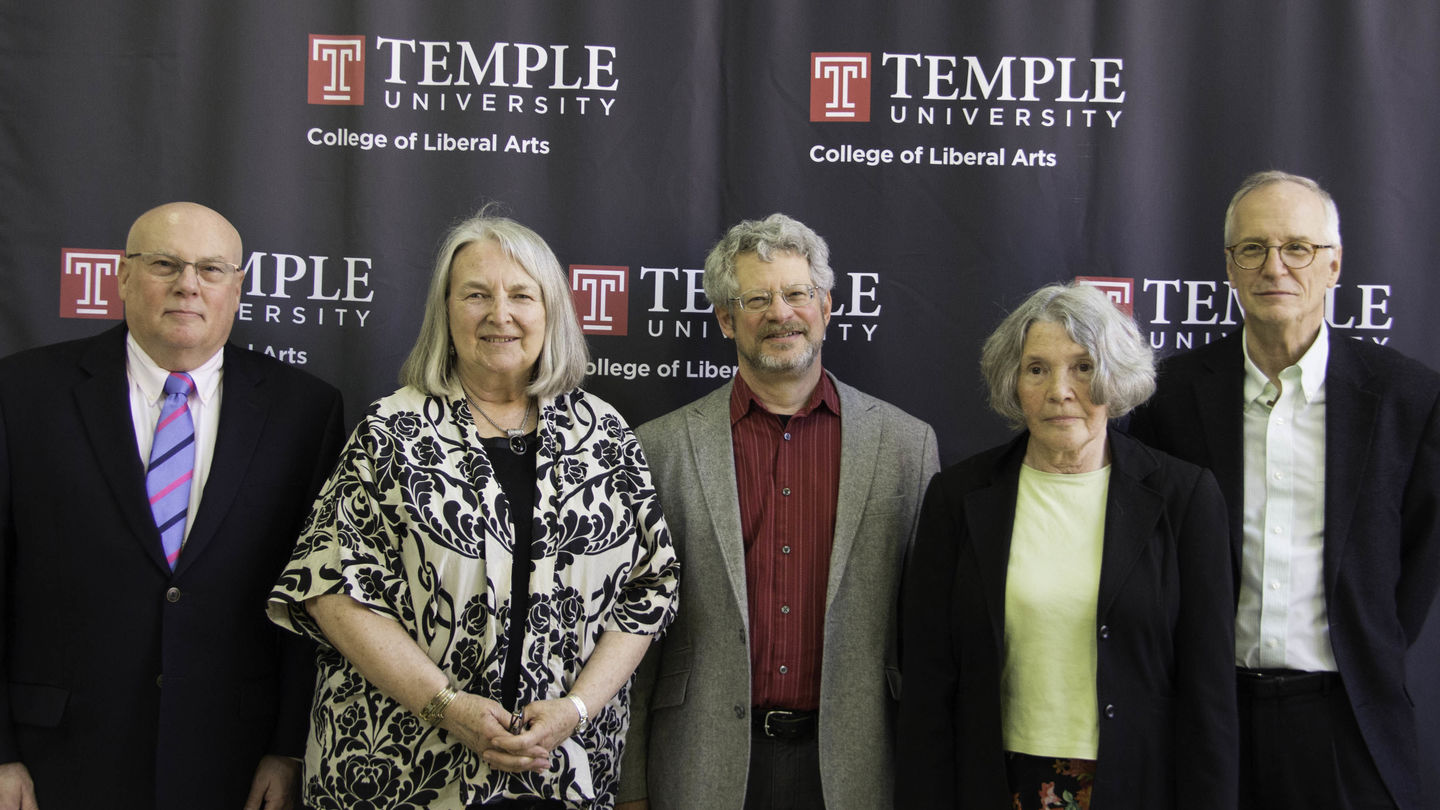 On Wednesday, the College of Liberal Arts (CLA) held its annual Faculty Achievement Awards and bid a fond farewell to retiring faculty members at a ceremony in Shusterman Hall.
CLA Dean Richard Deeg opened the event by expressing his thanks to the award winners and retirees, highlighting the importance of the work they've done preparing CLA students for a lifetime of learning and ethical citizenship.
"It's not just a job," said Dean Deeg. "We look at it as a vocation."
But since it's a vocation done mostly by professors acting as individuals in their own classrooms and not in groups, it's vitally important, continued the dean, that faculty members be recognized for their achievements during events like Wednesday's ceremony.
To do so, History Professor and CLA Teaching Awards Committee Chairman Bryant Simon took the stage to announce this year's award winners. Dr. Simon said picking the winners was a challenge for the committee because so many professors were doing great, creative things in the classroom. So impressive was their work, he said with a smirk, that others should consider re-appropriating it for their own classrooms.
"It's true," he said to hearty laughter from the attendees, "good teaching is all about theft."
Regardless of whether the winners were inspired by the techniques of other exemplary educators or not, though, each earned the admiration of their students and their peers for their dedication to teaching.
Teaching Award Recipients
Tenure/Tenure Track Faculty Award: Christina Rosan, Associate Professor of Geography and Urban Studies
Teaching/Instructional Faculty Award: Jaclyn Neel, Associate Professor of Instruction of Greek and Roman Classics
Eleanor Hofkin Award: Margaret Sayers, Adjunct Professor of Psychology
Graduate Student Instructor of Record Award: Meryl Luma, Philosophy
Graduate Student Teaching Assistant Award: Jill Swirsky, Psychology
To recognize those professors who had reached the end of entire careers dedicated to outstanding teaching and scholarship, former CLA Dean and Geography and Urban Studies Professor Emeritus Carolyn Adams took the podium. Dr. Adams thanked the retirees for educating students in the classroom and for benefitting communities beyond it. Speaking from experience, she said everyone makes their own way in retirement, which allows for the pursuit of passions that are often relegated to the back burner while working.
"A lot of people here will not simply be thinking about what they can do for their own pleasures, though," she said. "They'll be thinking about what they can do to further the community."
Dean Deeg agreed, adding that strengthening a sense of community within the college is one of CLA's strategic goals.
"I hope you're retiring in the firm knowledge and belief that you're leaving a lasting legacy, and we thank you for that," he said."
Honored Retirees
CLA would like to congratulate each 2019 Teaching Award winner and wish our retirees all the best!