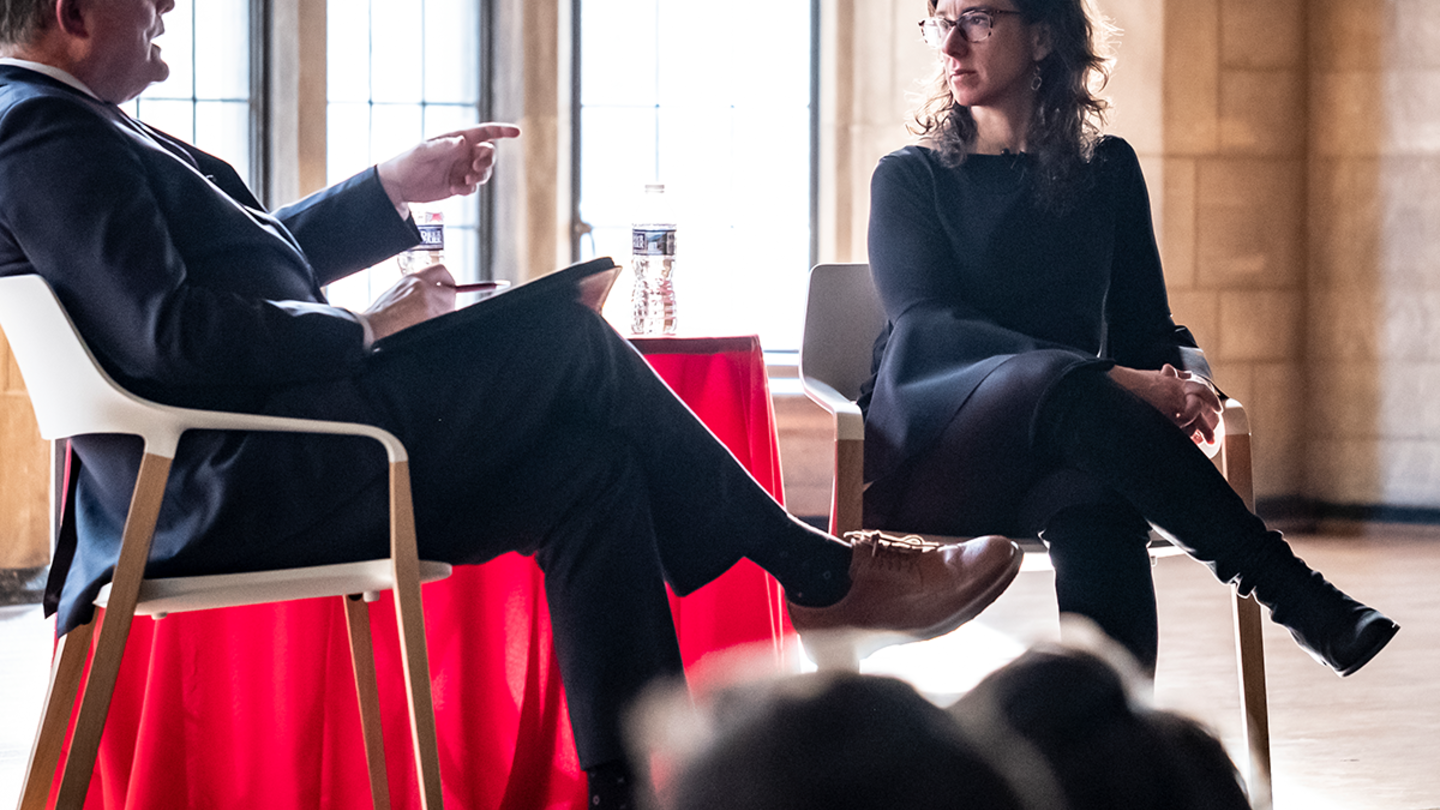 By: Nick Santangelo
There were always whispers in Hollywood. The industry knew Harvey Weinstein was acting inappropriately with women. The whispers reached D.C. too: both Hillary Clinton's 2008 and 2016 campaigns were warned to stop taking money from producer Harvey Weinstein because it was believed he was mistreating women. But Weinstein's pattern of unwanted advances, sexual harassment and more continued for at least 25 years.
It finally all came to an end after brave actresses, assistants and other women in Hollywood came forward to speak with a pair of New York Times reporters to expose Weinstein's crimes. One of those reporters, Jodi Kantor, visited Temple University last Thursday as a guest of the College of Liberal Arts, Klein College and the Feinstein Center to discuss the investigative report and its impact in amplifying the #MeToo movement.
Is it just a question of a change in social attitudes and this kind of behavior being less acceptable than it used to be?
The biggest question of the day discussed before a packed Mitten Hall crowd of Temple students, faculty and staff members was where the movement is headed now, roughly a year and a half after Kantor's story was published. With accused parties like Brett Kavanaugh being appointed to the Supreme Court, Donald Trump being elected president and Louie C.K. returning to standup comedy, did the story have the right impact?
Kantor wanted to make one thing clear above all else: making the public aware of sexual abusers and harassers matters. It shows victimized women everywhere that their experiences didn't happen in isolation—they are not alone. Still, Kantor allowed that this isn't enough.
"Is it just a question of a change in social attitudes and this kind of behavior being less acceptable than it used to be? That's a big change, but will we get policies and systems that work differently?" she mused. "If a woman here in Philly is making minimum wage at a fast food place and gets groped by her employer and nothing is different for her than before my story, has anything changed at all? I don't think so."
In other ways, Kantor wondered aloud if some men had actually reacted too strongly to the report, possibly even as an attempt to mask their backlash against #MeToo. For instance, she was asked to comment on some men working on Wall Street having said they'll now avoid all one-on-one meetings with women.
"Is it backlash or is it a kind of over-lash?" wondered Kantor. "Are they resisting or are they yielding way too much to what they think the developing consensus is?"
Continuing, Kantor pointed out that whenever she sees a story about men claiming to be afraid of being in one-on-one professional settings with women, it tends to be just a two or three men saying as much. That would seem to imply this isn't a widespread fear among men and might even mean it's just a small group of bad actors looking to discredit #MeToo.
Is it backlash or is it a kind of over-lash?
On the other hand, Kantor told the audience that she thinks this is all part of "the messy mechanics of working through social change." Some of the debates that spurs will be more difficult than others. Specifically, Kantor told a story about a visit she made to a suburban Virginia college when a discussion about whether or not it was OK for a male to compliment a female colleague on her dress arose. Interestingly, none of the women discussing the issue with Kantor could come to a consensus.
This led Kantor to point out that severe violations like Harvey Weinstein's are a lot easier to identify and condemn than gray areas such as dress compliments or even someone being drunk at a company holiday party and making an inappropriate remark. Most would agree that the latter is wrong, but what should the response to it be?
And what of popular works of art created by the accused or even by the convicted? It's a topic Temple students took a particular interest in, but Kantor said it wasn't her place to decide for them.  She just wants them to keep asking the question.
"What does accountability actually look like in this realm?"