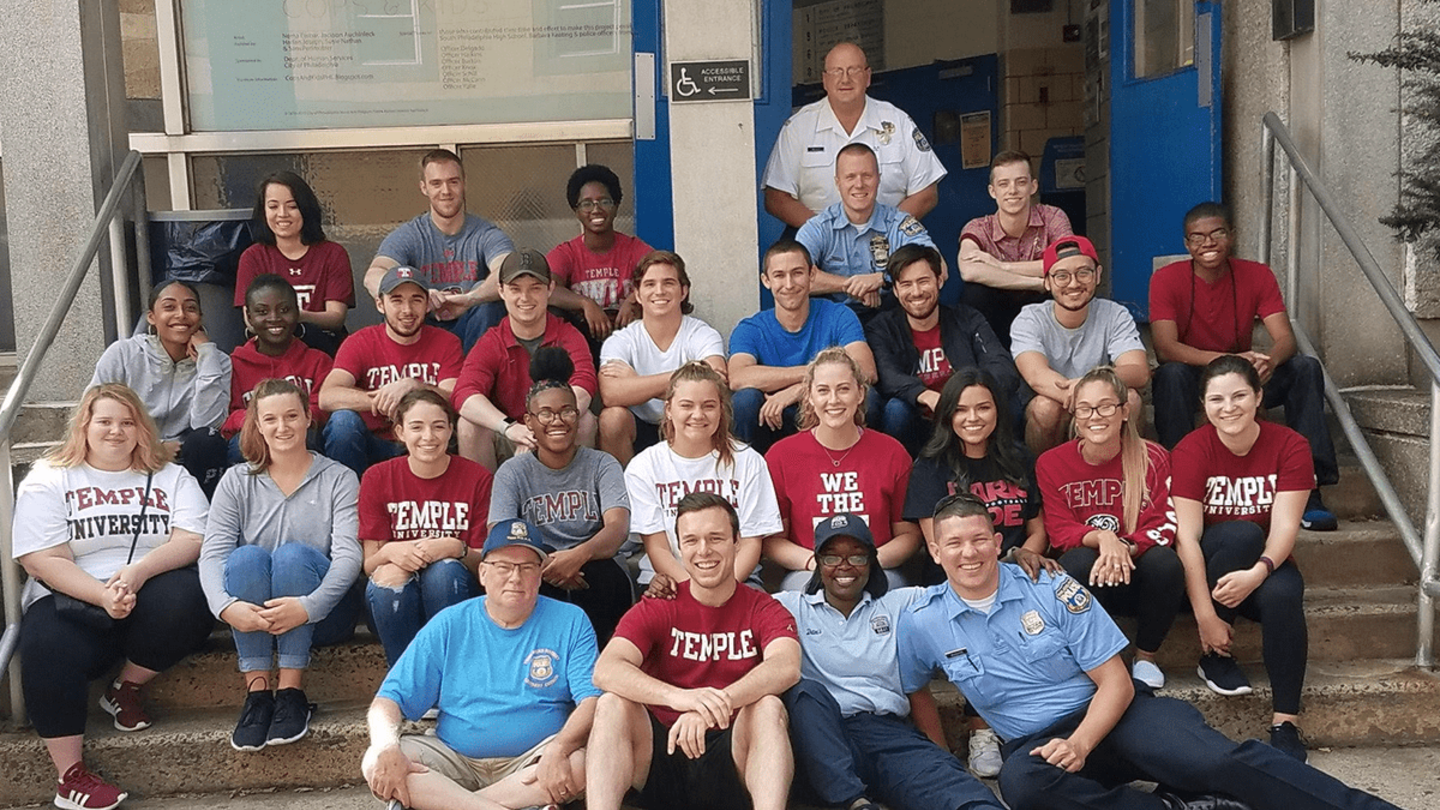 If there's one thing I've learned to do well in my four years at Temple University's College of Liberal Arts, it's taking advantage of the endless resources surrounding me.
My name is Mike Sylvanovich, and I'm a senior studying Criminal Justice and Spanish. By spring, I'll have had five internships, and I owe it to my professors, advisors, friends and family members for making it all possible.
In particular, Criminal Justice Assistant Professor Joe Alkus has been tremendously helpful. Professor Alkus helped me with my interview preparation, networking, resume and cover letters for each of my internships. If it weren't for him, I wouldn't have gained the knowledge and skills it takes to successfully land internships and be on the path I am today.
So far, I've had some amazing internships:
The Philadelphia Police Department's 3rd District taught me the foundations and operations of everyday police work.
The Office of Inspector General for the United States Department of Health and Human Services (OIG/HHS) gave me the chance to assist in health care fraud investigations.
Temple University's Diamond Peer Teaching Program let me teach a class of 100 students about the foundations of policing and police corruption for a week.
I just recently finished up an internship with the Philadelphia Police Advisory Commission where I had the chance to learn about police integrity and accountability to improve police-community relations.
And in the spring semester, I'll have an internship with the Bureau of Alcohol Tobacco Firearms and Explosives (ATF) in the violent crime task force.
I've gained valuable work experience at each of my internships to date, learning and improving upon I've many skills needed for the professional world. Looking back on my Diamond Peer Teaching Internship, for example, I never thought of myself being able to do something like teach in front of 100 other students, but I gained confidence in my public speaking because of it.
In addition, internships are there to help explore potential career paths. I know that my interests lie in law enforcement, but I haven't narrowed down what type of law enforcement I want to start a career in—local or federal. My internship with the Philadelphia Police Department showed me how local law enforcement operates through a direct response to citizens' calls and complaints, while federal law enforcement spends more time on investigations of federal offenses. When the time comes for a career path, I'll have the basis of knowledge to pull from my internship experiences help narrow down my options.
Furthermore, I was able to establish connections by networking with professionals that have led to other opportunities. For example, after my internship with the Philadelphia Police Department, I've remained active with the 3rd Police District and their officers through community events for the Criminal Justice Society. These community events have helped students interact and build relationships with police officers that have led to interests about internships, like the one I did there.
Altogether, the experiences gained from an internship are invaluable. Even if an internship you take on doesn't line up directly with your interests, it's always great to have some type of internship experience. You never know when what you learned from that internship will be used later on for something else. That's why having an internship is so important, and I recommend taking full advantage of the resources around you in order to land internships while you're student so you can improve your chances of success after graduation.