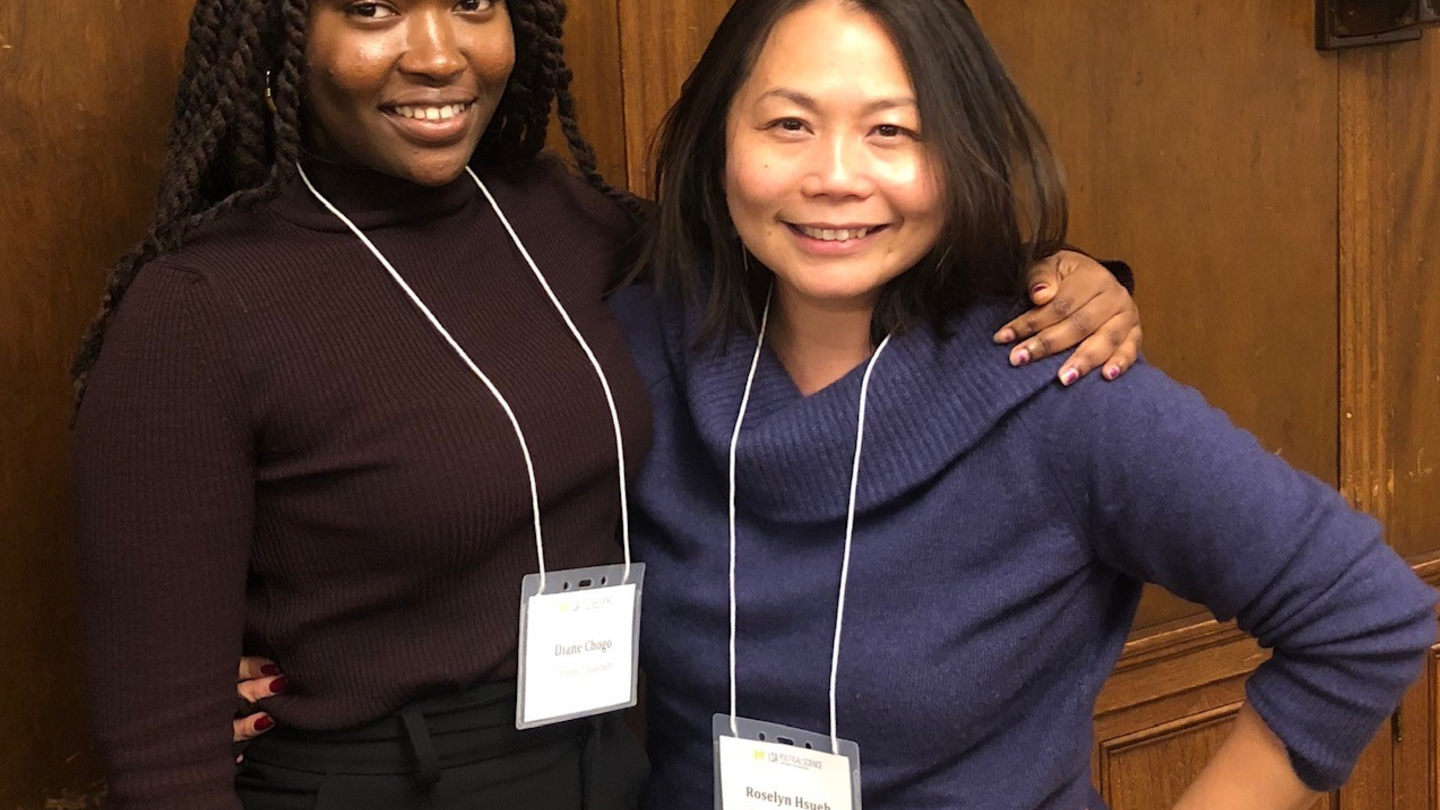 By: Nick Santangelo
A political science major who's also minoring in biology, senior Diane Chogo recently presented her capstone paper at the nationally competitive Emerging Scholars Conference at the University of Michigan. Chogo's paper was titled How did the identity of African Americans in the diaspora affect the social and political movements in Africa? She wrote it for Political Science Professor Roselyn Hsueh's Political Economy of Identity in the Global Era course.
Following is an edited version of a conversation with Chogo and Dr. Hsueh about the paper and the ensuing presentation.
What did your research uncover about how the identity of African Americans in the diaspora affects the social and political movements in Africa?
Chogo: I chose that subject just from Dr. Hsueh asking me how my African American identity affects the way I perceive things in Africa, considering the disconnect between years. That was in the back of my mind and then Black Panther came out and there was this discussion within the black community of what the continent has done for African Americans and what have African Americans done for the continent.
I decided to do my capstone paper on seeing a cross-continental relationship between identities and how with that there's this underlining aspect of people not talking about the huge contributions African Americans had on social and political movement in Africa.
How did the paper tie into the course it was written for?
Dr. Roselyn Hsueh: Diane was an excellent student, and some of the first seeds of the paper began in the Research Preparation course. She then wrote the paper for my capstone course, the theme of which is the political economy and identity in the global era. The idea there is to look at identity as dependent as well as independent variables and to understand, conceptualize, operationalize and identify the interconnections between identity and political forces here in the United States or globally.
Diane's paper was an excellent representation of what I hoped students would get out of the class. She connected African American identities and diaspora with events and processes that were happening in different countries in Africa. She also brought to bear analytical, data collection and conceptualization skills and research.
And the Emerging Scholars Conference brought together undergraduates from all over the country. It was a very competitive process. I nominated her, and her paper was chosen along with 10 other national applicants.
What was that student-mentor relationship like?
Chogo: So it was very much going back and forth, and diving deep into it. I got a sense of what I could have done more to make my paper precise. And I feel Dr. Hsueh really opened my eyes to different things that I forgot to put in, or I should have put in.
Dr. Hsueh: I think it revealed to Diane that research and writing is an iterative process, and it's about continuing to refine. So, there's never a perfect product. She wrote an outstanding paper, received an A, and was one of the top papers in the class but I think the whole process also reveals that we can always further refine a research paper
What were you feeling when you were chosen to go to the conference, Diane? Were you excited, nervous? A little bit of both?
Chogo: I was nervous. I was looking at the topics everybody else had, I was like "Oh, these are great questions. I don't know why I didn't think of it, or anything." And it was just overwhelming in a sense. I kind of got down on myself, discredited my ability, I was like "Oh this was just by chance, maybe someone dropped out or something."
Dr. Hsueh: My nomination letter is proof that it wasn't. It wasn't by chance.
Diane:  Yeah, but it was something I was really proud of myself that I was able to do, especially with the topic being so close to my heart and being something I'm really passionate about, having other people recognize that as being important to contribution within political science and academia overall.
How do you think it went and how were you feeling afterward? What was the reception like?
Chogo: It actually made me want to dive deeper into my paper, and I want to do that this winter and spring. And just overall with the literature recommendations and the comparative politics that one of the advisors brought up, with looking at other situations within diasporas, within the Latinized community, their ancient community and comparing it with the African American community, cause there's not a lot of cross-section within that, and looking at other groups compared to African Americans.
Dr. Hsueh: It's great to hear that because we have TURF, the Temple Undergraduate Research Forum, that's in the spring. Hopefully Diane will be able to present there too, and I did also suggest that the paper itself could be edited, revised and possibly submitting it to the Pi Sigma Alpha Undergraduate Journal.
What do you feel like you gained from the experience? Did it help you grow any skills or just gain a new confidence, anything that you feel might help you, moving forward after college?
Chogo: It made me miss research, to be honest. Right now, I'm completing an internship at the Reinvestment Fund where I'm doing more initiative programming work. And I can feel my comfortability in research has been solidified through the experience at Michigan.
It very much projected a future for me or made me think about it more, in a deeper level within what I actually want to do, compared to what has been traditional for people going within public health, of doing nonprofit grassroots works, compared to research work overall.
Did you feel like you saw any growth in her throughout this whole process, professor?
Dr. Hsueh: I've always felt that Diane, in addition to being really intelligent and hardworking, had this desire to learn more. Seeing her at Michigan being exposed to different ideas and opportunities and seeing that she internalized it and is now thinking about the future and what these new skills can bring, is something that, as a professor, I love to see.
Learning research and analysis skills can be done in the classroom. And obviously, I think Diana has shown that. But I think in addition to everything, she has a lot of really interesting ideas, and it's really important that people with different voices are heard.
Chogo: Yeah, and even just coming back from Michigan, it made me appreciate my experience at Temple and within the Political Science Department, realizing that a lot of other people from different universities don't get the opportunity to actually do methodology within the research, compared to theory work.
Here, I feel like we get a good balance between theory and methodology and applying it to your research compared to just abstract thought. You're able to find a hypothesis and then able to actually do your research within data collection, surveys and all of that. Talking to the other students at Michigan, many didn't get that opportunity. They either had to figure it out by themselves or go back and forth with their advisor, where I feel like Temple gave you the tools and actually gave you the ability to apply it to your research, which I really appreciated.
You both mentioned the future a little bit. What are you thinking for after college? Graduate school or are you more thinking about going directly into working public health?
Chogo: I'm still thinking about it and trying to fully develop what I want to do after graduating from undergrad. But graduate school is always an option for me in the future. The PhD program is probably something I want to do. I just wanted to be a doctor, so a doctorate of medicine or PhD programs. And then with that, I think ultimately the perfect post-undergrad job would be working for a think tank within research and being able to apply my knowledge within that, within public health.
Care to share any parting advice about research projects or presentations for incoming students?
Chogo: I think overall, just one thing I feel like a lot of people don't talk about at Temple is the support you get from your faculty and your professors, which a lot of students don't take advantage of. Just even that one question sparked a knowledge within me. I feel like a lot of people don't take advantage of the opportunity. They should just plant a seed and just let it grow.
Dr. Hsueh: I guess the one thing that I want to add is to hear Diane say that it was that one question that I asked her in a prior class that led to her writing this paper in the second class, I find that really just rewarding for myself, as a professor.
CLA congratulates Diane Chogo on her successful paper and presentation and wishes her all the best with her future presentations and post-graduation plans!