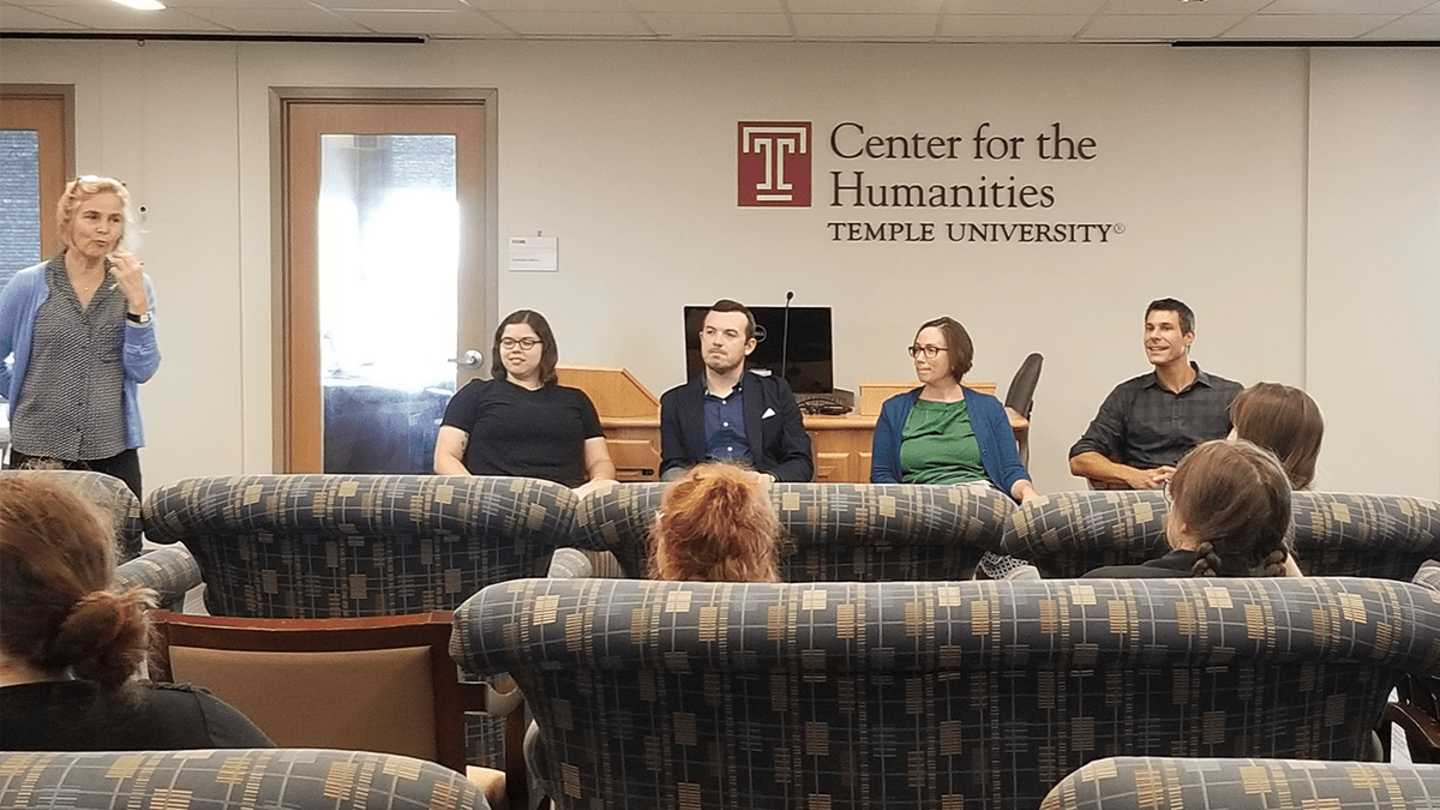 By: Nick Santangelo
Internships aren't just for undergrads. No matter how educated a student is or how much older than the traditional college student age group they are, they can always benefit from gaining more real-world work experience. Whether pursuing a masters, a PhD or another advanced degree, it's important to think about where you want to be after graduation.
"Most of us who teach graduate students don't really talk about what happens after you get your PhD and leave from here," Center for the Humanities at Temple (CHAT) Director Petra Goedde said on Oct. 11 during a CHAT Lounge panel on humanities internships for graduate students. You can probably guess what she recommended humanities grad students do to prepare for life beyond academia.
"One way to get your feet wet outside of the traditional academic world is to get internships," said Goedde.
Internships, the panel would soon explain, don't just give students experience. They also expand students' networks and give them an idea as to what they want to do for a living. Just as importantly, they give them an idea as to what they don't want to do for a living.
You get to see that you don't really like this thing
Public History master's degree student Joy Feagan knew a little something about that even before interning. Feagan doesn't want to work in academia after completing her degree, but she wasn't sure how to narrow her professional goals down further from there. To figure it out, she took on "a lot of different internships."
History Department Assistant Professor Hilary Iris Lowe spoke of how getting into an organization as an intern can expose grad students to inner workings that they otherwise wouldn't have known about. "You get to see that you don't really like this thing, but you might like this other thing."
Feagan didn't wait until grad school to start doing just that. She took the initiative as an undergrad and began emailing organizations that didn't even have internship openings listed. She was persistent and landed several internships. Some places she interned even ended up finding the funds to pay her after initially saying they had none.
Philadelphia Society for the Preservation of Landmarks Executive Director Johnathan Burton said employers appreciate interns with Feagan's brand of self-starter attitude. In fact, the society doesn't list internship openings anymore since so many students reach out of their own volition. When someone they like reaches out, they create an internship "on the spot," said Burton.
Dr. Lowe pointed out that many organizations today are hoping to hear from grad students. And an internship, she said, is increasingly becoming "a gateway to jobs after the PhD, if not before." What's more, even grad students with little work experience to their name are more qualified for a great internship than they might think. All of their work on research papers and in writing applications produce skills that are "super transferrable" to the workforce, explained Dr. Lowe.
Feagan and Burton both agreed that one way grad students can stand out from their peers with the same skills is by volunteering. "I look for current voluntary experience on somebody's resume," said Burton. "We as nonprofits and museums rely so much on volunteers."
As such, Burton sees great value in interns who understand what it's like to give their time for free. Internship resumes with no volunteer experience listed are "seriously" thrown in the trash, he said.
Think about the skills you might want to acquire
But hard skills can be valuable too. Learning, for example, how to build a website can make a grad student extremely marketable to small museums and nonprofits. Students can get those skills right here at Temple University too.
"Think about the skills you already have," said Dr. Lowe. "I encourage you to think about the skills you might want to acquire too."
Several students wanted to know how to best promote the skills they do have. What should they put in their resume versus their cover letter? The panelists recommended focusing on skills like public speaking and critical thinking in resumes while altering cover letters depending on the job. Burton added that cover letters show that applicants are personable, that they have people skills, saying he already knows anyone who's acquiring a PhD is smart.
This prompted one final question. If students can land internships that expand their networks and help them get actual jobs while they're still in school, why finish their PhDs? Burton was quick to provide an answer.
"It carries a ton of weight and says a lot about a person's character."