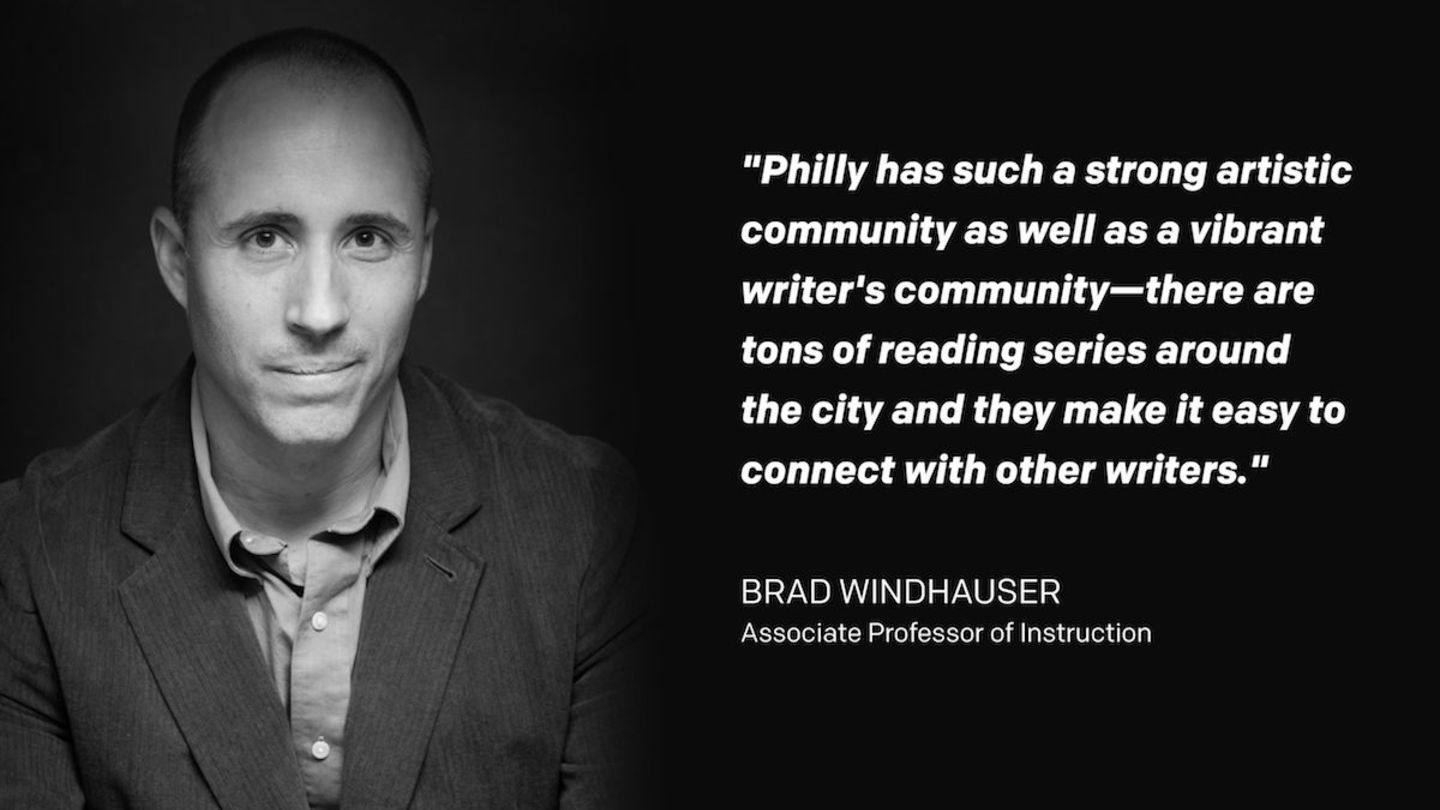 By: Sara Curnow Wilson
Brad Windhauser thinks Philadelphia is a great place to be a writer. "There's a certain energy to Philly that I love," says the English and Gender, Sexuality, and Women's Studies faculty member. He's set both his novels here. The most recent, The Intersection (2016), tackles gentrification and racial issues in the city's Graduate Hospital neighborhood. Windhauser says the story had to happen here, and we agree. We touched base with him to talk about his writing, the city and his classes.
How'd you get the idea for The Intersection? 
I lived in Graduate Hospital for a number of years, and when I moved there in 2004, there were times I felt out of place, as if I were an interloper. In a predominantly African American neighborhood at the time, Grad Hospital was not all that receptive to the wave of gentrification coming in, or some of the white people who were part of it. One day while I was driving to the laundromat, a bicyclist zoomed past me on the right, just as I was about to turn left. He happened to be African American. Given the tense environment in the neighborhood, I wondered what would happen if someone like me had hit someone like him. Would that set off racial tensions in the neighborhood? The story grew out of that "what if."
I loved the perspective shifts in the novel. What kinds of things do you think about or do to write from a point of view that isn't your own?
I do a lot of research, including the typical book/article reading, but also people watching. I try and observe people, pay attention to their mannerisms, etc. in order to get a feel for how they operate. This helps inform a perspective I'm looking for.
It sounds like you have things in common with Michael, the young white man who has recently moved into the neighborhood, but we don't hear anything from his perspective until chapter three. How did you approach (or were you ever worried about) speaking for characters of different races in a novel dealing with racial issues?
I did think about this, and this is the type of problem artists run into. However, I was more concerned with the fallout from the accident, so I felt the story needed to start away from him. He also couldn't hold the story together in the way that Rose could. When approaching her, I tried to be as honest and respectful as possible. I built her as a human being and then added in her race, if that makes sense. Clearly, her race is important but I wasn't trying to write "an African American woman," I was trying to tell a person's story who happened to be African American. Approached that way, I think it works. It's a truth (hers), not the truth (this is what all African Americans feel).
Your other novel, Regret (2007), is also set in Philly. Is there a reason both take place in the city?
I'm from Southern California and when I got the idea for my first novel in college, I wasn't sure where it would happen. When I visited the east coast for the first time in 1998 (Boston) it felt right for that story. I'd never been in an urban environment like that, where everything was so close together (unlike LA, where everything is so spread out). Then when I moved to Philly for grad school in 2000, I adapted the story (and wrote it) here in Philly, in part because I got to know the city and felt I could represent it better. There's a certain energy to Philly that I love. For The Intersection, the story had to take place here, and not just because I really knew the neighborhood. Although several neighborhoods across the country are experiencing gentrification, the particular characters felt particular to Philly.
When did you leave Southern California? Have you ever written anything set there?
I grew up in L.A. and moved to San Diego for college. I left in 2000 for grad school at Rutgers (Camden). I wrote a few short stories set in San Diego, but since so much of my writing developed here, most of my work is set here. My next novel, however, is set in a San Diego restaurant in the late '90s. I'm still drafting it but it feels looser than my previous work (in a positive way). I felt it was time for a southern California book.
What courses do you teach? Do you have a favorite?
I teach English 701 and 802, but also various fiction courses in the English department. I also teach courses in the LGBT minor with GSWS. In that program, I teach a queer non-fiction course and come spring of 2018, I'll be teaching a queer cinema course, a queer creative writing course, and a queer novel course. I'm really excited about those courses, but in general, I love teaching writing. I love being able to get students to feel confident about being able to find their voice.
Do you think Philly is a good place to be a young writer?
I do. Philly has such a strong artistic community as well as a vibrant writer's community—there are tons of reading series around the city and they make it easy to connect with other writers. I find it to be a very supportive environment.
Where else can our readers see your work?
You can find a bunch of my short stories online. My newest short story is coming out from Santa Fe Writer's Project Quarterly this summer (which will be online). I also update my website, BradWindhauser.com, often. I also have a blog project, where as a gay author I chronicled my experience reading the Bible for the first time a few years ago.