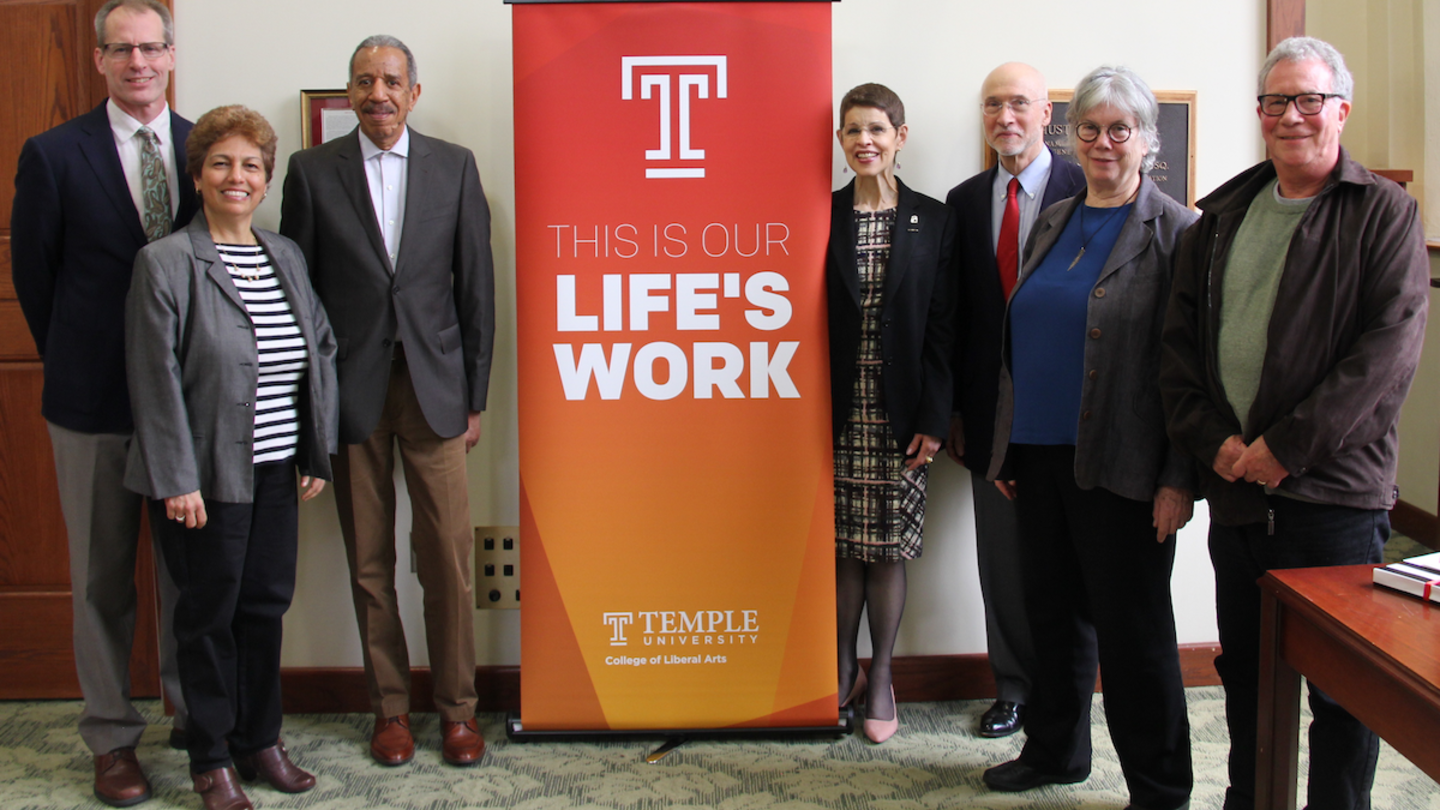 Faculty and staff gathered in Shusterman Hall this week to honor retiring faculty members and recipients of College of Liberal Arts Teaching Awards.
"It's no secret that our faculty are some of the best, most respected and prolific teachers and researchers in the country," Dean Richard Deeg said. "Our professors are the lifeblood of the College of Liberal Arts. Their passion, community engagement and pedagogy are what set us apart. I could not be more impressed by their accomplishments—although I don't need to see the awards to see how talented they are. I see it every day."
The list of 2016-17 retirees and award winners is as follows:
Retiring Faculty
Anthropology: Mindie Lazarus-Black
Economics: Gary Bowman and William Lynn Holmes
English: Deborah Karr, Muffy Siegel, Susan Wells
History: Richard Immerman
Intellectual Heritage: Kenneth Dossar
Sociology: Rosario Espinal
Spanish and Portuguese: Hortensia Morell-Chardon
Teaching Award Winners
Eleanor Hofkin Award: Heath Fogg-Davis, Political Science
This annual recognition is given by the College of Liberal Arts Alumni Association to a member of the faculty who has a demonstrated record of excellence in teaching and service to our students.
Tenure/Tenure Track Faculty Award: Dustin Kidd, Sociology
Teaching/Instructional Faculty Award: John Dern, Intellectual Heritage
Graduate Student Teaching Assistant Award: Shannon Hitchcock, Sociology and Kendall LaParo, Sociology
Graduate Student Instructor of Record Award: Guillermo Morales-Jodra, Spanish and Portuguese
In order to demonstrate the College of Liberal Arts' commitment to excellent teaching at all levels of the curriculum, these awards are given to instructors who dedicate themselves to student learning.