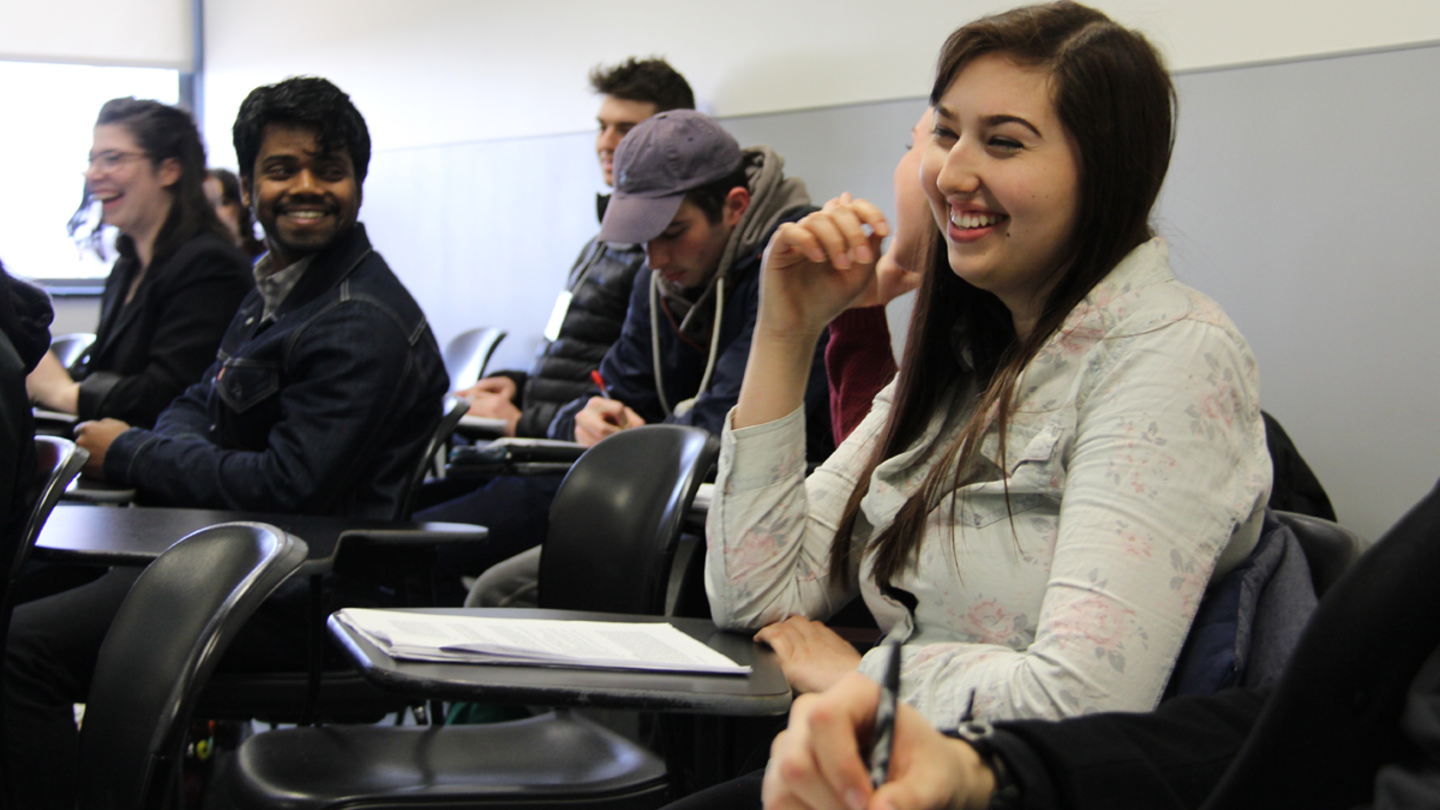 By Sara Curnow Wilson
"Boooo!"
As Anaya Carter-Duckett stands in front of the classroom, her fellow students punctuate her presentation by booing and slamming their fists on their desks. Though it may sound like an assignment gone wrong, it's actually a regular day in Alicia Cunningham-Bryant's Mosaics II class—and, believe it or not, the boos are a good thing.
"Things in the classroom start to get heated fast," Carter-Duckett says.
She and her classmates are participating in Reacting to the Past (RTTP), a type of role-playing game used in Temple University's Intellectual Heritage (IH) program. Currently, the class is in the process of "writing" the United States Constitution. All in all, the game takes four weeks. The topic of the day is the length of presidential terms and whether presidents should be eligible for reelection. The game's official title is "America's Founding: The Constitutional Convention," but students affectionately refer to it as "ConCon."
"In that classroom, I am no longer Anaya Carter-Duckett, a sophomore biochemistry major but instead, I am Luther Martin, the drunk, outspoken confederalist, who becomes a stronger debater and speaker the more he drinks," says Carter-Duckett. "In that room, I am viciously arguing with James Madison and Alexander Hamilton about the issues discussed and trying to persuade others to see things from a confederalist point of view to earn their votes."
The students must draw from history to shape their characters and understand how they would vote, but each game is different. Taylor Barrett is a Diamond Peer Teacher for the course, a position that is essentially a teaching assistantship for upper-division undergraduates. Barrett participates in one of Cunningham-Bryant's sections as John Lansing and observes the other. It gives her a unique vantage point on the game.
"It is interesting how different the constitution has become between the two classes," she says. "Students get really into the role they are playing. The game has definitely been much more involved than a normal class environment."
"ConCon" is one of six games currently being run across more than a dozen sections of IH classes. Other games include "Greenwich Village, 1913" and "The Threshold of Democracy: Athens in 403 BC."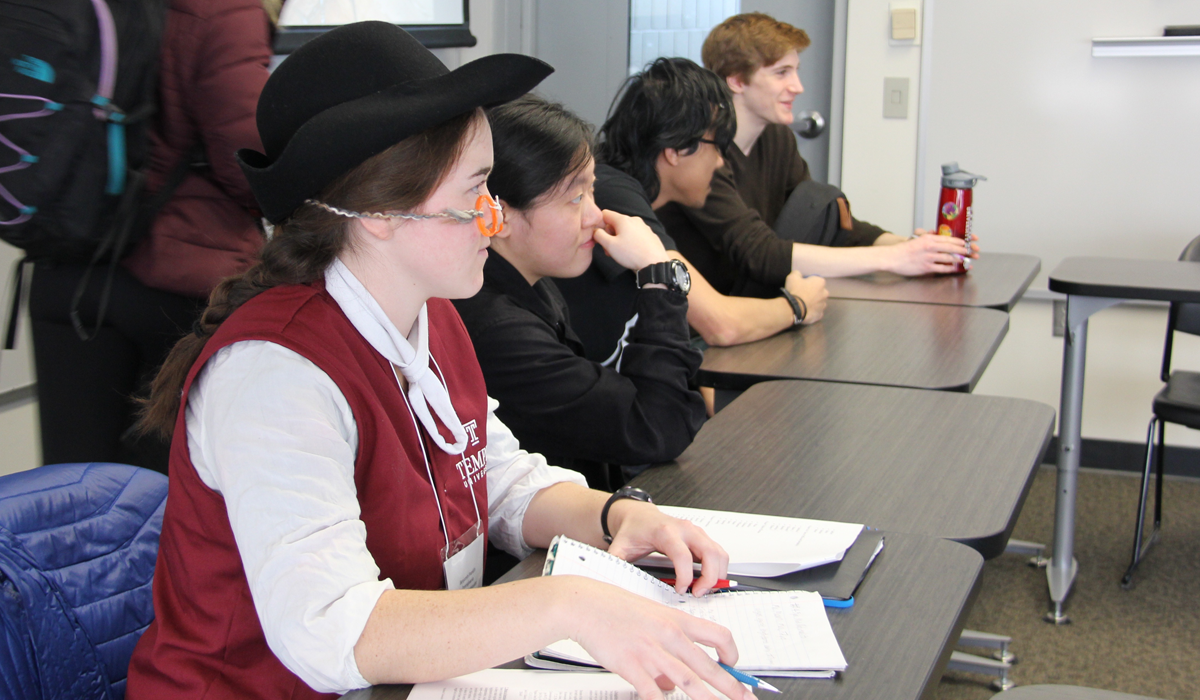 Temple's RTTP program is part of a much larger effort. The project is headquartered at Barnard College where it was developed by Professor of History Mark Carnes. IH Senior Associate Director Doug Greenfield was exposed to the program when he taught at Barnard for a year.
Greenfield is excited to have brought the program to Temple. The first training was held in November 2015. Though Temple's program is relatively new, it is gaining popularity and effectiveness quickly.
To this end, the efforts of IH have been rewarded with a grant from the Endeavor Foundation. The grant is the result of a partnership between the Endeavor Foundation and the Reacting Consortium, the organization involved in developing RTTP programs. The grant will fund RTTP instructors' participation in an upcoming conference and provide the program with ongoing support. Temple's IH program is one of six institutional teams selected to receive this first round of funding.
Plans are in motion to expand the RTTP program at Temple. The next training, planned for this summer, will produce a crop of new RTTP faculty prepared to run their own games in the fall.
Perhaps the clearest benefit of RTTP is its ability to support a range of learning styles. Emily Doerflein (or "Alexander Hamilton") says the game helps her access the course material in a different way than she does in a traditional classroom setting.
"Personally, I wouldn't have learned half as much by just listening and taking notes," she says. "It offers an alternative way to learn which helps people like me process the material."
Carter-Duckett compares the game to her science classes. "A lot of my learning does come from a lab setting, so I understand and greatly value the importance of doing something hands-on. I didn't think something hands-on could be applied to a humanities course, but I am really glad that this was how this unit was structured. It is interactive and forces you to immerse yourself in the game."
RTTP has also proved itself invaluable to students learning the English language. IH professor Susan Bertolino uses RTTP in her ESL sections. She says the game is helpful because her students can practice giving speeches in a low-pressure environment.
"Most people have anxiety about speaking in public. For a second language student, the burden is tripled by trying to think in the second language, worrying about mistakes and still trying to get their point across," Bertolino explains. "The game encourages community. We have designed our ESL/ELL program to be a 'safe space' for second language learners. This is where they can make mistakes and not feel ashamed of how a native speaker may react to them."
As Cunningham-Bryant's Mosaics II comes to a close, she asks the student playing Aaron Burr to stay after class. They have a duel to plan.
"Yes, this concerns you, Alexander Hamilton," Cunningham-Bryant says to Doerflein. When she looks confused, Cunningham-Bryant follows up. "Do you know how you die, Hamilton?"
Doerflein starts looking up the information immediately. With the recent popularity of Broadway's Hamilton, it will undoubtedly be a quick search, and the answer is sure to sound familiar. Another thing is sure: thanks to RTTP, no one in Cunningham-Bryant's class will ever again forget the circumstances surrounding Alexander Hamilton's death.