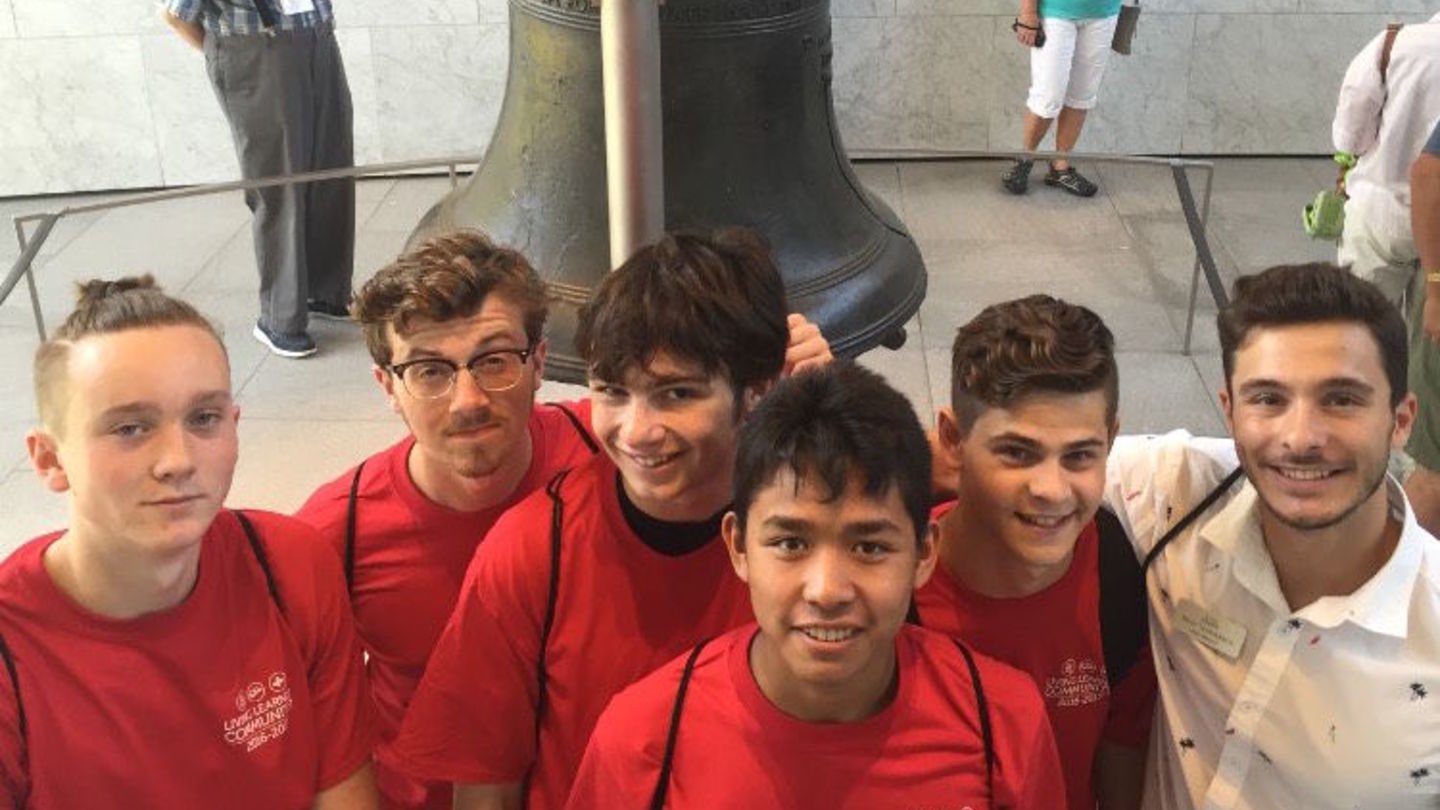 By Sara Curnow Wilson
A three-course dinner with faculty members, a behind-the-scenes, dean-led tour of campus and cultural outings in the city with your classmates: it's the stuff of glossy college brochures, but it's also a reality for students in the Urban Owls Living Learning Community (LLC for short).  
"The living-learning communities are sort of what they sound like," explains co-Program Administrator Alicia Cunningham-Bryant. "The students live together in a dorm, have a peer mentor, an RA and get specific programming from the supporting academic groups."
Urban Owls is an academic community supported by the College of Liberal Arts. This year, 23 freshmen live together in White Hall. In addition to the extracurricular programming, they took a class together in the fall called Discovering Philadelphia. The course, taught by academic advisor Beth Lawson, is also what it sounds like. The focus is helping students make connections within and across Philadelphia.
"Really, the goal is to get them out into the city," says co-Program Administrator Emily Carlin.
The goal certainly worked for participant Nia Fraser.
"Urban Owls definitely made me feel more comfortable with traveling around Philadelphia," she says, explaining that the program introduced her to places in the city she keeps going back to visit.
This semester, the Urban Owls' theme is "The Common Good," and the programming will focus on issues of social justice. Details are still being solidified, but the hope is to work with Philadelphia organizations like the Mural Arts Program and PowerCorps PHL.
This is only the program's first year, but the benefits for students are already clear. In addition to the typical advantages of an LLC—better grades and a close-knit group of friends, among other things—Urban Owls students get a chance to explore different majors and a close working relationship with faculty.
On their outings, the students are joined by faculty experts. Public historian Stephen Nepa, who wrote his dissertation on Philadelphia restaurants, talked to the students about the history of restaurants in the city over dinner at Del Frisco's steakhouse. Around Halloween, the students attended the Edgar Allen Poe festival with Poe specialist John Dern who did a reading for the students.
The opportunity to hang out with a professor outside of the classroom—especially in a non-graded environment—is something that not all students experiences in their college career.
"One of the things that is so amazing about the LLCs is really building connections that aren't just 'this person is my faculty member,'" says Cunningham-Bryant. "It's not just about being exposed to new and exciting things that you can do, but actually then having someone that you can come to and talk to and say 'I'm interested in doing this thing, what do you think about that? How could I do that?' and having the support from somebody to do that."
Carlin agrees. "They get an insider perspective on everything," she says. "Working closely with instructors and faculty—that is the biggest thing, especially for younger students. You don't usually get to do that until your seminars. It's like a special club."
Current freshmen wishing they had participated this year, take note: the administrators are making a few changes for 2017-18. Next year's cohort will live in Morgan Hall—and they will be sophomores. Instead of "Discovering Philadelphia," students will be required to enroll in Mosaic I or II.
Carlin expects the program to pair well with Mosaics.
"Every student has to take Intellectual History and it is pretty much a round-the-world perspective of liberal arts, so it's a good way of spreading that message."
The Urban Owls program is now accepting applications for the 2017-18 academic year, with a deadline of March 3. Carlin and Cunningham-Bryant are already looking forward to next year.
"It's been a really challenging but exciting opportunity for the College of Liberal Arts. The chance to really live the liberal arts is what we're is all about, and this gives students — and faculty — the opportunity to do that," says Cunningham-Bryant.