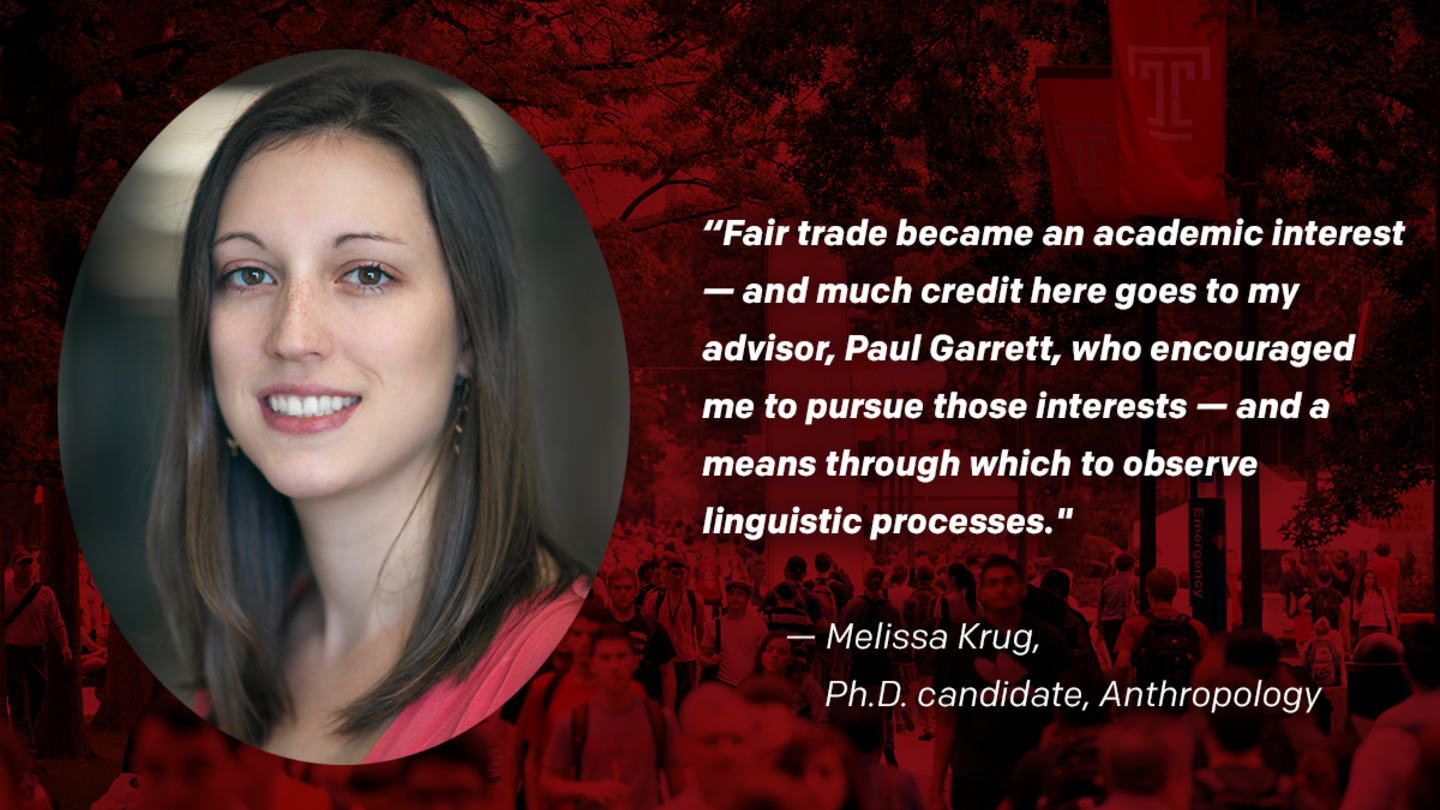 Fair trade may be fashionable these days, but Melissa Krug is the real deal.
Krug, an anthropology doctoral candidate, is preparing to travel to Peru for 10 months to research artisans at a fair trade organization in Lima. Her efforts have earned her a 2016-2017 Fulbright-Hays Doctoral Dissertation Research Abroad Fellowship, which will fully fund her travel and living costs.
Her goal is to see how working with the organization shapes the artisans' sense of their own culture.
"Some of the artisans are indigenous Quechua people or have Quechua heritage and I am interested in how processes of fair-trade socialization and involvement influence their enactment of identity," she says.
Krug's interest in fair trade stems from her early days. She remembers volunteering with Ten Thousand Villages with her grandmother as a child. In college, she got a job in the same warehouse where she once volunteered. She also worked with the organization briefly after finishing her master's program.
"Fair trade was a part of my life really early on and as I grew up, of course, I learned more and more about it and became more involved," she explains.  
When she started her doctoral program, she realized she could turn her personal interest into a professional one.
"Coming to Temple, I had interests in Quechua and Spanish contact and language shift in the Andes and during college I had been able to study abroad in Ecuador. Fair trade became an academic interest — and much credit here goes to my advisor, Paul Garrett, who encouraged me to pursue those interests — and a means through which to observe linguistic processes."
Krug's research will involve observing operations at the organization, conducting interviews with the artisans and staff, and designing and distributing questionnaires.
The work she has done already suggests that the artisans' relationship with the organization has helped them economically and been beneficial to their quality of life. Now, she hopes to better understand its specific impact on cultural preservation. 
"In some instances, tourism and involvement in the globalized economy has been demonstrated to give indigenous people a renewed sense of identity and value, and encourage linguistic and cultural maintenance," she says. "Other times, however, entering into economic relationships with those who do not share the same cultural and linguistic backgrounds can discourage use of the indigenous language, since they often need to speak the dominant, national language in those transactions."
The cultural impact of fair trade is something every consumer might not consider. Krug's project could change that. Her research has the potential to give organizations and consumers alike a new way to think about trade practices.