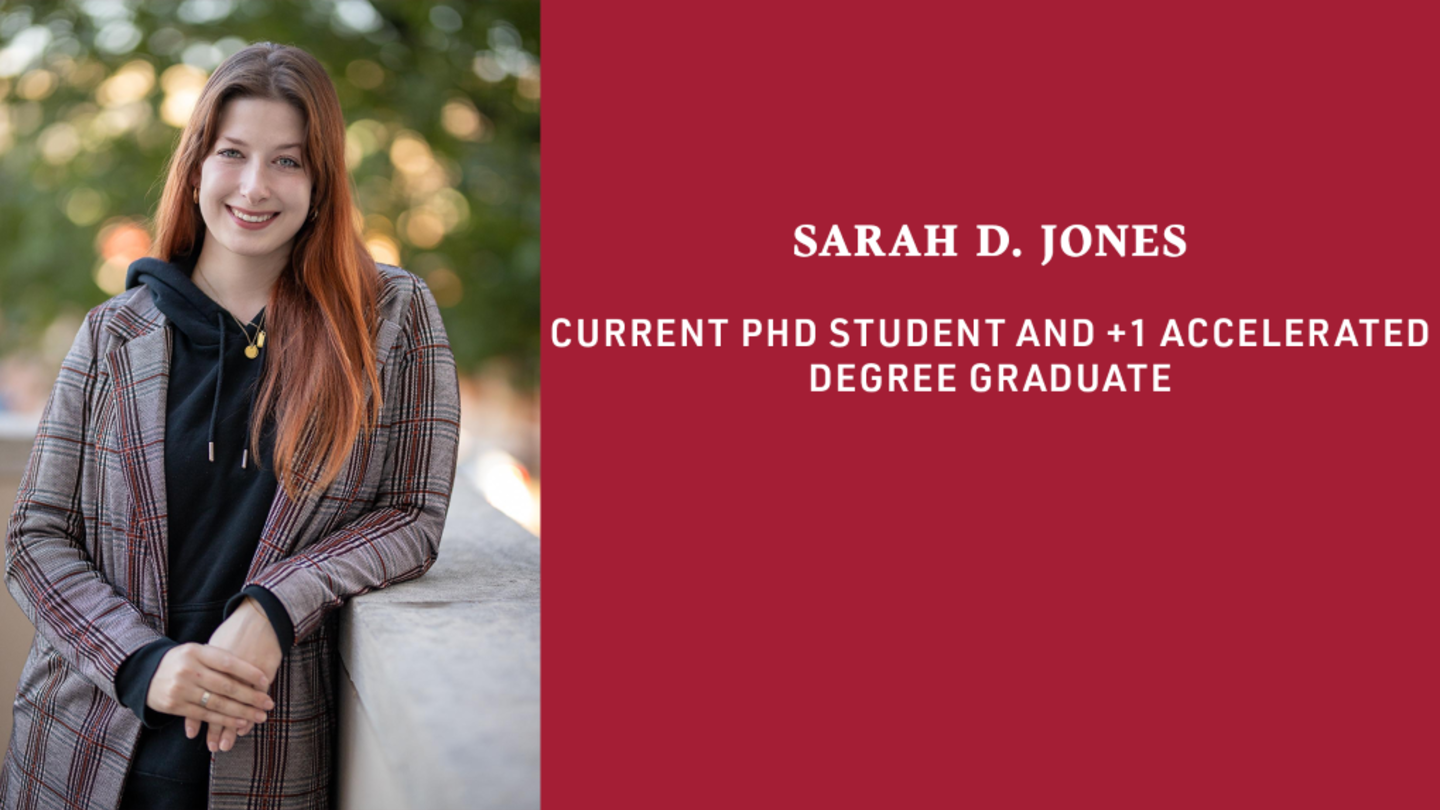 Sarah D. Jones is a PhD student in the Criminal Justice Department. She graduated from Temple University's 4+1 Accelerated M.A. program in Criminal Justice in May 2022. Read about Sarah's time here at Temple, her research and graduate school experience!
What made you choose Temple's graduate program for criminal justice? 
I originally applied for the CJ 4+1 Accelerated M.A. program to be more competitive for law school after graduation. Once I got here, I fell in love with research and decided that pursuing a Ph.D. was right for me. After making such strong and meaningful connections with the faculty and grad students in the department, I couldn't imagine going anywhere else.
What do you want to do upon completion of the graduate program? 
This answer changes a lot, but now I know I want research to be the primary work that I do. Whether that takes place in academia or with a research institute, we'll see!
Is there a specific moment in your education experience when you realized that you were passionate about criminal justice and wanted to learn more? 
Introduction to Criminal Law with Professor Joanne Metzger - the first class where I actually got to read and engage with the written law. She really nurtured my interest in the legal system and was pivotal in my decision to pursue graduate-level education.
Do you have any work, personal projects or research, relating to criminal justice that you are proud of? We would love to share these & give you credit for the work. 
The Public Policy Lab of Temple's College of Liberal Arts recently released a policy brief authored by my advisor, Dr. E. Rely Vîlcică, and myself on cash bail reform. You can read the brief titled Cash Bail Reform: Empirical Evidence and Policy Recommendations.
What has been your favorite part of graduate school thus far?
Far and away my favorite part of graduate school has been working alongside such incredible and passionate people. I have met lifelong friends and mentors who inspire and challenge me on a daily basis. 
Do you have any advice for students who are considering the graduate criminal justice program? 
Talk to as many people as you possibly can; learn about their stories and their journeys. Graduate school is a huge commitment, but if you are driven and rooted in your passion and your values, it is beyond worth it