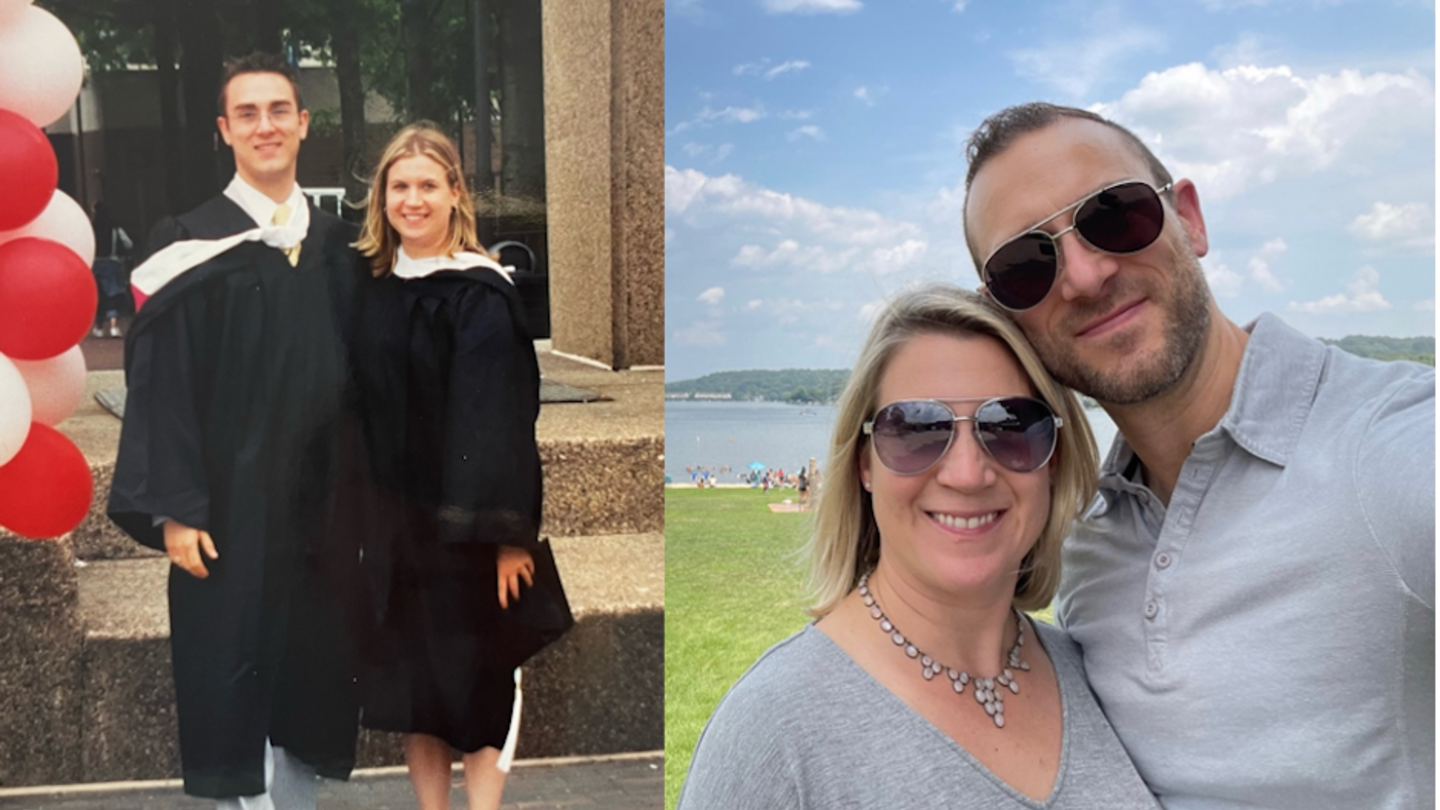 When asked to define what Temple means to them, Janelle Tricarico immediately spoke one word: "opportunity." Her face lights up as she passionately describes the unique flavor of a Temple Made opportunity—it's not handed to you, but rather a spark that ignites your path and equips you to find your way. It might be challenging, but the journey is transformative.  
Janelle, CLA '03, and Scott Tricarico, CLA '03, embody the spirit of #TempleMade. Janelle, a first-generation college student hailing from the Lehigh Valley, experienced first hand how transformative her Temple education was.  Similarly, Scott, from Readington, NJ, discovered his own love for Economics. The two found each other while studying their passion.   
The Tricaricos, married since 2006 with two children, feel compelled to give back to Temple for the opportunities given to them. The couple is directing their gratitude towards the essence of Temple —"opportunity"—by establishing the Janelle M. & Scott J. Tricarico Pathways to Professions Award. This fund is dedicated to supporting the College of Liberal Arts' signature learning experience, Pathways to Professions (P2P) Program. The P2P program allows students with demonstrated financial need to explore their career aspirations through internships without being burdened by financial constraints, especially when many of these opportunities are unpaid. Their first award recipient was a non-traditional student seeking to redefine her career trajectory. Their current student, Jason, shared his thoughts on how the award opened doors and provided him with valuable experiences. 
I am monumentally grateful for Scott and Janelle's support. Beyond the funding, they also encouraged me to make connections and to step out of my comfort zone. This experience has galvanized me into converting this opportunity; I wish to continue my legal studies and resolve to perpetuate Scott and Janelle's contribution to Temple, Philadelphia, and first-generation communities.
Having experienced the impact of alumni support firsthand, thanks to the kindness of individuals such as Stan Lefkowitz, Mitch Sonkin, Len Mellman, Denise Schwartzman, and Joel Rudenstien, Janelle and Scott were inspired to pay it forward. They eagerly embrace the chance to empower and uplift and provide support for the next generation of Temple students. 
Every gift, no matter the size, makes a significant difference for Temple students. If you are interested in supporting CLA students through experiential learning like the Tricaricos, consider making a gift. For those who wish to establish named scholarship funds, please get in touch with Patrick Daley, Assistant Dean of Development and Alumni Relations, Patrick.daley@temple.edu.