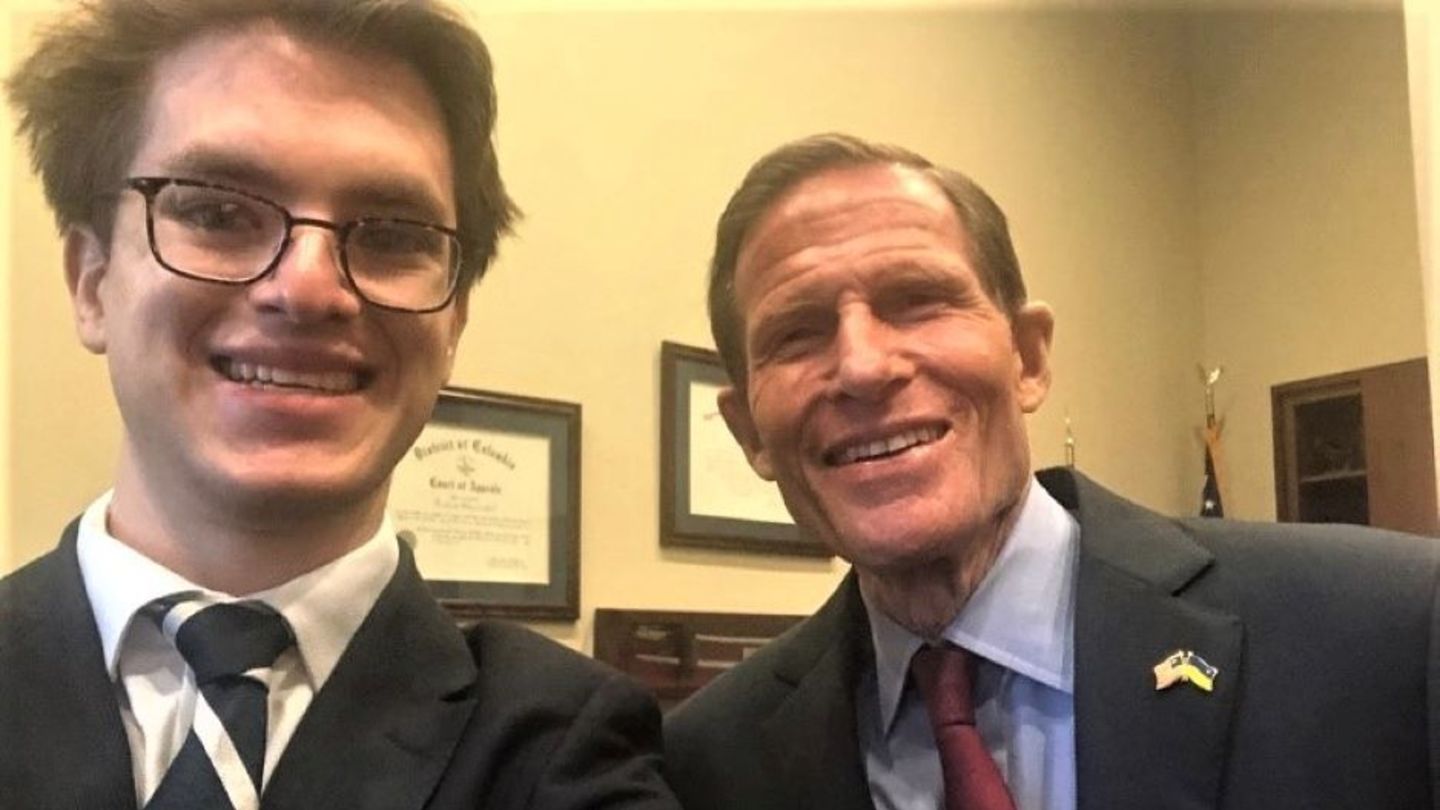 Chea Steinbach is a Junior Political Science Major. He recently interned with United States Senator Richard Blumenthal (D-CT) as a Legislative Intern through The Washington Center's D.C. Internship Program.
What was your internship position and what was the office's role?
I interned for Senator Blumenthal's office. My daily responsibilities included: answering phone calls, managing constituent responses, sorting mail, and giving tours of the Capitol. Each week I would look on the Senate's website and see what briefings were taking place that I would be interested in attending. Attending these briefings could be for a memo I would have to write for a staffer or just a topic intriguing to me. Most of these briefings are open to the public to attend. During the semester I also had the opportunity to compile a briefing book for a hearing the Senator had, containing all the important information he needed to know ahead of the hearing. 
What does a day in Washington D.C. look like?
Washington, D.C is a bustling city with significant amounts of traffic. Therefore, I found it easiest to walk to work or anywhere else I needed to go, such as the grocery store. Several grocery stores near TWC, such as Giant and Whole Foods, are within walking distance. There are so many museums, such as the Holocaust and Smithsonian. If you attend TWC during the spring semester, you might even be lucky to see the cherry blossoms!
How do you feel the Washington Internship Program has prepared you for graduation?
TWC certainly prepared me for graduation and gave me a glimpse of what area I want to work in and helped me grow my professional network. I had the opportunity to talk with several professionals in their field, one of them the Senator himself, about their advice for a person hoping to enter the field of politics. I also spoke with many law school graduates and current law students about their experience and any advice they had for someone hoping to enter law school. Being in DC for three months allowed me to gain insight into what a professional workplace looks like and what is expected. Additionally, TWC has many resources supporting career development. During the program, it is required to complete at least ten career readiness courses discussing popular professional topics such as career planning and elevator pitches. I have also connected with people I met in DC on LinkedIn, continuing to maintain relationships even after the program has concluded.  
What was your favorite thing about your internship and why? 
My favorite part of the internship was attending briefings and seeing debates between Senators in person. Seeing the ornate architecture of the House or Senate buildings is truly incredible. In DC, I attended roughly two dozen briefings about various topics, such as Russia's involvement in the Ukrainian war or rising tensions between the US and China. Being able to see the inner workings of government in person is something that I will never forget. 
What is one thing you think Temple students will be surprised to find out about interning in Washington D.C.? 
When interning in DC, learning the city grid is very important and something I wish I could have done better. Two streets can have the same address; one can be Northeast, Northwest, Southwest, and Southeast (sections in which D.C. is organized.) Using your phone to navigate your way around is very helpful to ensure you don't get lost. There are many mobile apps that you can download to help you find your way around the city.