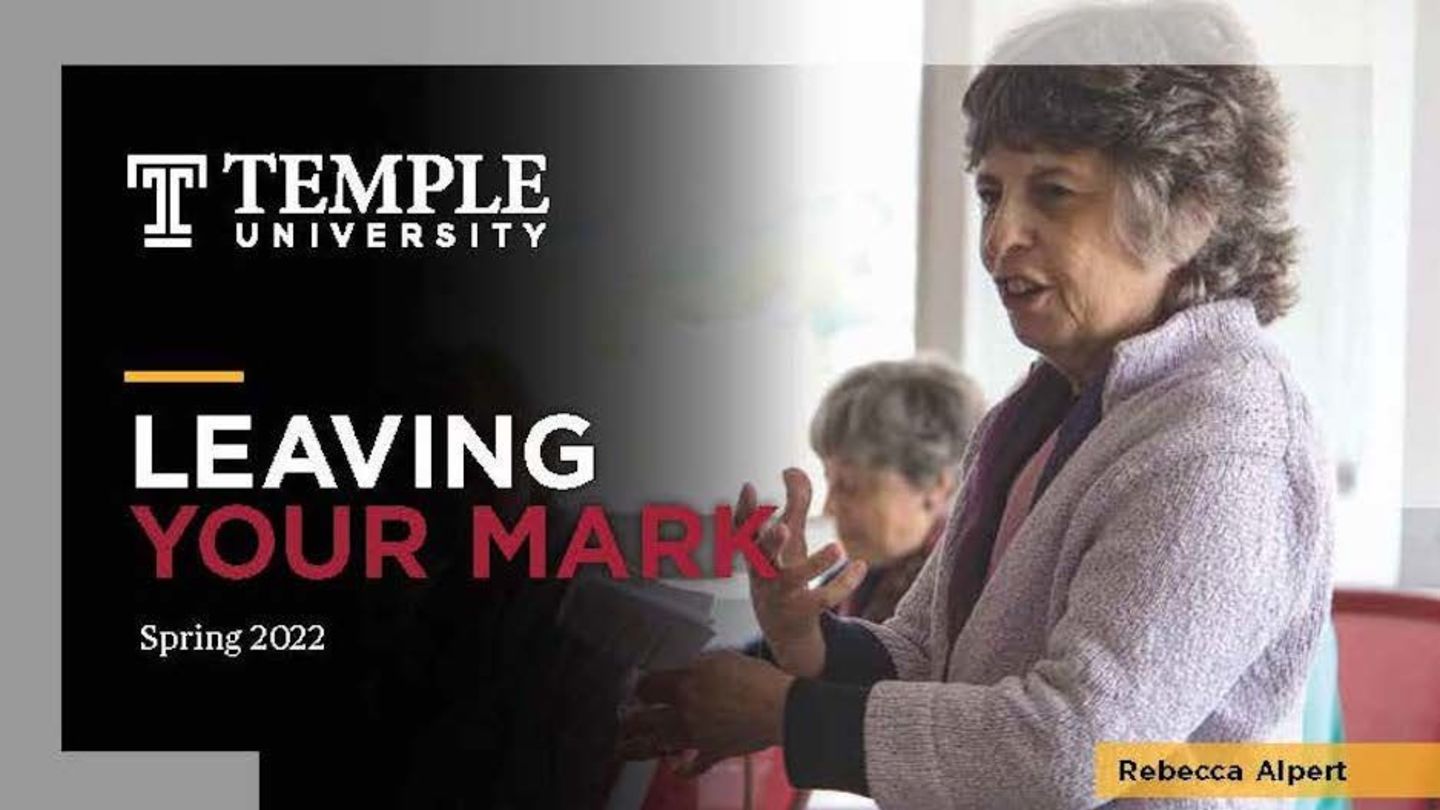 Rebecca Alpert's connection to Temple University extends back to her childhood. Her mother attended the university for two years during the Great Depression. Although she didn't graduate, she shared the good word of the university with her daughter.
Rebecca eventually attended Temple, earning a doctorate from the Department of Religion. She also was among the first women in America ordained as a rabbi at the Reconstructionist Rabbinical College in 1976.
After working as a rabbi for a number of years, Rebecca chose a new career path in academia. She returned to Temple in 1988 and has since served in several roles, including as associate director of the former Russell Conwell Learning Center, presidential fellow, co-director of the Women's Studies Program, professor of religion and associate dean of the College of Liberal Arts.
This July, Rebecca will retire from the university. Because of her affinity for Temple, she's consistently given annual gifts to benefit everything from the Honors Program to the women's basketball team to the College of Liberal Arts' undergraduate research program. She also donated to the building of the Temple Performing Arts Center in memory of her mother and in honor of her daughter who also graduated from Temple. "I always gave back because this is a place that's given me incredible opportunities and where I've spent my career," Rebecca says. She also recently named Temple in her will—a gift that will continue her impact on Temple for generations to come.
"I want to make sure that the university has the wherewithal to make sure students who can't afford college can get admitted and get educated at Temple," Rebecca says. "It's very important to me."
You, too, can make an impact like Rebecca. Whatever the reason behind your giving, we are here to help you fulfill your goals. Contact Tom Yates at (215) 926-2545 or tyates@temple.edu with any questions.