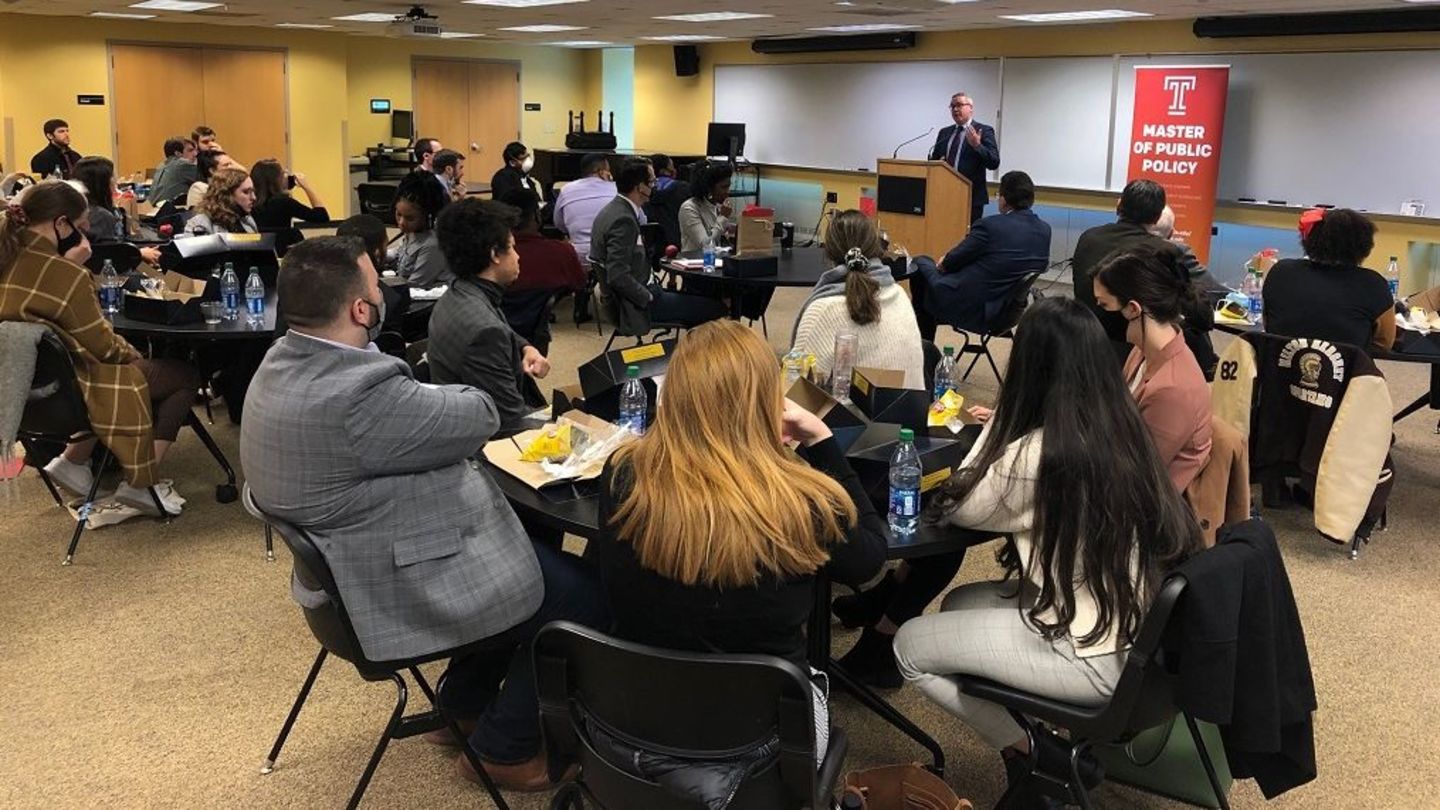 On November 6, 2021, the Master of Public Policy (MPP) Program welcomed professionals, several of them MPP alumni, on campus for its Careers in Public Service Workshop. The workshop gave MPP students the opportunity to network and learn about careers in government, lobbying, advocacy and policy analysis. The keynote was delivered by Philadelphia City Commissioner Al Schmidt, who reflected on the many challenges that public servants face today. 
Continue reading for six key takeaways and tips from two of the MPP students who attended the workshop.
Clare Maus
It's Okay to Not Know Exactly What You Want to Do for the Rest of Your Life
When speaking about their careers, it became clear that most panelists had different chapters throughout their career path and that their careers often lacked a linear storyline. Many of them could not have predicted where they would eventually end up. They made it perfectly clear that it is okay to not know exactly what you want to do for the rest of your life. They also emphasized that it is alright to change things up if your current situation is no longer working for you. Overall, they brought home the message that there is no need to put extreme pressure on yourself to know exactly how you want your career path to play out. Instead, it is important to continuously work to find something you are truly passionate about.
The Power of Temple's Philly Connections
Like most Philadelphians, I take pride in being from the City of Brotherly Love and Sisterly Affection. I moved down south for college but always knew I wanted to return to Philly after graduation. When considering graduate programs, Temple stood out to me because of its widespread network of alumni, students, and friends of the university throughout the Philadelphia region. The panelists stressed how much value this built-in network added to their Temple education as these connections helped them to land internships and jobs. They emphasized that it is important to be proactive and work to make connections with fellow Owls.
Internships Can Provide Important Information and Networking Opportunities
The panelists underscored the importance of internships, one of the key components of Temple's MPP program. Multiple panelists spoke about how they cultivated meaningful relationships during their internship and gained an abundance of practical knowledge. Many panelists had positive experiences at their internships and some even landed a job at organization they interned at. The panelists stressed how internships' hands-on-learning can both develop your professional network and improve your practical skills. Other panelists stressed that internships can also be helpful even if you don't enjoy them. Knowing what you don't like is just as important as knowing what inspires you. In sum, the panelists underscored how internships can offer you invaluable information which supplements what you are learning in the classroom.  
---
Lianne Byrd
Internships as a networking tool
Internships are beneficial, as they allow you to get in-the-field experience. Use your internship experience as a strategic pathway. Many organizations often hire internally, so working hard in your position and maintaining a good rapport with staff may afford you a full-time position.
Be flexible
It's important to be flexible when looking for a job. Sometimes there are a limited number of jobs for certain interest areas. Requesting informational interviews can help you get a feel of an organization's mission and values, and you may find your own personal values align with an organization off your radar. Be open-minded!
Entry level positions as internships
Paid internships are often limited, and most students can't afford not to work. It may be a good idea to seek entry-level positions related to your interests. This allows you to make an income, satisfy your internship requirement, and gain insight in the field from a bottom-up perspective. The MPP program has evening courses and students have the option of going either full or part-time, which means there is lots of flexibility to continue your courses if you decide to take on a job.