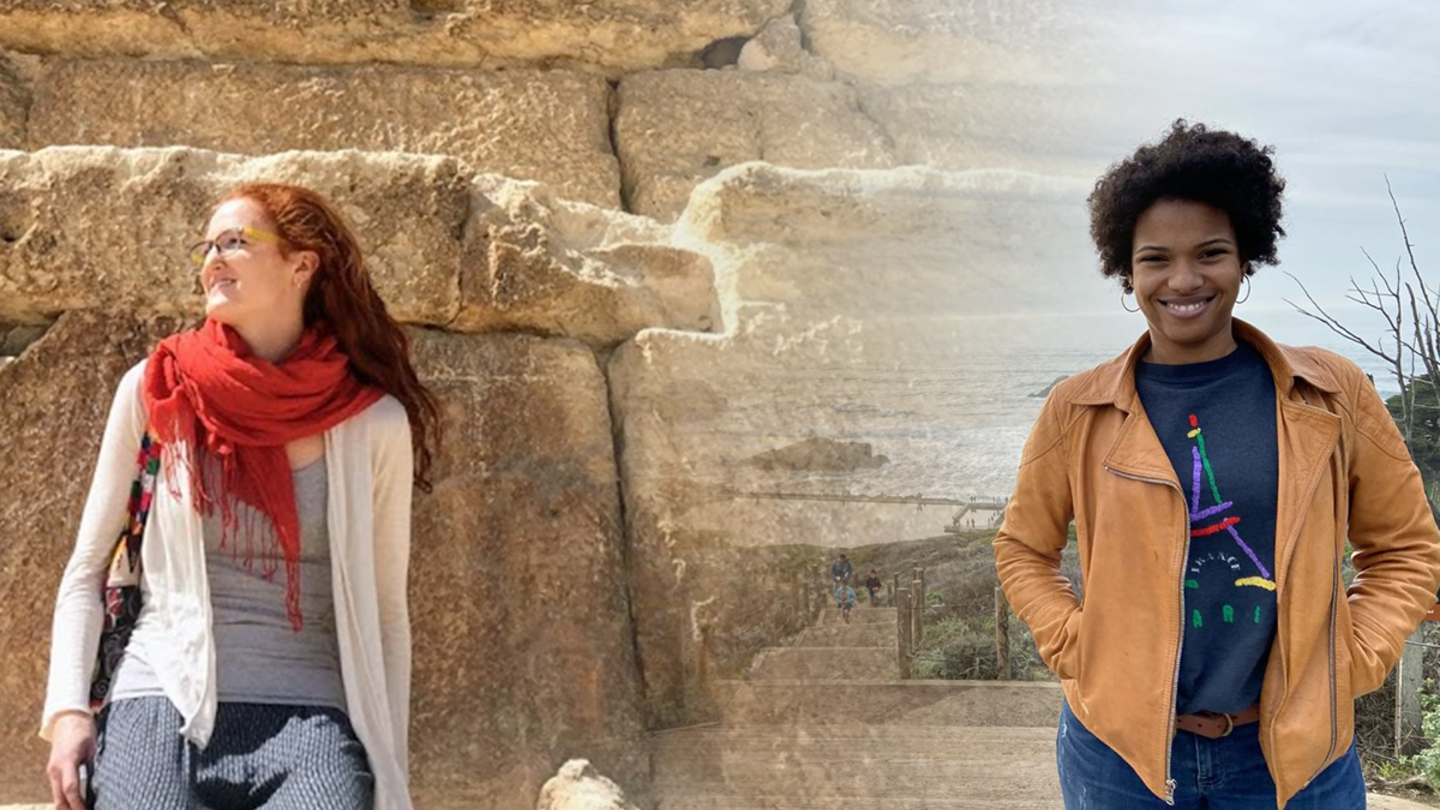 By: Nick Santangelo
In May, the American Council of Learned Societies (ACLS) launched the Emerging Voice Fellowship program in response to the COVID-19 economy. ACLS awarded 45 scholars with $60,000 stipends, health insurance and $5,000 discretionary funds to teach, research and engage the public at prestigious universities.
Temple University College of Liberal Arts (CLA) Geography and Urban Studies PhD grad Rebecca Croog and Sociology PhD grad CiAuna Heard are among the 45 who began their fellowships this semester. The pair of CLA scholars have a history together, once working as research assistants on the same Sociology Department project. And while Croog's fellowship is at Harvard University and Heard's is at Emory University, they plan to stay in touch with and support each other throughout the year.
Rebecca Croog | Geography and Urban Studies PhD
It's not surprising that Rebecca Croog ended up securing an Emerging Voice Fellowship at Harvard given that research was what drew her to CLA for her PhD. Croog decided to pursue her PhD immediately after completing undergrad, a move she admits "was a bit ambitious."
Nevertheless, she went for it after discovering her advisor had done research in Temple's North Philadelphia neighborhood. And Croog's expectations for CLA were exceeded when Temple became a Research 1 institution in 2016.
After receiving her PhD in May, Croog planned on becoming an adjunct professor at a private liberal arts college, but COVID-19 caused a hiring freeze. The college rescinded its offer. The letdown, however, helped Croog rediscover her confidence and energy following a post-dissertation slump.
"I didn't feel like I was ready to apply for high-level post-docs," recalls Croog. "To be completely honest, I was burnt out from my dissertation and just so happy to be finished and so proud of myself but not exactly super activated."
That's when her advisor and Geography and Urban Studies Chair Melissa Gilbert encouraged her to apply for the ACLS fellowship.
"Once I got over the, 'Oh, this is super prestigious' thing, I realized it was what I was interested in doing. It's high-level envisioning of what humanistic academia should look like and should do," she says. "As soon as I read the application, I was like, 'Wow, this is my bread and butter.'
"Being able to have some leadership opportunities in my department at Temple gave me really solid skills to be able to write it. And I just kind of hit the ground running and didn't look back from there."
At Harvard, she's helping develop new courses to broaden environmental studies so students can learn how people experience climate change and how socio-political systems contribute to it. Croog's CLA experience positioned her well for the opportunity. As a PhD student here, she developed a grad course for geographers and bioscience scholars.
Now, she has a simple message for current PhD students hoping to follow in her footsteps: "Let go of any sort of ideas about limitations you have and just kind of go for it."
CiAuna Heard | Sociology PhD
Coming from a California school, CiAuna Heard knew she wanted to come east for her PhD. She chose CLA when she discovered Temple's supportive and encouraging academic community and Philadelphia's deep history with black private organizations, which is where Heard's research interests lied.
"The faculty was really engaging. I always felt incredibly supported," she says. "Like everyone, I miss being together in person right now because there's nothing like getting coffee or warming up your lunch in the kitchen and just chatting to people about how their week is going or what new ideas or what TV shows or movies they've seen recently or academic articles they've read and how that's impacting their work. But the notion of an academic community really was fulfilled in a wonderful way at Temple's Sociology Department."
Heard took an interest in the Emerging Voices Fellowship because ACLS wanted to attract diverse voices. The organization values the assorted research interests of recent graduates and endeavors to help them forward their careers.
"I was grateful that ACLS had really taken the temperature of the job and employment outlook and said, 'You know, it's really important right now that we support the new class of academics, of professionals, graduating out of their institutions this year, because this is really kind of a critical junction and a critical year for a lot of folks.'"
At Emory, Heard's taking full advantage of the ACLS opportunity by experimenting with diverse learning mediums. For example, while teaching completely remotely, she's engaging students with films and podcasts, something she says keeps the studies as fresh for her as it does her students.
As to what exactly those studies focus on, well, Heard is giving her students a voice, just as ACLS gave her one. She asks the class if they want to discuss social movements, coronavirus, working from home, relying on Zoom and other topics. It's perhaps an unorthodox approach, but it's one Heard maintains is intellectually rigorous.
And for intellectuals staring down rigorous fellowship applications like ACLS's, Heard has advice that's not altogether dissimilar to Croog's.
"Even if you don't think you're going to get something, try anyway and use that time, particularly in your fellowship, to widen your net, your kind of network and make as many even short connections with people as you can
---
CLA wishes Rebecca and CiAuna nothing but success with their fellowships and their future careers!