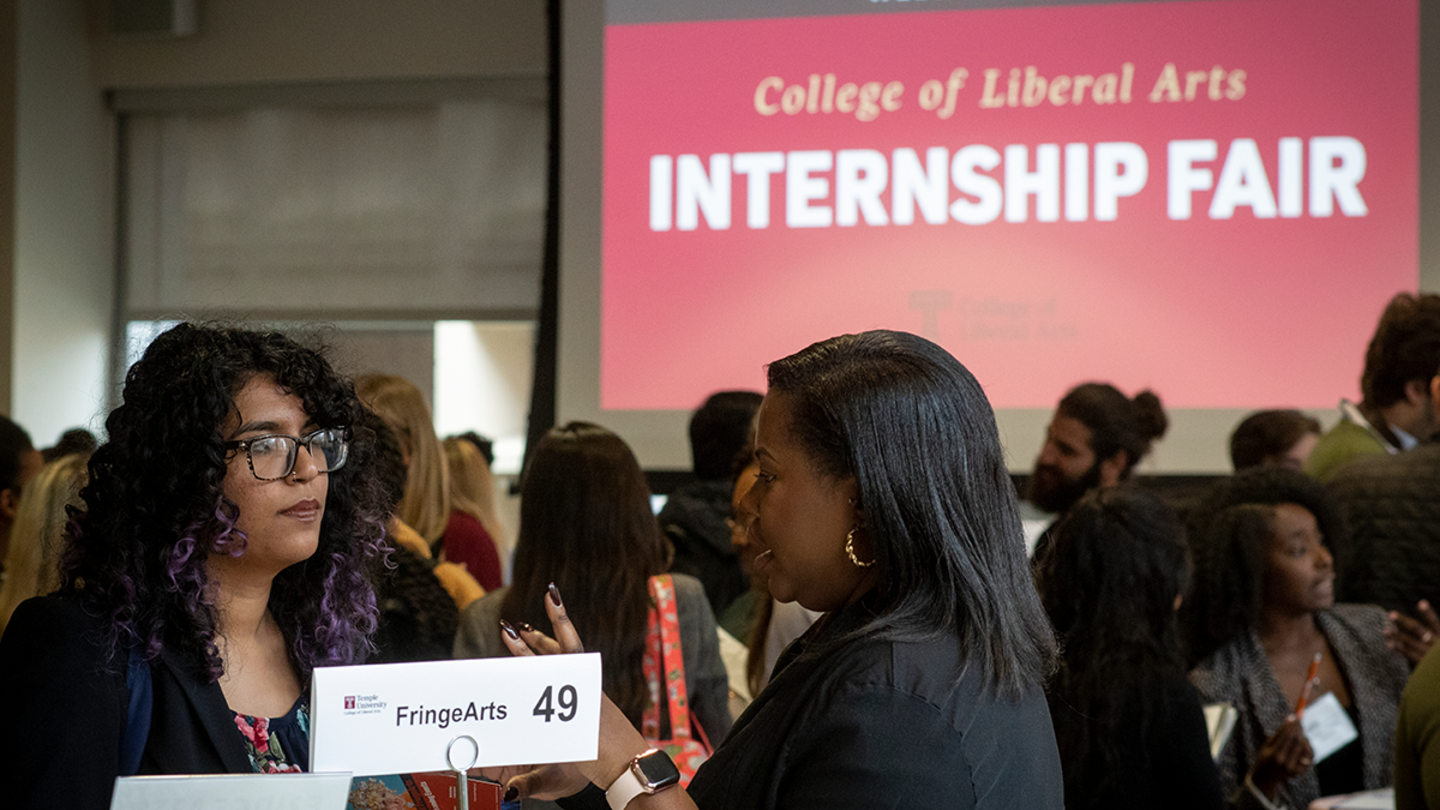 By: Eralinda Hasani, Lauren Steinberger and Darian Zenouzi
The College of Liberal Arts' Professional Development team recently held its annual Internship Fair, giving students the chance to network with dozens of top employers and find internship opportunities. After having attended the fair, Eralinda Hasani, Lauren Steinberger and Darian Zenouzi (CLA students from Professor Gabe Wettach's English Career Seminar) share what they learned.
---
Lauren Steinberger | English Major | Senior
CLA Helps You Prepare
The welcoming atmosphere made me feel at ease. As students entered, members of the English Department greeted and directing us to helpful resources. Before reaching the employer tables, there was a CLA Internship Fair prep table and internship stipend information table that provided name tags, a prep worksheet with conversation starters and a map. These last-minute reminders boosted my confidence, especially before going into a room with so many strangers.
It's Networking Made Comfortable
The employers were friendly and engaging, making the room energized and exciting rather than stuffy and completely business-like. Not only were the students chasing the employers but the employers were chasing the students. In simply going up, shaking the employers' hand and stating my name, I got their full attention, and they were eager to answer questions and give me information. I was also happy that they seemed genuinely interested in me as a person, inquiring about my experiences at Temple. For someone who finds meeting new people an anxiety-inducing task, it felt like I was just having a conversation while, at the same time, I was getting useful information.
---
Eralinda Hasani | English and Advertising Major | Sophomore
First Impressions Matter
A strong first impression will help guide the rest of your conversation with an employer at the annual CLA Internship Fair. Introducing yourself as you give them a firm handshake will verify your interest in the company, in turn strengthening their interest in you. As long as you be your best self and carry a smile on your face, the employer will feel encouraged to inform you why their business could be the best fit for you. By keeping eye contact and proper body posture, you represent a strong will to learn as well as a sincere interest in the company's founding principles and ideas.
You Should Be Proactive
At the end of a strong conversation, employers urge students to take the next step and maintain contact with the company. This means putting in work after the Internship Fair. Send a thank-you note, email your resume and contact the employer proclaiming that you would love to work for them. These are all great follow-up steps to take to keep your image refreshed in their minds. Don't be afraid to remind them of the persona you shared during the Internship Fair and all the effort and hard work you're ready to give.
---
Darian Zenouzi | English and Education Major | Junior
Consider Unexpected Opportunities
As an education and English double major, I thought that the internship fair was nothing but a class requirement I had to fill; I didn't think I would stumble upon so many interesting opportunities for acquiring skills that an education major could practically use. I was carrying the stereotypical version of an internship in my head, the one where you're a lackey, failing to gain relevant experience and usually not being paid any money. But I found opportunities ranging from teaching ESL classes to grant writing for a museum. These opportunities would have me teaching English and being used as a reference by my students for their scholarships. 
You Should Take It Slow
I visited a majority of the fair's 50 or so tables, so I got plenty of papers to look at, thank-you emails to write and stress to deal with. As soon as I got my wits about me, I realized how naïve that approach was. I thought about how many of these opportunities were worth exploring. That meant considering things besides experiential and monetary value: how much would I spend on transportation, how far away is the internship (most were in Philly, but I found one in New Jersey), and what skills would I gain. Be wary of opportunities that sound too good to be true and always consider the reality of any role(s) you would be taking, as it probably isn't what you expect.
---
Missed the fair but still want to hear about internship opportunities? Contact Professional Development at clacareers@temple.edu!