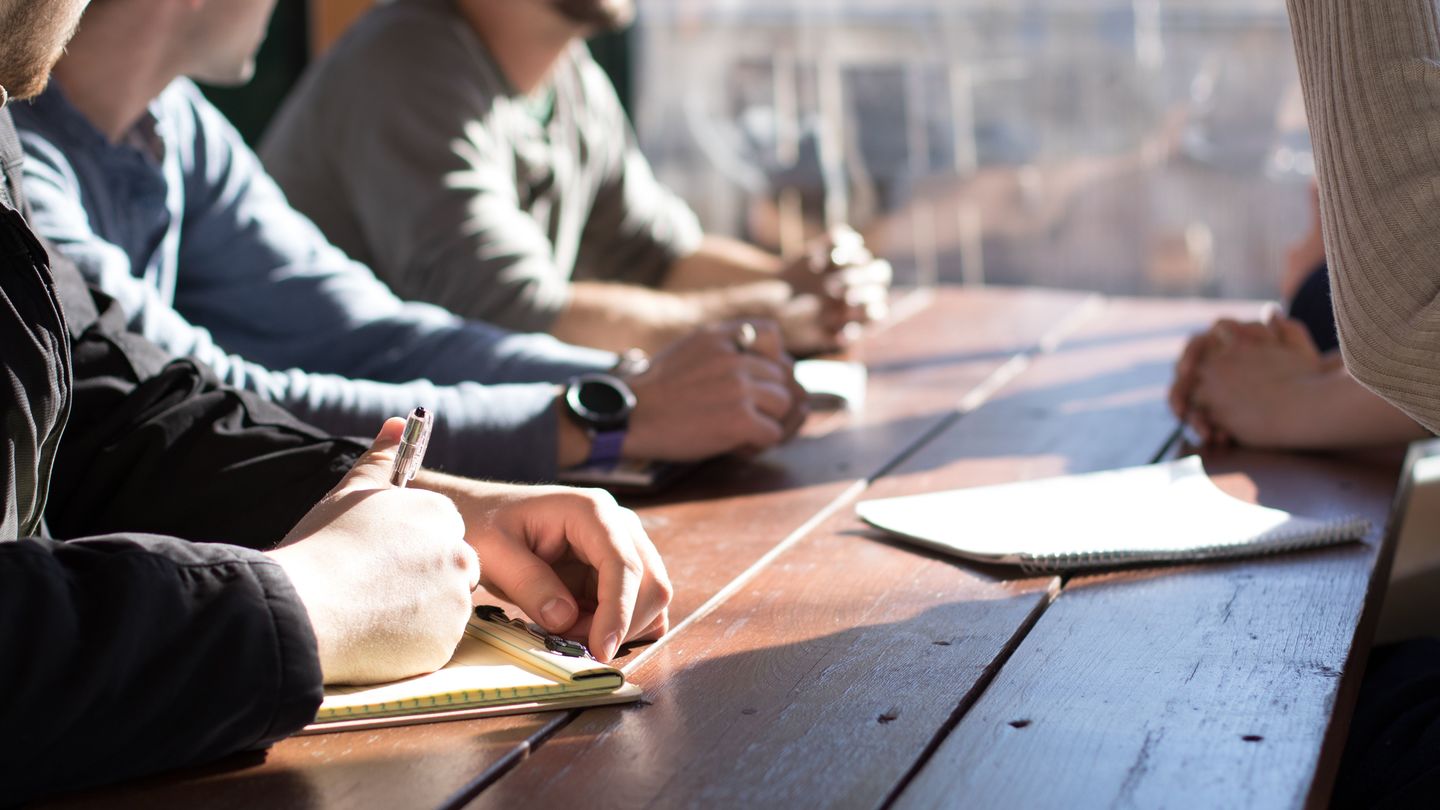 A few weeks ago, leaders from across the Jewish professional world in Philadelphia gathered at Temple University's Feinstein Center for American Jewish History to participate in a workshop about structuring effective and rewarding internships. I led the workshop, which I focused on the value of project-based internships. I also used the session as a way to familiarize those in attendance with Feinstein's educational objectives. 
Representatives of Maccabi USA, Tribe 12, the Gershman Philadelphia Film Festival, and the American Jewish Committee were among those who joined me for an afternoon of learning. Many of the institutions had hosted Feinstein interns in the past, while others were preparing to do so for the first time. Drawing from the collective experience of the individuals in the room, we shared stories, asked questions, and thought strategically about internship design during the rewarding and stimulating afternoon workshop.
After welcoming a diverse group of CEOs, directors, and managers, I asked a simple question: "What can an intern offer your organization?" Too often, hosts assume that interns are essentially a source of free labor. But, as we discussed in our collaborative session, hosting an intern requires preparation and planning. The best internships provide stimulating experiences and frequent opportunities for mentoring and guidance. And, impactful internships include substantial assignments. All of this means that host sites must work carefully to structure internships. If they receive what they need, however, interns can offer their host site a tremendous amount. Interns can allow staff to work on advanced projects. And, interns provide a fresh perspective on established practices. Accommodating an intern is also a good deed, one that offers students real world experience in a professional setting. These are just a few of the benefits that our group discussed during our workshop.
From our discussion about how to create a rewarding internship, we then moved to discussing the specific goals of Feinstein's program. In my classroom sessions with each cohort of Feinstein interns, I help them understand when and how Jewish values and traditions shape work environments, and I also guide them to think more generally about how a diversity of principles and customs can inform professional paths. I asked our internship hosts to do the same. We considered how Jewishness impacts the nature of our organizations and our own work, an activity that enabled hosts to envision how the classroom component of Feinstein's program augments and supports students' experiences in the field. Hosts then enjoyed another taste of the program's coursework element we spent time analyzing passages of Jewish texts that center on work and philanthropy. I must admit, this was my favorite part of the workshop. I loved reading Talmud with such a dynamic group of professionals.
Feinstein's primary goal is to inspire all of its students, who come from Jewish and non-Jewish backgrounds, to think through how values can impact the work they do once they leave Temple University. We, too, hope that students gain professional experience, recognize skills learned in the classroom as transferable, and negotiate whether nonprofit or for-profit work is right for them. In sharing these educational objectives with intern hosts, I hope to help them structure effective and exciting internships. 
As the afternoon continued, I asked workshop attendees to write down their goals for the internship. With their goals and Feinstein's educational objectives in mind, hosts are well-situated to design project-based internships. Instead of assigning interns a list of unrelated duties, I encourage hosts to offer projects with multiple associated tasks. This method teaches interns that their efforts are part of greater whole it enables them to see the results of their work in a meaningful way, offering a sense of accomplishment. Designing project-based internships takes effort. But, this internship model enables organizations to provide interns with challenging and rewarding experiences, especially once they account for an intern's personality and interests. We agreed after a lively discussion that three elements- host goals, educational objectives, and intern character- should be fundamental factors in each project-based internship. 
During the last hour of our collaborative session, hosts shared anecdotes and offered each other advice. We discussed issues that arise during internships and strategized together about how to confront them. I also shared common intern grievances. The group was especially surprised to hear that students frequently admit that they don't have enough to do at their internships. This has been students' chief complaint for the four years during which Feinstein's internship program has been operational. Hopefully, that piece of feedback will prod attendees to offer interns more challenging, multi-tiered projects. 
Feinstein's first internship host training workshop was a great success. We discussed internship design theory, we debated best practices, and we learned from one another. Moving forward, I am confident that those in attendance will use project-based internship design to structure rewarding positions for Feinstein interns. I look forward to offering similar workshops on an annual basis and to continuing the conversation with the extraordinary group of people who dedicated time and energy to ensuring Temple students have the best possible internship experience.
Ariella Werden-Greenfield
Associate Director, Temple University's Feinstein Center for American Jewish History